Last week I led a session at the Nonprofit Technology Conference: "Digital Inclusion Program Sustainability: Documenting Lessons, Sharing Successes, and Transitioning Work."  
Here with my wonderful cohorts learning about sustainability #16NTC #16NTCdi

— Aneta Thomas Lee (@lee_aneta) March 25, 2016
We're kicking off the #16ntcdi session on #digitalinclusion with the National Digital Inclusion Fellows! #16ntc pic.twitter.com/wVkctO2mhx

— Denise Linn (@DKLinn) March 25, 2016
This session was specifically crafted for the Nonprofit Technology Network's (NTEN) Digital Inclusion Fellows. The Fellowship program was created by NTEN in partnership with Google Fiber and places emerging community leaders in city nonprofits doing digital inclusion work. According to NTEN's website:
Since there's no one solution to the digital divide, Fellows approach the problem with a super-local focus. They figure out what digital literacy needs their communities have and build unique classes, programs, and resources to address those needs. Fellows and organizations build sustainable, effective digital literacy programs that can act as the foundation for long-term digital inclusion efforts in their community.
I serve on the Digital Inclusion Fellowship Advisory Board and believe that inserting human capacity into the community technology level of our cities' technology ecosystems is vital to equity. Also, as someone who began my career as a year-long AmeriCorps VISTA working on broadband adoption and access, I've benefited from carrying a community lens in technology work. This Fellowship program is a pipeline of driven people with that apply that same perspective to technology in their own cities. 
At the session I shared several digital inclusion lessons: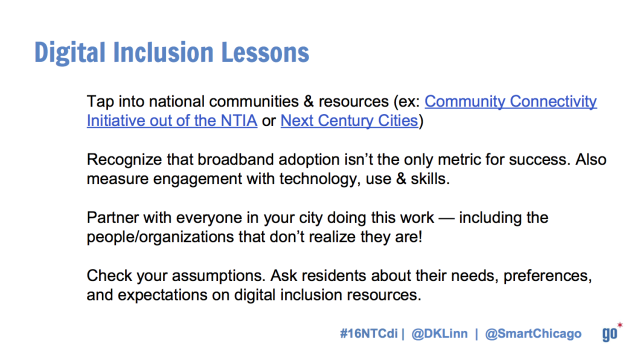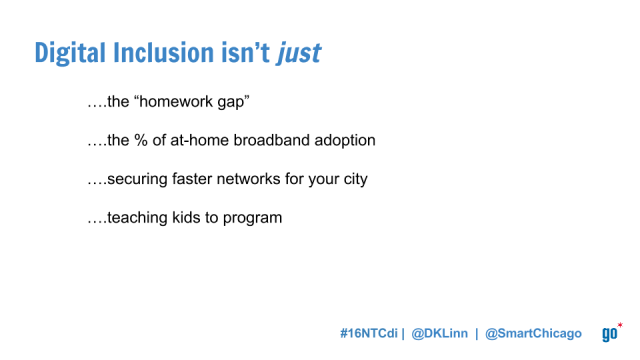 "Digital inclusion isn't just teaching kids to program" –@DKLinn at #16NTC #16NTCdi

— Daniel Ryne Lucio ⚡️ (@danielrynelucio) March 25, 2016
I urged the Fellows to think about three tiers of digital inclusion sustainability and how those tiers interact to shape the legacy and lifespan of their current work. While the Fellow might run projects within local institutions and think about those challenges on a daily basis, that work is informed by organizational sustainability and ecosystem sustainability as well.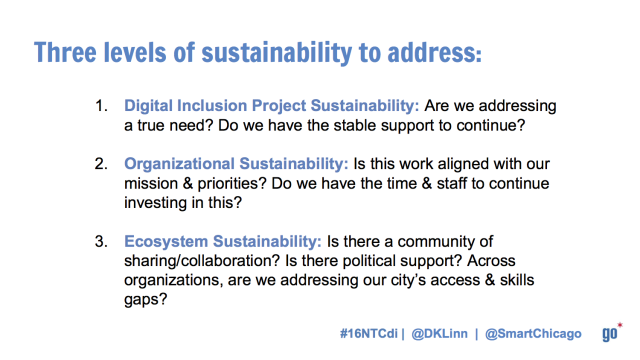 Since many of the Fellow are finishing up their projects, I spent most of the session sharing actionable tips for sustaining and transitioning their work.
Excited to wrap up our #16ntcdi fellowship projects with gusto! @iamtechbridge https://t.co/AyH4Jnv8xA

— Maithri Vangala (@maithripriya) March 25, 2016
This is a big-picture framework I created that might assist with a Fellow's project transition plan: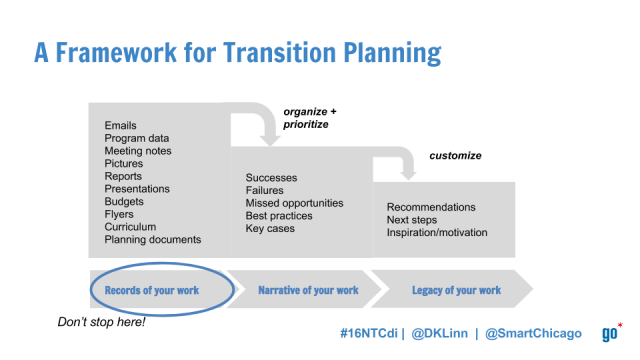 Passing along large records of work in giant paper or digital folders does not equate to an effective hand-off. Translating, prioritizing, and organizing that the raw documentation for the next person is hard work, but makes for smoother project transition!
In addition to planning effective project transitions, I recommended the Fellows capture the narrative of their fellowship and share their best work with their cities and the community of national practitioners who care about this work. Doing so not only serves the organization that they are leaving, but also serves their cities, and their own best interests as they think about their next step. Specifically, I recommended the Fellows do three things: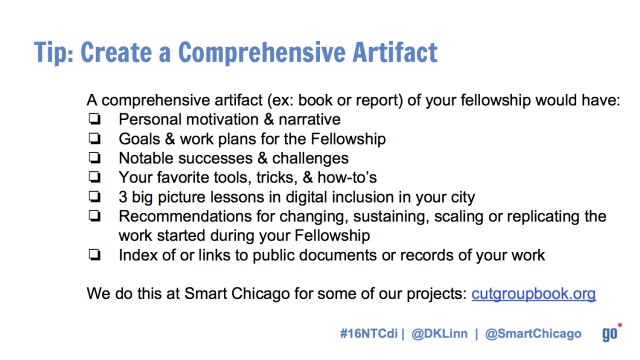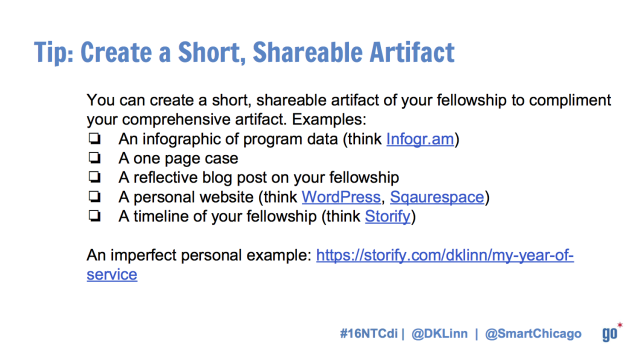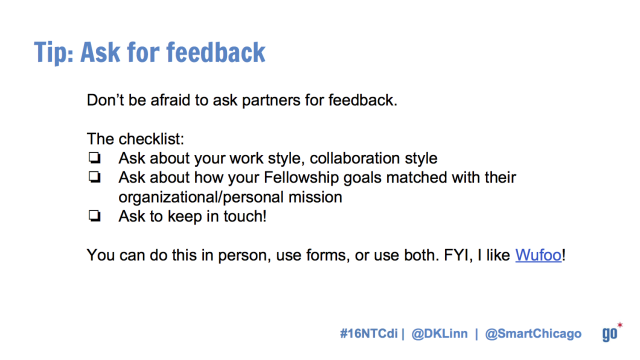 Below is my whole presentation from the Nonprofit Technology Conference session "Digital Inclusion Program Sustainability: Documenting Lessons, Sharing Successes, and Transitioning Work."
So impressed w/ the #DigitalInclusion Fellows! Good luck completing & transitioning your projects! #16ntcdi #16ntc pic.twitter.com/IolSh00zoM

— Denise Linn (@DKLinn) March 25, 2016