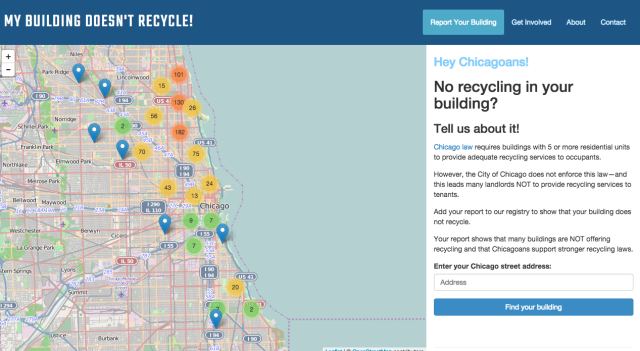 The Environmental Breakout Group at OpenGov Hack Night has been working on a site to report buildings that don't recycle. Chicago's ordinances require buildings with five or more rental units to provide recycling. However, the city doesn't always enforce this law leading some landlords to not provide recycling.
Claire Micklin, Ben Wilhelm, and Alex Kahn put together to help residents report buildings that don't recycle.
The team will be using the data to visualize reports of buildings that don't recycle and provide a hub for residents seeking more comprehensive recycling services.  Already, the site has received 900 reports on 750 locations in the first week that it launched. (The site was getting hit so much that it was running into Google's API limits – and so they started using Smart Chicago's Google API account.)
Micklin first started the project after seeing so many of her neighbors blue bins filled up constantly because neighboring buildings weren't providing recycling.
Micklin says she found working with the Environment Breakout to be really helpful for finding resources and coming up with ideas on how to do it. Scott Beslow, who helps lead the breakout group, helped put the bones together in terms of constructing the site and getting developers interested. The team used the OpenCity Apps Github repository to collaborate on the app.
The site was announced at last week's OpenGov Hack Night to rave reviews and has appeared on WBEZ, the Mike Nowack Show, and DNAinfo. Here's WBEZ talking to Micklin:
The group hopes to use the information to lobby for stronger enforcement of the recycling ordinance. The team will continue to work on the app during OpenGov Hack Night which happens every Tuesday at 6:00pm at the offices of Braintree.