On Saturday, November 7, I visited Stanford University's dSchool to participate in Expunge Design Day to "work with young people in the Bay Area to imagine what more user-friendly ways to clean and seal their record might be." Chris Rudd, who previously led the Mikva Challenge Juvenile Justice Council (JJC) and laid out plans for Expunge.io, is now a dSchool Fellow who wanted to use Expunge.io as a platform for youth in California to think about what their own expungement website and app would look like.
Expunge.io Design Day is just beginning @stanforddschool! New designers in the making. #youthledtech pic.twitter.com/fnbHiQIHHw

— Sonja Marziano (@ssmarziano) November 7, 2015
Twelve youth participated alongside adult coaches, lawyers, and technologists. The goal was first to learn about design thinking methods (such as interviewing and prototyping) and then use those practices to review Expunge.io, plan and wireframe a new piece of technology to get records expunged. Once the youth decided what they wanted to see then the technologists helped create real examples of what those websites might look like.
Review of Expunge.io
In small teams, youth looked at Expunge.io and listed out what they liked about the website, what they didn't like, what could be better, and what they wanted to add. Overall, youth liked that Expunge.io was simple, easy to use and had a lot of good information. All of the youth teams liked the mission behind the website and thought this helped with an important issue and liked that you could be connected with free legal resources.
Volunteered to discuss and design tech for youth advocacy like expunge.io at @stanforddschool today 🙌🏽 pic.twitter.com/gPXzJaDImQ

— Julie Ann Horvath (@nrrrdcore) November 8, 2015
There was a lot discussion around making the website more engaging. Some youth felt that completing the questions and form "felt like homework" and was not sure about what would happen afterwards. Also, a few people were confused about the language like the term "rap sheet." The youth teams had a lot of great ways to make this website better:
More photos and videos to make it more engaging (some youth even wanted to see a game!)
Help finding lawyers by seeing who they are, a short description of what they work on, and reviews
Different ways to talk with lawyer such as text message and Snapchat
More youth-oriented language from people (including celebrities) that youth trust
Youth also wanted to have more information about resources, their chances for expungement and what they might expect in court. We talked a lot about including success stories from real people about expunging their records and describing why it's important to expunge your juvenile record
Project ideas & examples
These teens were super creative today during our Expunge.io design workshop at Stanford https://t.co/lRq3B3NxG1 pic.twitter.com/1HpOcSvAXX

— Jazmyn Latimer (@JazmynLatimer) November 8, 2015
Once all of the youth presented their ideas, they were invited to take a tour of Stanford while a team of tech volunteers worked together to make examples of what their websites might look like. When they came back, the tech teams presented each of their designs and got feedback from the youth.
The first example was a website where the user would view stories from different people who went through the justice system and the expungement process. We added this because we heard from the youth that it was important for them to hear first why they should expunge their record. In addition, they upgraded the FAQs section so that instead of reading a list of questions the format was changed to a messaging interface (like Kik) that allowed you to ask questions and then the answers would show up from a celebrity that the youth wanted to hear from (we heard specifically that hearing answers from Kevin Hart would be a good touch, so we added it!).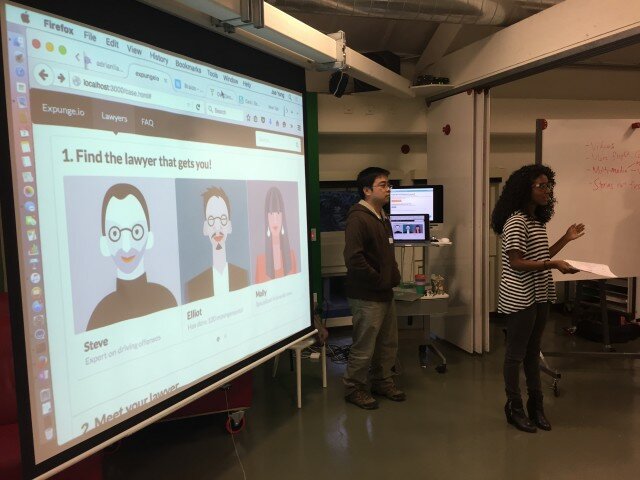 The second example focused on a website where youth could read about potential lawyers who could help them expunge their records. Not only would they be able to read about who they are and their reviews, but also be able to message or chat with the lawyer before meeting in person.
The last example would be an ideal solution in expunging records where youth would be able to input their name and birthday and immediately find out if they have a record, what it was for, and if it could be expunged.
Youth-Led Tech
Expunge Design Day was a great example of youth leading tech solutions. It was successful because of the youth's ideas, but also the coaches and technologists who volunteered their time to work alongside the youth. We need more events like this one, where we as adults are taking a step back and listening to youth, and together are thinking about solutions that really work for youth.
As we continue our Expunge.io work at Smart Chicago, I am also thinking of ways that we can incorporate ideas from youth into our own website to make it a better resource for youth.