Smart Chicago was at  the National League of Cities 2015 Congress of Cities in Nashville, TN to help distribute the first annual Digital Inclusion Leadership Awards. The awards were created by Next Century Cities and the National League of Cities in partnership with Google Fiber to recognize municipalities that have made major strides and investments in closing their digital divides.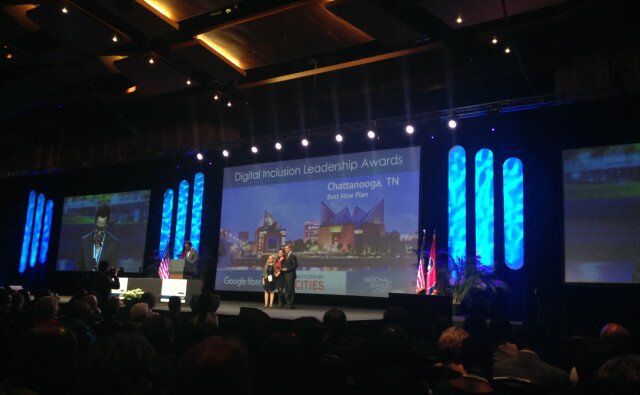 I assisted with the planning and judging of these awards. As a Program Analyst for Smart Chicago working for the Connect Chicago Initiative, I have have had the privilege to be part of this cross-city, cross-sector community of practitioners who think about the digital divide everyday.
Over 30 city governments applied for the awards. From mobile tech vans to matching technology grant programs, these city-supported programs have helped helped get more residents online.
Here are the winners: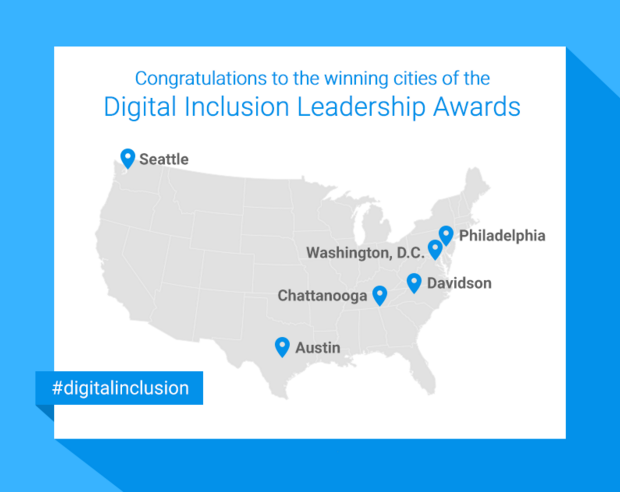 You can read cases about the winners and each winning program here!
How to Get More Residents Online
At the Congress of Cities, I moderated a Solutions Session with two of the Digital Inclusion Leadership Award winners: Austin, TX and Davidson, NC. The cities were invited to describe their winning programs and give concrete, specific recommendations to other municipalities seeking to replicate their work.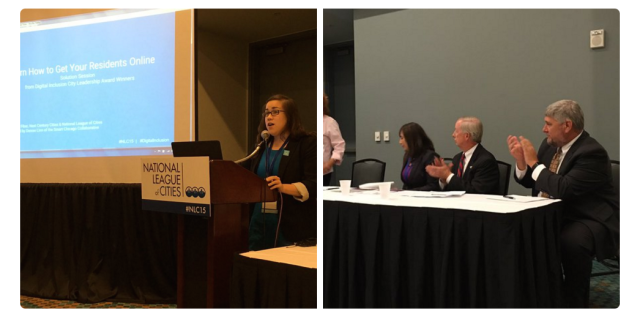 I found both of these cases to be compelling. Austin's Digital Assessment survey work (conducted every three years) is a great model for institutionalizing the regular collection of essential Internet access and use data across neighborhoods. Davidson's Eliminate the Digital Divide Program featured the clever "Squeeze Out the Digital Divide" – a part fundraiser, part youth-driven community awareness campaign that uses lemonade stand revenue to fund devices for school-age children.
Here is the full presentation from the Solution Session:
Lessons for Chicago
Back in 2009, the American Reinvestment & Recovery Act infused Broadband Technology Opportunity Fund grant money into many cities to help close the digital divide. Cities like Chicago and the ones above are all experimenting with ways to institutionalize digital inclusion work in the aftermath of that grant funding – whether it's device lending and refurbishment, public computing labs, awareness campaigns, Internet access survey work, and digital training programs.
This is why Connect Chicago is so important. We're working with partners all over the city – both public and private – to coordinate Chicago's digital access and skills ecosystem and support the trainers on the front lines of digital inclusion work.
One thing I noticed was that almost every winning city from the Digital Inclusion Leadership Award had a City Hall Champion in the form of a mayor, an agency head, or a department. Connect Chicago benefits from both the Mayor's office and the Chicago Department of Innovation & Technology being on its Steering Committee. This involvement sends a clear message: the digital life of every Chicagoan matters.
Despite the great work being done in the field, there are untapped opportunities for  innovation and experimentation. At Smart Chicago, we want to understand how to increase and strengthen the network of digital access and skills resources across the City. Specifically we're thinking about:
How to create referral systems for training across decentralized, but complementary services

How to track digital access and skills outcomes. Though we can collect data on participation and certification

How to engage with residents about their desire to learn new digital and technical skills. How do they want to learn? What do they want to learn? What are the obstacles in the way of learning those things?
We know we are not alone in asking these questions. Now, through the Digital Inclusion Leadership Awards and the community of applicants, winners, and best practices that it's assembled across the country, we have a peer network of organizations to collaborate with.
To become a member of the Digital Inclusion Learning Network, fill out this form.