On April 20, I attended the Illinois GIS Association Regional Meeting at the DePaul Center in Chicago.
ILGISA President Andrew Vitale (Sr. GIS Coordinator, Village of Niles) kicked off the day by giving an overview of ILGISA. ILGISA is a statewide organization of GIS and geospatial professionals. There are 625 members from government, college and university, and private sectors.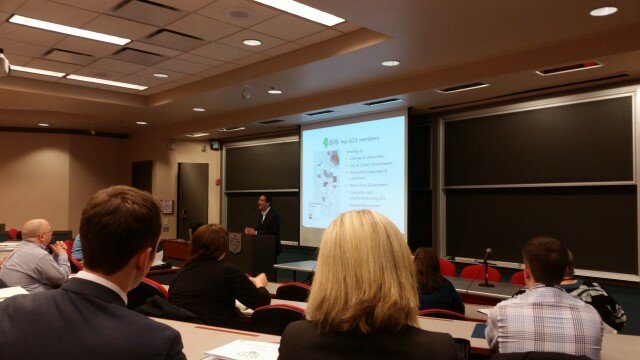 Next, Patrick McHaffie, Ph.D. from the Department of Geography at DePaul spoke about the Geography and GIS program and classes available at DePaul. Graduate students from DePaul's Geography program participated in the Map Poster Gallery available throughout the day.
Grad student Dominique Edwards is mapping Gary, Ind. to locate space for urban farms. @DePaulGeography @ILGISA pic.twitter.com/iyoas6ykCM

— DePaul Newsroom (@DePaulNewsroom) April 20, 2015
Cook County 
The first session focused on Utilization of GIS in Cook County. Margaret Cusack and Raymond Gottner from the Office of the Clerk of Cook County spoke first. They spoke about the development of the PIN system and walked through the meaning of each part of a PIN. They also spoke about their collaboration with GIS and the addition of TIF Boundaries to Cook County's Open Data Portal.
Amber Knapp, GIS Manager for Cook County, gave an overview of the GIS department functions. Greg Roberts from the GIS Department spoke about some the applications they have developed including Connect to Cook and TIF Viewer. Cook County GIS utilized an open source Configurable Map Viewer to build the TIF Viewer. Greg also spoke about their Open Data on the Open Data Portal.
Glad to see how open Cook County is with their data. Hopefully other Illinois counties see the value of #OpenData With @JoshKalov – @ILGISA

— Micah Williamson (@micahwilli) April 20, 2015
There were 3 speakers in the second morning session. Julie Hwang (DePaul University) spoke about the use of GIS data in health research. Michael Lange spoke about the use of GIS for inventory, evaluation, and access at the Chicago Park District. They used GIS to develop the 2014 Land Policy Plan. Molly Mangan (W4Sight LLC) looked at the intersection of Business Intelligence tools and GIS utilizing data from the City of Chicago's Data Portal to demonstrate functionality in Tableau.
In the afternoon there was a panel discussion on :GIS Careers in the Public and Private Sectors" and a demonstration of the ESRI's Web AppBuilder for ArcGIS. The final session of the day focused on GIS at the Chicago Metropolitan Agency for Planning (CMAP) for local planning, land use inventory, and measuring transit accessibility.
See pictures from this meeting at ILGISA's Facebook page.
The next Regional Meetings will be June 8 in Wheaton. Smart Chicago's Dan O'Neil will be speaking at that event about the importance of GIS in the open data movement.