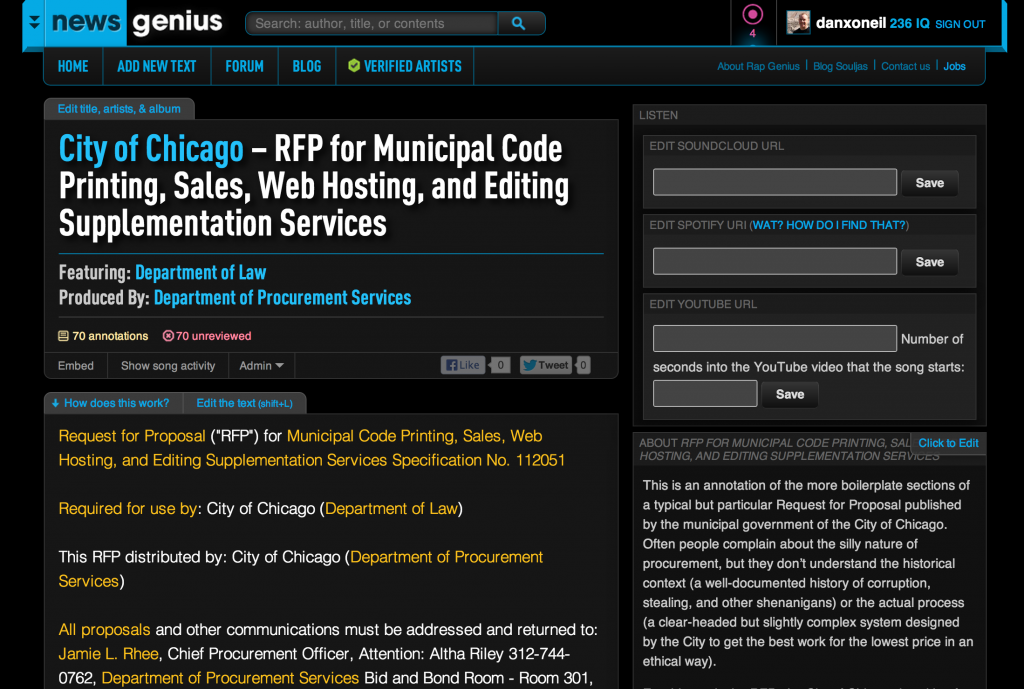 Today we're launching our Annotations program, where we publish rich text-based annotations of dense government documents like municipal code, RFPs, contracts, and other documents of this nature.
People in the open government / open data world like to poke fun at documents. Often published in PDF format, and containing stilted language and legal provisions, these files are easy targets for those of us who are unfamiliar with what they say and what they can lead to.
But these documents are important. In many cases, they are lifeblood of cashflows in and out of government. They are the sum total of the rules— the code, so to speak— that we use to run things. They are the objects with the signatures & the stamps, the legal descriptions and the scopes of work. They matter; enormously. And we have to understand them.
At Smart Chicago, we spend a lot of time thinking about how to create sustainable infrastructure for civic innovation. Programs like the CUTGroup (resident-centered design that engages hundreds of Chicagoans), Hosted Web Space (free server space and configuration for people working in open data), and our Github account (open source code from myriad web projects that put real money into the hands of civic developers) are deliberately designed to build this infrastructure.
This annotation project is a step toward addressing another infrastructure issue— funding. We believe that government spending on technology could be used to fund civic innovation while reducing overall spending. Small civic developers— the ones we hire to do our projects— should be bidding on any enterprise software system that comes down the pike. Introducing open technologies, agile methods, and new mindsets to government contracting will lead to more efficient spending and economic expansion.
What we're trying to do is build the civic innovation sector of the technology industry.
We use News Genius as the platform for our Annotations program. It has a number of features that make it great for our purposes:
Rich annotations (links, images, video embeds, etc.) that allow for deeper understanding of specific words and phrases

Direct, sharable hyperlinks to specific annotations to stimulate discussion
Open platform that allows anyone to improve the annotations
There's a large and growing community of people on the platform, annotating all sorts of text
Join us!
Here are the items we're annotating upon launch:
News Genius is a project of Rap Genius, which focuses on annotating the lyrics of rap songs. As you can imagine, the content on that side of the site can get somewhat off-color. If you stay focused on the above-reffed items, you should be able to steer clear of any of that. As we like to say here at Smart Chicago, "open means open". 
One side effect of this project is that we've started the first "Artist" page for our favorite municipal government:  http://rapgenius.com/artists/City-of-chicago as well as the Department of Law (http://rapgenius.com/artists/Department-of-law) and Department of Procurement Services (http://rapgenius.com/artists/Department-of-procurement-services). Those are some great URLs.
Much, much more to come.