Note: this is a guest post by Rose Afriyie of our partner mRelief.
How do you keep your finger on the pulse of user needs? At mRelief.com, a startup with non-traditional users — beneficiaries of public assistance — this is a question that we constantly ask ourselves. We are helping our users solve for long wait times by providing them an avenue to help them assess their eligibility for public assistance through text messaging conversations and online questionnaires that help them gauge whether it is worth it to complete extensive applications. These forms return response pages and text messages that help them determine their eligibility and local resources through a partnership that we have with Purple Binder.
Our users don't have a lot of economic power in society. An average online mRelief user is paid $1,321 a month and those who text in to determine their eligibility make $150 less in earned income. When you have decreased purchasing power, technology is seldom built with your needs in mind. But in interviews and surveys, our users have shared that they are humbled by our willingness to learn how we can better serve them and provide relief to the process of asking for government help.
Since we launched in September last year in Chicago, we had to commit to some listening strategies— activities we engaged in to hear our users and meet them where they are. Considering that we had 134 percent online user growth between May and June  and that between June and July we almost tripled the number of text messages processed by our system, we think we are on to something. We would love to share one key listening strategy that contributed to getting us to this point: The CUTGroup.
Landing Page Before CUTGroup: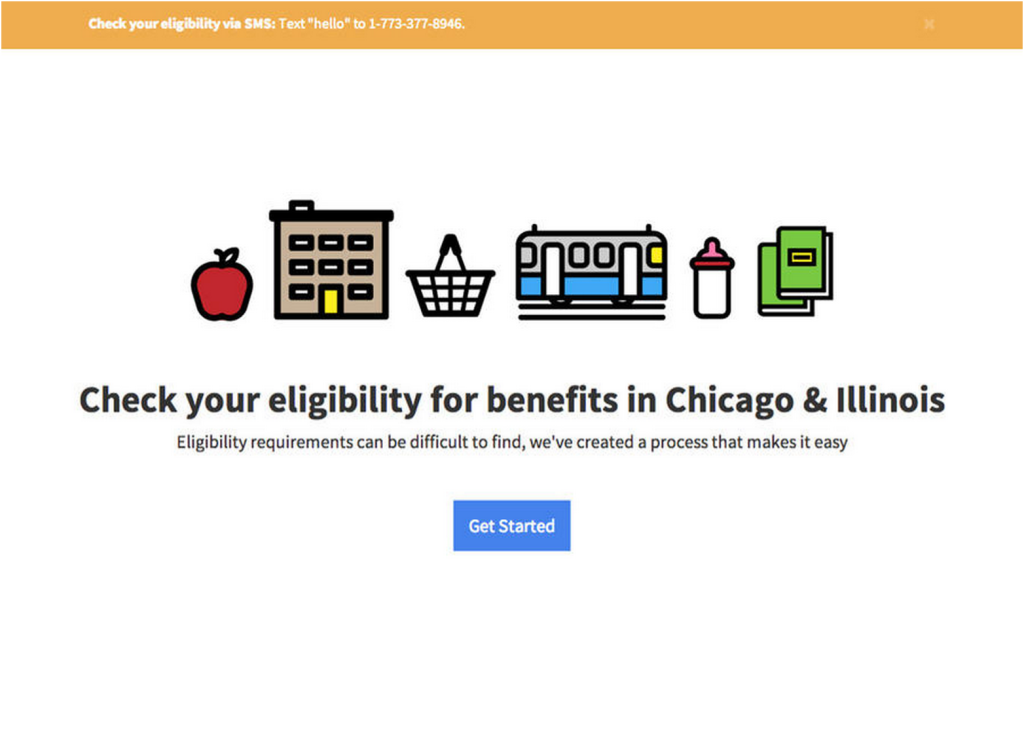 Landing Page After CUTGroup: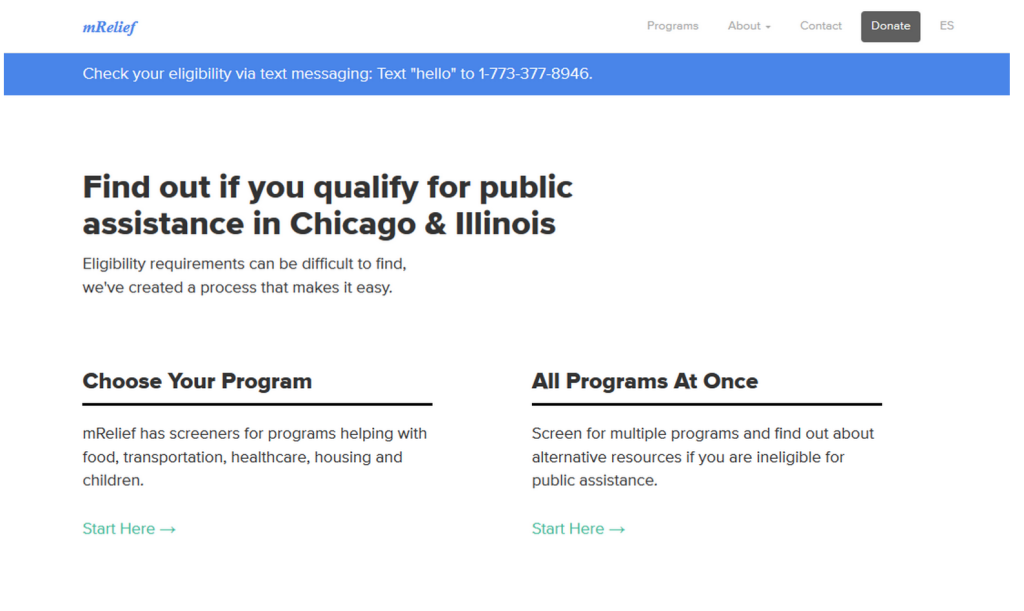 Civic User Testing Group (CUTGroup)
Since we launched mRelief, we conduct quarterly user surveys to get a sense of what makes our users tick. In 4th quarter of last year, the revelation was 82 percent of respondents didn't pay for SMS which gave us the affirmation needed to launch our SMS strategy in November 2014.
But the most in-depth survey by far has been the CUTGroup test we participated in during Q1 of this year, an initiative from Smart Chicago to to help developers listen to the needs of their users. It combines observational analysis with insightful questions through surveys.
CUTGroup insights on our website usability combined with Google Analytics data on form completion and bounce rate were catalysts for redesigning our entire site with key leads on what should be areas of focus. Especially helpful was the notion that our icons on our pre-CUTGroup landing page were not clearly understood by 4 out of 6 of the users who mentioned our icons.
Other features that were the result of usability feedback led to rethinking our calculator by positioning a link to it near income questions and making all popovers/help text pop out as soon as a user enters data into a field. Based on typos, resulting from auto-correct and human error, we also revamped our SMS experience with more notices and additions that left users feeling like they weren't penalized for mistakes. We helped users who texted in stay on the same text message if they made an error– all made possible through observational analysis in the CUTGroup.
Golden Nuggets for Future Consideration
I live 8 minutes from the Martin Luther King Community Service Center where we launched our first pilot involving case workers who served as navigators for our tools. There are times, on my way to work, that I will stop in and just wait with the folks we serve. I will listen. Observe folks — the phones they use, the questions asked about eligibility and surmise what the growing pain points are. For many startup co-founders, in-person surveys are time-intensive and are an "and" strategy combined with other world wide web magic. So, I also want to share two dope insights that we hope to integrate into listening strategies for the future:
Feedback Questions Integrated Within Your Tool –

Cathy Deng at Data Made, a designer and developer we adore, has a listening strategy that integrates instant feedback on the tool itself. One contribution she made to the recently announced chicagosmilliondollarblocks.com was a feedback question seen here: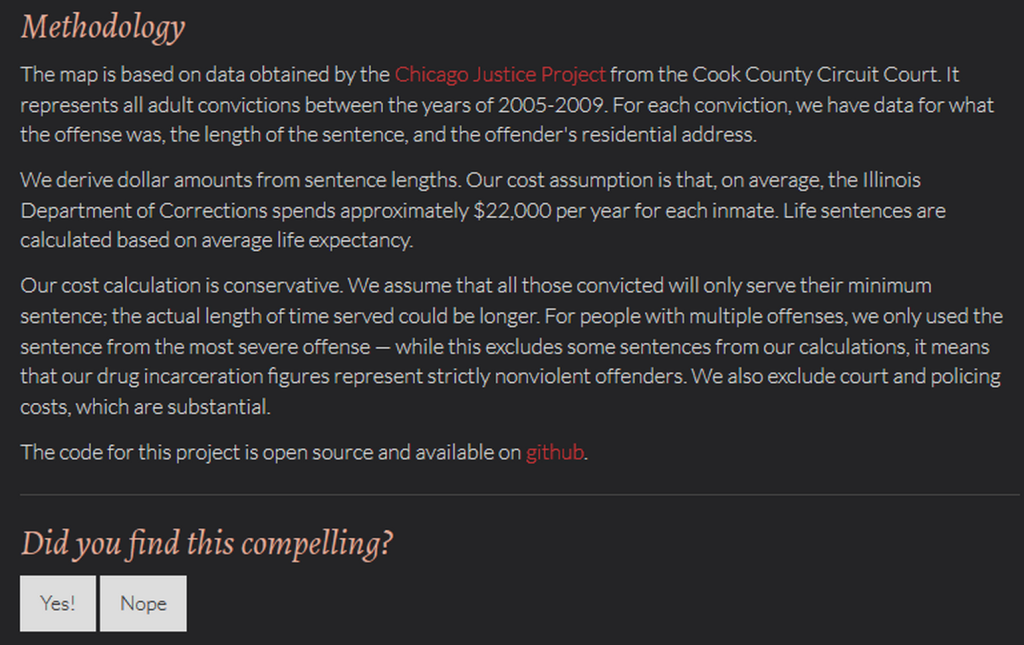 Analytics, Analytics, Analytics

– For those whose technology solution is primarily on web, listening with cutting edge analytics services is also crucial. Keen.io is one analytics as a service tool and Heapanalytics.com automatically captures hovering, scrolling, clicking and more that a user will engage in on your site.
So chime in, folks, tell us how are you listening?
See how we have integrated learnings into our site at www.mrelief.com
mRelief is also currently looking to pair with folks who have expertise in Angular JS. E-mail us at mrelief.form@gmail.com if you are interested in supporting tools that modernize public benefits for all.