In the Civic User Testing Group (CUTGroup), we've built a community of over 1,000 residents in Chicago and Cook County who get paid to test websites and apps to help create better technology. We're proud of how many people we have already reached with the CUTGroup, but we continue to value continuous recruitment and finding new modes to invite people to join. Today, we are announcing that residents can now sign up for CUTGroup via text message.
Participation Barriers
The start of this project began when I wrote to testers who never came to a CUTGroup test before. This was at the end of December, 2014, when 186 CUTGroup members (out of 817) had never opened up an email that we sent. I wanted to know what some of the barriers were for them that stopped them from participating in a test, and just get a better idea about what was going on. I wrote these emails from my work email (not Mailchimp) in case our emails were going to spam:
Thank you for being a part of the Civic User Testing Group (CUTGroup)! I'm writing because it looks like you have not received or opened any of our e-mails. We are always looking for a diverse group of people to test with and we're looking to determine why some sign up and don't participate.

If CUTGroup isn't working out for you, we would like to hear why! Please respond to this e-mail or fill out this form.
I wanted to see if they were receiving our emails, if the locations were tough for them, if they only wanted the $5 VISA gift card for signing up, or anything else. A number of testers reached out to me and said that my emails were going into their spam folder (we use Mailchimp for all of our email campaigns). Now, every time someone signs up and I send a gift card, I add a letter thanking them, but I also tell them that adding our email addresses can avoid our emails ending up in the junk mail folder.
I also heard from a lot of testers that sometimes the date/time or location can be hard for certain testing opportunities. This is understandable, and we try to move around the city with our testing locations. Here is a look at all the neighborhoods we tested in so far:
View CUTGroup Testing Locations – 09.24.15 in a full screen map
Hearing from our testers about why or why they don't participate also got me thinking about the way that we set up communication around tests could be a barrier to participation. We normally invite testers in our initial call-out email about a week or two before the test date. We do that because we know by that time, testers probably know their schedule and can confirm their availability. This helps us with our no-show rate.
However, if you do not have internet access at home and rely on public computer centers, you are limited by your time commitment on a public computer and might not have a chance to respond to our emails in time. Out of our 1,000+ CUTGroup members today, 29% of our testers said their primary form of connecting to the Internet is either via public wifi or their phone with data plan. 
Text Message
We were interested in offering a text solution for residents to sign up for the CUTGroup and then also receive notifications when a new test is available. The impetus behind this project is to serve the large and growing number of residents who do not have regular access to the internet. By adding a text mode, the CUTGroup will be more effective at discovering resident's voice.
In addition, even if you are connected on a regular basis, text message is still a really powerful tool.
Here is how it works:
Residents text a message to this phone number: 773-747-6239 to initiate the sign-up. We start with a short message to let them know that they will be answering 10 questions. We knew our usual form was a little long, and so we decided to only focus on  the questions we needed to ask. We understood by asking some testers less questions than others, that this would bifurcate our testers. Therefore, we have a mission to choose people via text message to bring them in, get them in front of computers and access to technology. In addition, this is when these CUTGroup testers will complete their entire profile.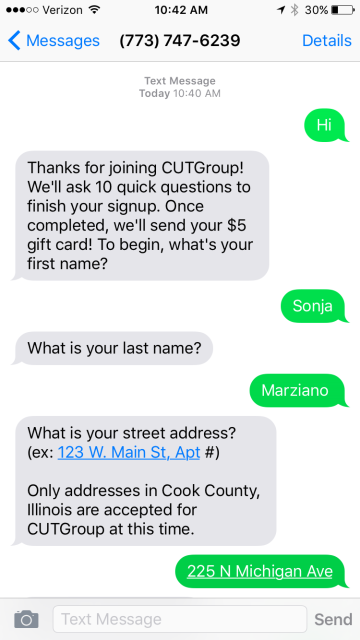 We are using both Twilio (check out this toolkit), a cloud communications platform that allows web apps to make and receive phone calls and SMS text messages, and Wufoo, an easy-to-use tool we use to create forms. These tools then send the data to Patterns, an application we created to help manage the CUTGroup.
Thanks to Smart Chicago consultant Josh Kalov for doing all the tech work in this project.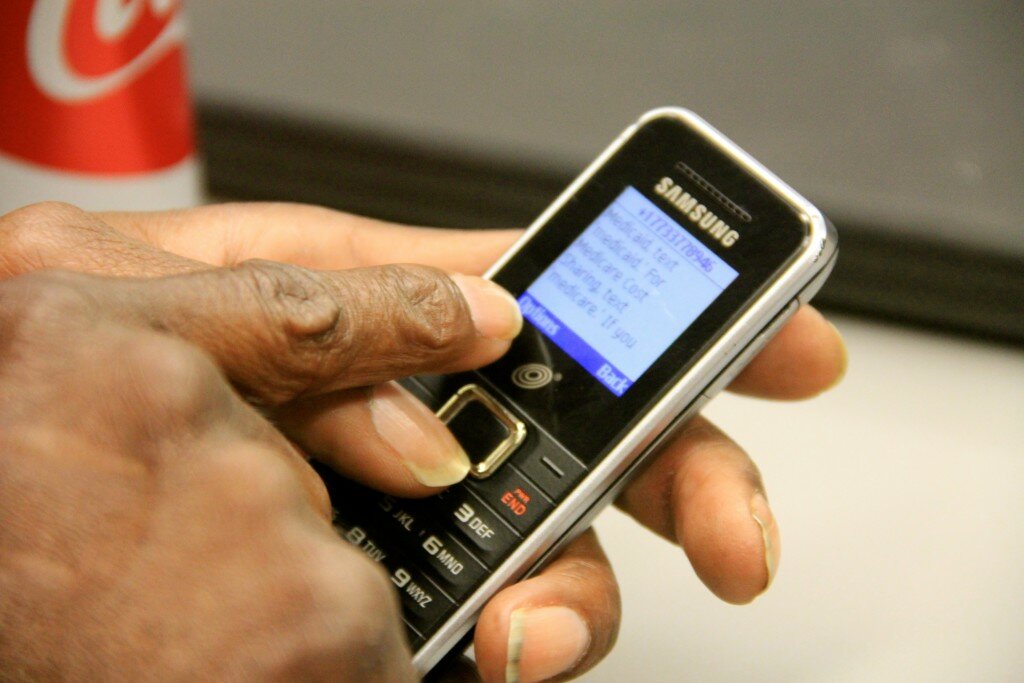 Notifications
In the next month, we will be implementing a notification system to testers who prefer text messaging for new testing opportunities. We are looking a step further to build a system where these testers who will not only hear about new tests, but also respond to our screening questions and tell us their availability via text.
More to come on that! We are excited that we are beginning to leverage text message as part of our CUTGroup process.