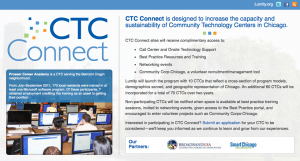 Lumity is the sub-recipient responsible for this portion of the Public Computer Centers project, which is branded as CTC Connect.
Under this project, 70 participating Community Technology Centers (CTCs) will receive technology support, best practice materials and training, networking events, and volunteer management tools and training.
Project scope includes:
Assessments & Recommendations
Weekday Call Center & Onsite Support
Hands-on Tech Maintenance Training
FAQ: regularly updated based on inquires
The current status is that preliminary work is being done while final contract is being negotiated.