Smart Chicago has three primary areas of focus under which we organize all of our work: Access to the Internet & technology, Skills to use technology once you've got access, and Data, which we construe as something meaningful to look at once you have access and skills.
Access to technology and the internet
At the base of our work is meaningful access to technology and the internet itself. This directive was clear from "
The City That Networks
" report: "Digital excellence is achieved when all who wish to can integrate the Internet comfortably into their lives — a state of active and meaningful participation that increases knowledge and enhances connections across time and place." The drive for meaningful participation continues to form the basis of our efforts.
Our work in access spans all areas of work. At the center is Connect Chicago, a program that came out of the Public Computer Centers grant that we helped the City of Chicago Department of Innovation and Technology to complete under award No. 17-42-B10553 of the Broadband Technology Opportunities Program. The CUTGroup is another important part of our access work, as all of our tests are conducted in libraries, a primary tech access point for many residents. Smart Health Centers are another critical component, as we've helped create and support dozens of new public computer centers.
Digital skills for all
For those who have access to technology and the Internet, it's critical that they have the skills to use it to genuinely transform their lives. We focus on helping people at all skill levels to learn new things and improve their lot in life. We support teachers & learners, developers & residents, seniors & teens. No matter where you are, we have a program that can touch your life.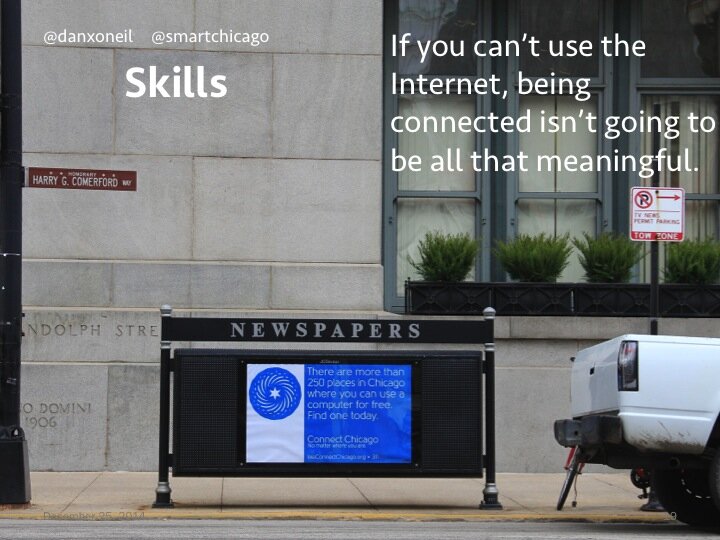 Programs in skills area include Connect Chicago, where we created and maintain a digital training library and convene meetups of practitioners to trade ideas. Our #CivicSummer program is where we team up with partners to teach teens civics, media, and technology. Chicago School of Data is where we work with nonprofits and institutions to improve their skills with data and technology. Our work with the Hive Learning Network allows us to do deep-dives with great partners on expanding the use of tech in their own places.
Meaningful products from data
Once someone has access and skills, the next step is to make certain they have something worth looking at— content that measurably contributes to their quality of life; that improves the way they interact with government, institutions, and each other. Smart Chicago is one of the largest creators of civic tech, and we seek to build the civic innovation sector of the technology industry by making popular products using sound processes that makes lives better.
We create products that perform simple functions, like Foodborne Chicago, where we connect people who complain about food poisoning on Twitter to local health officials. We also develop & maintain websites like Chicago Early Learning, which is used by parents to lookup available programs, and Connect Chicago, which serves a similar purpose for public computer centers. Our Chicago Health Atlas is a place where you can view citywide information about health trends and take action near you to improve your own health.
Work is where it's at
We deliver on our mission in our work. Every new project we take on is measured against these areas of focus. Here's a few highlighted projects.