Chicago Early Learning is the City of Chicago's Early Learning Portal, where residents can easily find and compare early learning programs side-by-side. 
The site provides information about high-quality early learning programs and has a custom search tool with pre-populated location names and a custom filter to find the best choice for you and your family. Parents and caregivers can do side-by-side comparisons of locations to choose the best option for them. Once parents have compared and selected centers, they are directed to the City of Chicago's application system with their top choices.
The entire site, including data elements and navigation, available in English and Spanish. All code and data driving the site is completely open source, including a full API of the data that drives the site, updated nightly.
This project is funded by a grant administered by The Chicago Community Trust through the One Chicago Fund.
October 2013 User Testing Results
Homepage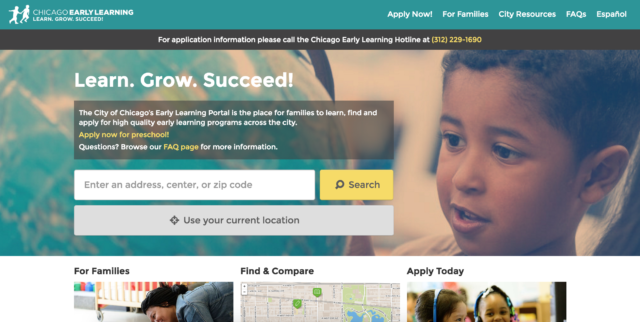 Search page