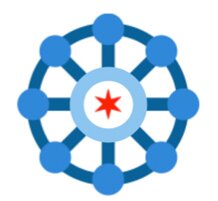 There is a Chicago School of Data emerging—one that places data at the service of the people.
The Smart Chicago Collaborative has been researching Chicago people & organizations who do this work. Over 200 organizations have already added their voice and described their use of data. We conducted the Chicago School of Data Days conference to meet & share with each other. You can see lots of documentation of our conference in recorded sessions, shared meeting notes, and images.
We need *you* in order to make this project great. If you have any inkling that you use data to improve lives in Chicago, we need to hear your voice. Start by completing this census form. Here's the raw data thus far in a Google doc. Good stuff in there.
Next. we're publishing a book describing this ecosystem in late 2015.
The Work to Date
This work has three main components. Here's some preliminary results:
1/ Scan of the field.
We've conducted close to 90 in-depth interviews with organizations across the data ecosystem in order to understand roles, connections, dependencies, and potential collaborations between organizations in the Chicago data ecosystem. We're also looking to identify & discuss opportunities and to bridge gaps.
The primary manifestation of this scan is currently seen in the conference agenda and artifacts.
2/ Documentation and mapping of the landscape.
Our book will be the main deliverable on this work. There are some preliminary results here:
Toward a Structure for Classifying a Data Ecosystem. Snip:
After months of interviews and hundreds of surveys we're beginning to see how the regional data ecosystem fits together. The ecosystem grows and develops because we create data for others to use, we consume data made by others, and we enable each other to do the same. We found data creators, data consumers, and data enablers.

Some organizations create packaged data sets of data they've collected, while other organizations make it a business of cleaning free, public data. Others donate hardware and their expertise to local schools or, as an institution, they fund organizations working in the field. But data creators consume data and data consumers enable others to create data. These broad categories aren't mutually exclusive.
3/ Chicago School of Data Days on September 19 -20, 2014.
Done!
Partners
This project is funded by a grant from the MacArthur Foundation. We are working with a core advisory group of LISC Chicago, the City of Chicago, and Cook County to lead and provide clarity around how data is used to improve lives in the region.
Press
Please contact us with media inquiries.
Team
Daniel X. O'Neil runs this project. Dan wrote a chapter of the book, Beyond Transparency, that covers the Chicago ecosystem in detail. It serves as something as a primer for the work at hand.
Sonja Marziano is the project lead and has run the show for months. Kyla Williams runs all finances and also the documenters program. Matt Gee was an important early contractor, doing a number of interviews and helping crystallize thoughts.  Adam Garcia conducted  the bulk of the original interviews.  Christopher Whitaker works working on outbound communications and runs all conference technology. Josh Kalov is consulting on conference sessions and in writing our book. Andrew Seeder analyzes the interviews and surveys, creating original thinking around taxonomy. The documenters, all of whom are awesome. Oprima-1 conducted outbound research to gather as many practitioners as possible.
And you. We cannot do this project without you. Please complete the city-wide data census and get in touch!