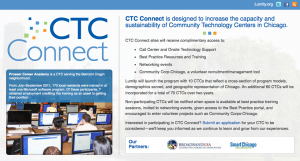 Lumity was the sub-recipient responsible for this portion of the Public Computer Centers project, which is branded as CTC Connect.
Here's info from the CTC Connect website:
Role of CTCs
Community Technology Centers (CTCs) play a vital role in communities and are in jeopardy due to declined funding. CTCs level the playing field by providing access to computers, internet, software and training for a nominal fee, if not free. CTCs are a safe place for youth and families to do homework, unemployed and underemployed to gain skills and information to improve their economic opportunities, and for the elderly to stay connected with friends, family and the community.

As a result of funding cuts, CTCs needed to supplement their budgets to maintain their programs. The City of Chicago Department of Innovation and Technology graciously and strategically decided to reallocate a portion of Broadband USA federal funds to address the sustainability of CTCs in Chicago. Through a grant of these reallocated funds, Lumity created CTC Connect to identify ways CTCs can continue to provide their services in lieu of declined funding.

Program Description
Lumity's CTC Connect Program is a comprehensive program designed to help increase the capacity and sustainability of CTCs in Chicago. The idea was to connect with seventy participating CTCs, and to join them together with Lumity to identify best practices for operating CTCs and generate new sources of revenue to sustain and ensure that their programs meet the needs of the communities which they serve. Through this partnership, over the last two years of this grant award participating CTC's received:

Technical assessments on their current tech environment with recommendations to address vulnerabilities
Technology support via online troubleshooting tips, help desk and onsite support (not available after June 30, 2013)
Operational best practices resources and training
Peer networking opportunities
Access to a volunteer matching portal to recruit pro bono support for special tech projects, programs and operations

With a goal of 70 CTCs Lumity have reached 73 Computer Technology Center partners who have received assistance that has aided them in sustainability and Best Practices. Though the program has ended as of June 30th 2013, Lumity will continue to post materials and resources on this website for all CTCs to access and benefit from regardless of their level of participation. Initial funding for this prpgram ends June 2013 but Lumity will continue to seek additional financial partners to invest to expand the program beyond the 73 participating CTCs. Read here for Terms & Conditions of CTC Connect.
Here's the final report from this portion of the BTOP project.