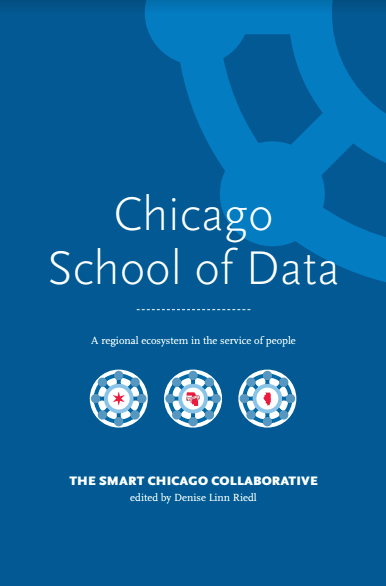 Today the Smart Chicago Collaborative is proud to publish and share the Chicago School of Data Book. We saw this work as an essential first step to understand and convene the mission-driven players leveraging local data for the public good.
The book summarizes the Chicago School of Data project  which included a scan of our local data ecosystem from 2013 – 2014 and a convening we built on top of that scan. Typical with other Smart Chicago projects like CUTGroup and the Array of Things Civic Engagement Project, we also included "meta" sections in the Chicago School of Data book which share specific details about how we executed our projects, what tools we used, and the guiding principles behind our program design decisions.
The Book's conclusion wraps up the themes from the 2014 Chicago School of Data convening, but does so in current context. Specifically, three themes were brought to light as major gaps identified at the Chicago School of Data Days that are still relevant today:
The need to understand local data training supply and demand

The need for more data support services for capacity-strapped, mission-driven organizations

The need to incentivize and facilitate collaborative data work and data sharing across specialized institutions and research fields
The Book
You can view a PDF of the book below or order a copy on Amazon HERE.
This book adds to Smart Chicago's list of publications aimed at documenting our work, methods, and lessons. It joins the ranks of the CUTGroup book, Experimental Modes of Civic Engagement in Civic Tech, and The Civic Whitaker Anthology.
Gratitude for our Chicago School of Data Collaborators & Partners
This work would not have been possible without a few key players, which we want to call out in this blog post.
Lindsay Muscato: Lindsay is Smart Chicago's publications consultant. She organized, edited, and assisted with design work for this book and many more of Smart Chicago's publications.  
Andrew Seeder: Andrew was a consultant with Smart Chicago who assisted with writing for the Chicago School of Data Days blog posts, building a taxonomy around our data ecosystem, and compiling book content.
Smart Chicago Documenters: The Smart Chicago Documenters Program —  now transitioned over to the lauded community news organization, City Bureau — was integral to transforming the Chicago School of Data into lessons and writing that would live beyond the project's lifecycle. Our Documenters were the boots on the ground note-takers and photographers that memorialized the Chicago School of Data Days.
The John D. and Catherine T. MacArthur Foundation: The MacArthur Foundation is one of Smart Chicago's founders and also provided the support for the Chicago School of Data scan, convening, and book. They have championed many other civic projects across the U.S. that have catalyzed the use of data for the public good.
What's Next?
Since the original scan, Chicago's data ecosystem has only become more sophisticated. New data initiatives have emerged. The City of Chicago's Open Data Portal has grown and now is visualized on Opengrid.io. The Array of Things will soon open up new data that can help us understand neighborhood public health and public services challenges. New data players have also emerged —  very notably, Smart Chicago's new collaborators, City Digital at UI Labs. City Digital has demonstrated an original approach to cross-sector, collaborative problem solving, often involving original data collection or innovative data sharing agreements presenting enormous potential for civic innovation.
Going forward, matchmaking these new data sources and new collaborative opportunities to the right community organizations or data intermediaries will be key. There were 200+ institutions that participated in the Chicago School of Data Days in 2014 and likely 100+ more today that can be engaged. While the Chicago School of Data Days facilitated an important conversation around shared challenges and opportunities, it did not directly catalyze new partnerships or scope new work. Action-oriented workshops could be the future for (1) nurturing this community of practice and (2) ensure that local data work catalyzes progress or change. We need to think about creating clear pathways toward data collaboration for the public good and how our ecosystem can incentivize that collaboration.
More on the Chicago School of Data
To read more about the Chicago School of Data project, take a look at these important links:
Data Convening & Collaboration in Other Cities
We're also inspired by many other cities convening around data and working to put data in service to the public interest. We learn about a lot of these innovative projects from the National Neighborhood Indicators Partnership. Here is just some of the impressive work happening in other cities:
Data 101 in Pittsburgh

, a series of introductory data literacy and training sessions held in libraries to engage residents with open data

Cleveland Data Days

, an annual event that gathers local researchers and nonprofits around local data

Alamo Regional Data Alliance

, a coalition of local data organizations that regularly meets and collaborates