Overview
The Illinois Open Technology Challenge to bring governments, developers, and communities together in a common mission to use public data and create digital tools that will serve today's civic needs and promote economic development. We've worked with government officials to publish 138 new datasets (34 in Champaign, 15 in Rockford, 12 in Belleville, and 77 from the 42 municipalities South Suburban Mayors & Managers Association). We've worked with developers in meetups all over the state-—in 6 locations in 4 cities with 149 people. We've done outreach in each of our communities to to reach regular residents with needs that can be addressed through data and technology. Here's an infographic on our work to date:
And a look at the Illinois Open Technology website, which we also use as a platform for judging.
Partners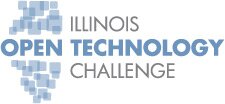 The Smart Chicago Collaborative has partnered with the Illinois Science and Technology Coalition to design and deliver on this program. We have many other sponsors and partners providing support, including major prize support from the Civic Innovation in Chicago project funded by a Knight Community Information Challenge grant provided jointly by the Knight Foundation and The Chicago Community Trust. Press News Coverage: Champaign To Participate In Illinois Open Technology Challenge
News
Rockford Illinois Open Technology Challenge, NBC Affiliate WREX in Rockford
from Daniel X. O'Neil on Vimeo.
Illinois Open Technology Challenge Coverage on WICD Channel 15/ ABC Champaign
Illinois Open Technology Challenge Coverage on WICD Channel 15/ ABC Champaign from Daniel X. O'Neil on Vimeo.
Governor Pat Quinn announced the challenged in late October 2012. Here's an excerpt:
"We live in a knowledge economy that is driven by access to information and new ideas," Governor Quinn said. "The Illinois Open Technology Challenge will not only increase transparency at the local level by giving the public access to government data, it will give entrepreneurs the chance to develop new, innovative applications for the data that will create jobs and make a positive impact."
Radio interview: Navigating Illinois' Giant New Data Project.
Article: Illinois Open Technology Challenge seeks to bring Chicago suburbs, Illinois communities into digital fold
More
We launched this project with four pilot communities with an aim to make Illinois' open data platform, Data.Illinois.Gov, available statewide. We provide these communities with the tools to publish data, reward entrepreneurs and developers who create new technology and bring it to the public, and bring community organizations together to understand how to use that technology. This project is another example of the Smart Chicago Collaborative working with partners to extend the open data movement and to encourage the development of a civic innovation industry that builds the local economy while serving community needs. If you're interested in participating,  join our list and let us know.