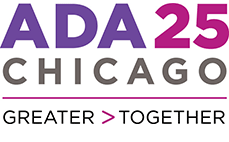 Please join us on May 22nd to discuss opportunities to improve public and open accessibility data in our community.
In particular, we would like to identify ways in which OpenStreetMap, the free, open, and community-built map of the world, can better capture characteristics of the built environment that impact how people with disabilities move throughout the city.
This is being done in partnership with ADA25 Chicago. ADA 25 Chicago will commemorate the 25th anniversary of the Americans with Disabilities Act in 2015 and leverage this milestone to improve the quality of life for people with disabilities—often considered the last frontier of civil rights. The Chicago Community Trust is the lead funder of this initiative.
Maptime Chicago is the local chapter of Maptime – whose mission is to open the doors of cartographic possibility to anyone interested by creating a time and space for collaborative learning, exploration, and map creation using mapping tools and technologies.
Maptime Chicago and Smart Chicago are working to both improve the data in OpenStreetMap and empower community members to contribute to and benefit from the map. We need your insight and feedback to ensure this work reaches the right members of the community and is primed to create lasting impact. We look forward to meeting with you.
The outcomes of this meeting will help Maptime Chicago and Smart Chicago plan a future Maptime event centered around adding and maintaining accessibility data in OpenStreetMap.
You can register for the event here!
Meeting Details