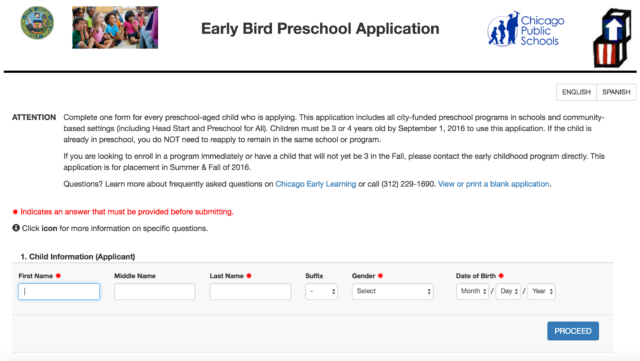 On May 16, 2016, the City of Chicago launched its first universal preschool application to help more families enroll in Early Learning. Here is part of the Mayor Office's press release:
Mayor Rahm Emanuel today launched the city's first universal early childhood online application site, providing parents and families across the city with a comprehensive menu of preschool opportunities available under Chicago Public Schools (CPS) and the Department of Family and Support Services (DFSS). Starting today, this new system will improve access for parents seeking a program for their 3- or 4-year old child by helping them identify opportunities open in their neighborhood.

"Every child in every neighborhood deserves a quality education and that must begin in their earliest years," said Mayor Emanuel. "These improvements to our early learning enrollment process will ensure that all of our families—no matter their needs—will be able to find and secure a quality early learning program for their child that will provide a foundation for the rest of his or her academic career."

The online system will create a streamlined process, providing comprehensive information on all programs available to families, making it easier to select a program among the City's more than 600 high-quality community-based and school-based preschool programs. By moving the application process online, the administration will reduce barriers and allow parents to complete the application from any computer, tablet or smart phone.
Parents still begin their experience on the Chicago Early Learning portal, where they can search for and compare early learning programs. After parents find two early learning programs that suit their needs, they are able to access the "Early Bird" application at apply.chicagoearlylearning.org and complete the application for preschool programs.
Parents are also able to call the Chicago Early Learning hotline at (312) 229-1690 or visit Chicago Early Learning Family Resources Centers for additional help with the application. Family Resource Centers are libraries and centers across the city where Early Learning specialists are stationed to help parents navigate the early learning process.
Smart Chicago built and managed Chicago Early Learning since its inception in 2012. We continue to work closely with our partners at the City of Chicago, Chicago Public Schools (CPS), and Department of Family and Support Services (DFSS), to improve the portal to better serve the needs of Early Learning specialists and parents.
We are excited about the addition of a universal preschool application because we see how it can improve parent's experience in enrolling their child in early learning programs whether they are applying for a community-based program or a CPS-based program.
Updates to Chicago Early Learning
In the last few months, we made some considerable improvements to the search functionality to give parents more flexibility in search terms. Parents are able to search for part of a center's name (such as the short name for a CPS location) to find a specific location. They are also able to search by zip code and community area more easily. We also improved address search to be more flexible and accommodate a parent searching by cross-streets, for example.
We made changes to the search page to consolidate some of the information and better use the space to give parents more important information about a center first. We heard from our partners that the top questions they hear from parents when asking about a center are about the ages the center serves, and whether the center offers full day or part day programming.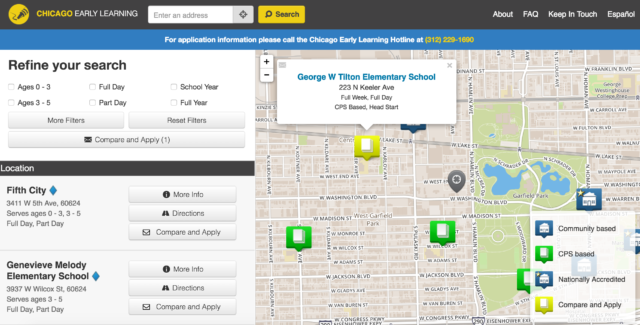 We also have been working closely with the City of Chicago to update content on the portal to help parents give more information about the enrollment process, including a refreshed Frequently Asked Questions (FAQs) page.
As part of the Early Bird application process, we are listening to more feedback from our partners, the Early Learning specialists, and parents & caregivers and continue to make improvements to the Chicago Early Learning portal. More to come!