On July 1, 2016, the City of Chicago launched an online application system for parents to apply for preschool programs at over 600 sites throughout the city and immediately see if their child is eligible for a preliminary placement with a provider. This happened weeks after the Early Bird application process was launched on May 16, 2016: the City's first universal preschool application for both Chicago Public School (CPS)-based and community-based programs.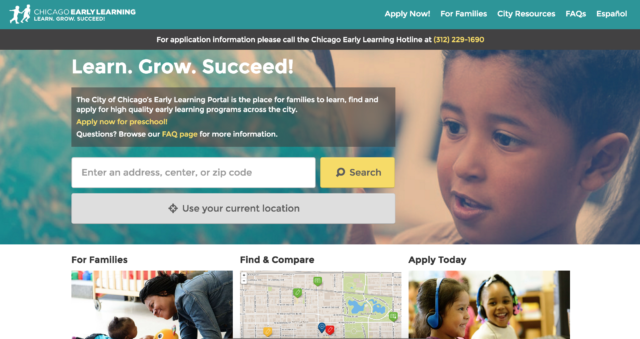 As part of this launch, Smart Chicago rolled out a new version of the Chicago Early Learning portal to provide better information about high-quality early learning programs, help parents search and find centers based on their needs, and allow them to compare locations to choose the best options for them. Once parents have compared and selected centers, they are directed to the application system with their top choices. Parents are also able to call the Chicago Early Learning Hotline or visit a Family Resource Center for assistance with their application process.
Updates to Chicago Early Learning
More Information about Early Learning Programs
The City of Chicago wanted the Chicago Early Learning portal to be a key place with information about the importance of early learning programs and details on how to apply. We added a number of pages, including:
A "Parent Information" page for families to learn about high-quality early learning programs. This page provides an explanation of programs, as well as helpful tips for parents to use when choosing a program.
A "How to Apply" page that provides step-by-step instructions on how to apply to preschool programs.
A "City Resources" page that shares other opportunities and resources for families with children ages 0-5.
Updated Frequently Asked Questions (FAQs) to help parents understand the application and enrollment process.
Center's Seat Availability
One of the biggest updates to Chicago Early Learning is being able to show center's seat availability. We changed the map icons so that they would provide clearer information about the centers. Parents can see on the map if a center is community-based or CPS-based, nationally accredited, and if it has a lot of seats available or only a few. Parents still are able to use filters to refine their search and then add the preferred centers to their "Compare & Apply" list or click on a center detail page for more information.
We also refined the design of the rest of the site to match marketing efforts by updating the color scheme, logo, and images.
Data & Handoffs
Once parents have searched for centers and added them to their "Compare & Apply" list, they can click "Apply" which sends up to six choices to the City of Chicago's application system. Parents are then able to fill out their parent profile and complete an application. Parents are able to view their preliminary placement or waitlist status for the sites they choice, and then submit an application for up to two of their site preferences (one placement and one waitlist).
Chicago Early Learning receives updated seat availability status and any other changes to the center's information directly from this system.
Helpful Text
Chicago Early Learning provides information for both infant/toddler programs (ages 0-3), and preschool programs (ages 3-5). The application system currently only handles preschool programs, and therefore, we had to be thoughtful on how to help parents understand this distinction.
On each center detail page, we added statements to help give parents direction on next steps.

We wanted parents to still be able to search for and compare infant/toddler programs but know that they should contact the site directly to apply.
Gathering Feedback & Next Steps
Another simple, but important, change we made was adding a way for parents to give us feedback about the site. We added a link in the footer to a form that parents can fill out if they are having issues finding the information they need, or if they have other ideas for improvements.
In the future, we also expect to do additional CUTGroup testing to make sure we are meeting the needs of our users. User testing has been a valuable part of building the portal since the first phases.
We will continue to gather feedback from our partners, the Early Learning specialists, and parents & caregivers and be responsive when making future improvements to the Chicago Early Learning portal. Questions, comments, and feedback are always welcome at earylearning@smartchicagocollaborative.org.