Today we a Connect Chicago meetup around badging. Here's the meeting notes and here's the video: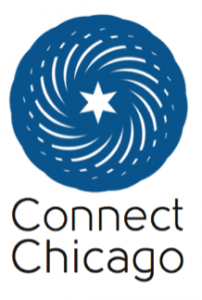 We talked about digital badges and connected learning programs and how that relates to the work that happens in technology centers all over the city.
First, members from the Hive Chicago's Community STEM Badging Ecosystem Equity Group talked about their work around finding ways to make digital badging more accessible to all learners.
Presenters included: 
The Community STEM digital badge ecosystem (CSTEMBE) is continuing the Hive-supported work of the C-STEMM digital badge working group, which developed and pilot tested a STEM digital badge ecosystem to recognize youth and communicate out-of-school learning across institutions.
There are 14 organizations, across Chicago and nationally, that are developing the badging ecosystem, expanding the scope nationally, and addressing the critical challenges of equity/access, how badges are valued and integrated across institutions, and the creation of a seamless badging technology that supports student learning.
There are 4 working groups – equity, integration, technology, and valuing. The Equity working group is specifically exploring ways to make technology-based badges accessible to all learners!
Tené Gray, Director of Operations & Professional Development at Digital Youth Network (DYN), will also talk about DYN's role in the Chicago City of Learning.
Digital Youth Network (DYN) is a project that supports organizations, educators and researchers in learning best practices to help develop our youths' technical, creative, and analytical skills. They also helped to develop and implement the Chicago City of Learning (CCOL).
CCOL is an initiative that joins together learning opportunities for youth and allows them to earn digital badges that provide permanent recognition of the achievements made through their activities.
Also, it's easy to share information about your programs right here in this meetup. Just sign up and let us know what you are up to!