In my first week at the Smart Chicago Collaborative I met with my new colleagues about our rapidly approaching summer project, Youth-Led Tech. I came to learn that this was to be a 6-week program for 13 – 18 year old youth in Austin, Englewood, Humboldt Park, North Lawndale, and Roseland in about two weeks. I furiously scratched notes into my legal pad as they discussed loose ends.
I followed their volley silently for a while before Kyla Williams, Director of Operations, turned to me, "Chris, the food is going to be your first project," Kyla's initial delivery was lighthearted enough. She continued, "The food is an important task, and may keep them coming back. Feed them well."
Our aim was to support local caterers— that meant booking at least five, one per neighborhood. We were looking at 10 meals a week, per site, for 6 weeks. In the end, we used more than forty vendors to serve more than 6,000 meals. This post documents that process.
Sourcing
I began my task on Yelp searching first for "caterers" by our site address. This yielded few results. I saw dozens of photos of lavish weddings, massive corporate events. I browsed for hours— "These kids are not going to want foie gras. I don't even know what monkfish is," I was coming up with virtually nothing and getting bogged down constructing daily menus.
We wanted this to be a treat for them, not stereotypical camp slop. I remember speaking on the phone with one of our community partners referred her kids to the program, she was trying to determine if this program was legitimate and if they truly would receive a laptop at the end as she saw indicated on the flier. It saddened me to think of all the hollow programs that must have crossed her desk over the years. I assured her that we would deliver on our claims; when I told her that we would not only be providing lunch but that it would be catered she laughed in disbelief and asked if she could sit in.
As I continued my search I ran into some bumps: how local is local really. Is five miles local? In my home state of New Jersey- yes. In Chicago, the most segregated city in the U.S., 5 blocks away can feel like a different country. The answer was no.
These invisible boundaries came into play often. Sometimes it was laughable like when we learned that the kids in our Austin location were debating about Harold's Chicken vs. Uncle Remus'.
The further my search was from the Loop, the less caterers would pop up and all of them were beyond the budget. I was relying too heavily on Yelp's search algorithm. This is when I began to Google catering search engines instead. This is how I discovered
Cater2me
Cater2me presents itself as a catering service that pairs office workers with local food vendors. I submitted my crisis and guidelines online and someone called me within minutes.
The number one advantage is that suddenly there is a team of catering experts working for you. Account Manager, Amy Boonjathai, and I navigated a series of time crunches together. She was always reachable and I could tell from the tension in her voice she was working hard trying to do her best for me.  You tell them your guidelines i.e. headcount, allergies, serve times, food preferences and they handle the rest. If done right, it can be a very hands off process. Secondly, they produced two large invoices for two weeks of food, which cut down on paperwork
On the negative side, restaurants sign up to work with C2M. Because of this, C2M cannot order from any restaurant of your choosing. This presents a few problems:
It's a relatively new company, few restaurants = little food variation for a long term program

It's not local by site. At all. Numerous orders came from Courageous Bakery in Elmhurst, IL. Our

closest

site is 11.8 miles away from that

Relatively costly— it was difficult to stay in budget

The two large invoices weren't broken up by location, this made it tedious to separate them out. It was also clear that they weren't used to these kinds of large orders to multiple locations

The scrolling timeline layout was visually appealing but made it difficult to follow the past orders. Again, it was clear that they're not accustomed to long term ordering
As the kids became unsatisfied with the food choices and we saw how costly this process was, we abandoned Cater2me to search for tastier less expensive options.
When we surveyed the kids for breakfast opinions, cereal was requested repeatedly. We realized that their needs were surprisingly basic. Tasty and inexpensive, but how would we get it there? With the exception of the floaters (instructors who moved among the locations to serve on days off for the assigned instructors), all of the instructors lived in or near the neighborhoods in which they taught.
The simplest option would be to have them pick groceries up, but this wasn't possible, since expenses were not included in the instructor's contracts. Besides, we needed them to be well rested and engaged with the kids all day, not doing grocery runs at 8 AM.
Consultant Christopher Whitaker and program manager Adam Garcia were available to deliver supplies, but not on a daily basis. The circuit from our headquarters to the 5 sites is 46.7 miles and takes 1 hour and 36 minutes to complete without stopping. Doing that everyday before 10 AM was not something we wanted to put them up against.
Instead, we looked into grocery delivery options. Our program was taking place in youth centers, schools, and church basements. Without reliable refrigerator space and oft changing needs, we needed a company to deliver quickly, frequently, and ideally, within 24 hours notice.
Grocery Delivery Services
Peapod was the first company that came to mind. Sadly, its structure isn't built for speed, it's built for reliability. When we have a situation like having our breakfast caterer cancel for the next day and we need breakfast for 30 at 10 AM Peapod isn't equipped to handle it.
Instacart was the second suggestion and fit all of our criteria. I was drawn to its slick app interface and instant gratification- they promised to deliver in one hour! Unfortunately, it looks like the west and south sides of Chicago don't fit their criteria. It delivered to zero of our program locations.
Crisp! Mobile Grocery saw the desperate need in those neighborhoods and built their whole model around it in 2013.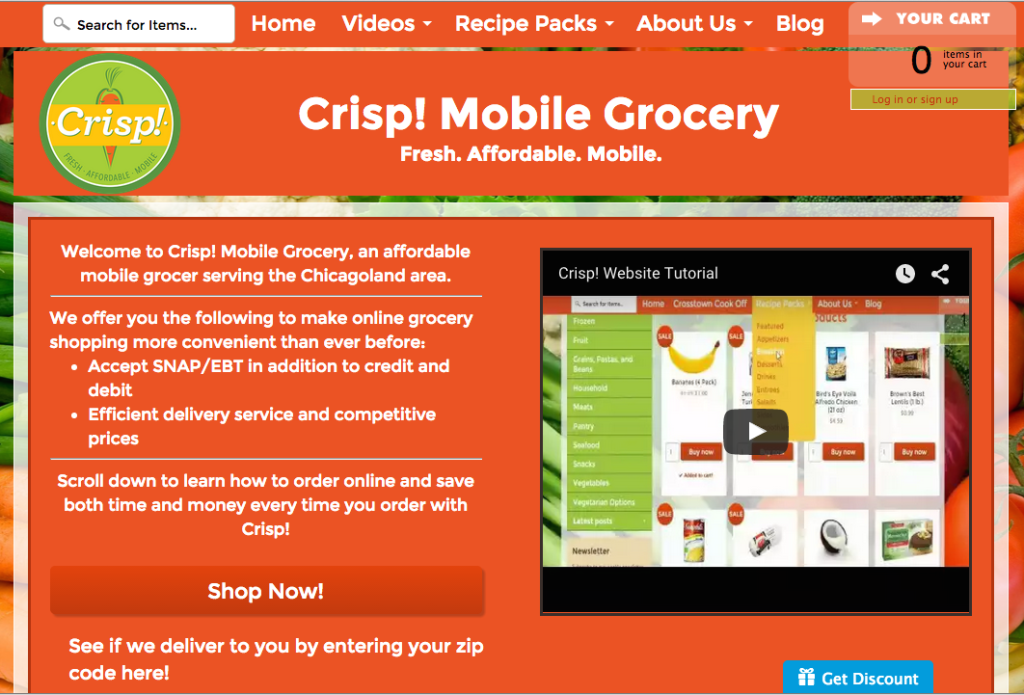 Program manager, Sonja Marziano, ran a CUTGroup test for them in May and thought they would be the perfect fit. Crisp! had a number of positives:
Great customer service: When an order was incorrect or contained spoiled produce, they were swift with refunds and gave us gift cards for being loyal customers.

Quick order time: Initially we could only order with 48 hours notice, but once we spoke directly with Mike Hyzy, the owner of the company, they accepted our orders with 24 hours notice.

Flexible: In the drop down menu it's not possible to select anything before 10 AM but we requested 9 AM and they delivered.
On the negative side:
No reorder option: I had to select every item one by one for every address for each day

Small inventory: Not a lot of options. I would often order for one location and try to order the same amount for another and they were out of stock

Botched orders: they sometimes gave us incorrect items/ brought spoiled produce. It also seemed like they had one delivery truck, if they were late to one location the rest of our deliveries would also be late
Crisp! was working well for a couple of weeks but as we lost refrigerator access in a few locations we decided to revisit the catering options. This is when I discovered ezCater.
ezCater deems itself a catering marketplace and is targeted at office workers ordering food for meetings. Some positives:
Great customer service: After all of our orders were paid in full I notified them that we were tax exempt and requested a tax refund. They do not have the processes in place to file us as tax exempt and instead gave us the refund out of pocket.

Used search metrics that were important and convenient: cost per person/event date/ eat time/distance

Larger set of vendors than Cater2me

Easy to use interface
On the negative side:
Not a large enough database of restaurants

Not intended for long term catering: Forced to input my choices per meal, daily- that's 50 meals a week
I used it for about two weeks but it became incredibly time consuming. We needed to find actual long term caterers for the program, as was the goal all along.
Various Other Catering Services
There are a number of other caterers worth calling out.
After ezCater was abandoned, I began the second batch of searches for caterers that made food that was kid friendly, was in our budget, and was in the targeted neighborhoods.
At this point, after having to make a few emergency orders from GrubHub, I realized that because I was requesting 20-30 meals at a time, it was possible to simply search for restaurants that deliver. I knew that there must be more caterers than were showing up, ones that fit our criteria but had little to no online presence.
At least three were discovered that were perfect, but didn't deliver. The reasoning behind a catering company that doesn't deliver is lost on me.
D'Masti Catering
Since the beginning of the program, Roseland was using D'Masti Catering for breakfast and lunch. The owner, Kathy D'Mast and I had a rapport at this point. She would lay out the menu for the next week on the previous Wednesday, she knew the number of people, she knew the allergies, I could tell her what the kids enjoyed and what they didn't. It was ideal.  She was kind, communicative, and easy to work with.
On the negative side, there was occasionally sloppy communication and they sent a juice container with black mold in the spout more than once.
Soul Vegan
The first caterer that we tried post ezCater was Soul Vegan. We set them up to deliver to Austin, Humboldt Park, and North Lawndale.
On the positive side, Soul Vegan is black-owned and neighborhood-based. They have a kind and passionate staff and they believed in our mission. They were interested in pairing it with their Peace Diet program.
On the negative side, the kids deeply disliked the food. Uniformly. That's all that matters.
I should've known better than to think that kids and vegan food would mix. One of the instructors even compared the macaroni and cheese which is "typically a big hit" to prison food. That review, in addition to parents' calls complaining about their hungry children, was enough to have us cancel by midweek and send supplemental lunches for the remaining days.
Lenore's Kitchen
Englewood was back with Lenore's Kitchen Catering, the company they began with the first week. I didn't continue into the next week because I wanted to give them more variation. At the time I didn't realize with that kind of long term contract, caterers tend to be more flexible. With all the ups and down we were experiencing, I sprinted back to them.
On the positive side, Lenore's Kitchen is black-owned and neighborhood-based. They are easy to work with and communicative, and the youth consistently enjoyed the food. In the first week the breakfast options were too sweet— all pastries. However, they adjusted that and all was well.
Good Earth Catering
Good Earth Catering saved us from the Soul Vegan debacle along with some emergency GrubHub.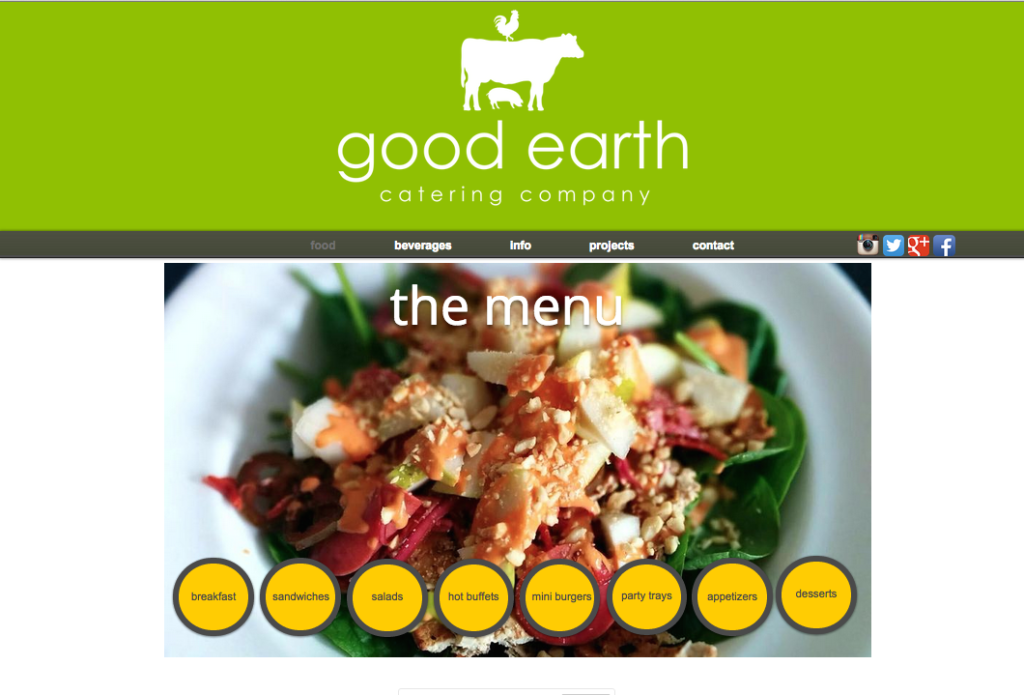 On the positive side, they had the capacity to deliver to three locations, they were consistently on time or early, and were flexible to cancellations. The Catering Sales Manager was a delight to work with and very communicative.
On the negative side, they were hard to find and delivered a bad pizza once, otherwise, no other complaints. Good Earth was locked in for Austin, Humboldt Park, and North Lawndale by week 5 and was doing consistently well.
Dream Cafe
Englewood was a different story. Week 5 we finally secured Dream Cafe, the south side's golden child. The Englewood kids had been singing their praises and suggesting them for weeks. In the initial planning phase I had tried to reach them many times but they didn't have a voice mailbox setup. I tried tweeting at them as well, but never got a response. I finally reached them through their contact form online.
Once I got to them, they were a friendly staff, but they were consistently late, and had some quality issues multiple days in a row (kids complained of funky meat). They had a gas leak and had to cancel early- this is out of their control, however they said they would follow up for the future weeks of the program and never did.
The scope of this catering project was huge. Over the course of 6 weeks we ended up serving 6,956 meals from 46 restaurants for the tidy sum of $58,764.28. It exposed the underbelly of the very real food deserts in Chicago and shows much work is left to be done. The giants and slick new comers in the industry like Peapod or Instacart aren't accessible to these neighborhoods in need. Those organizations that are trying to fill those gaps like Crisp! and Dream Cafe don't have a polished organizational structure. We've learned a lot more than we set out to and look forward to approaching it with this experience in coming years.
Lastly, here is the map of caterers, the green points are our Youth Led Tech sites: