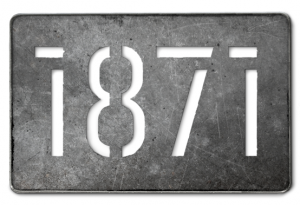 The Smart Chicago Collaborative has partnered with 1871, the digital startup center located at the Merchandise Mart in Chicago, to accelerate civic innovation. We have two reserved seats at 1871 and we seek to fill them with small companies, civic leaders, and community members who are interested in building software using city, county, and state data to improve lives and build businesses.
I will be working there at 1871 a few days a month. Smart Chicago Advisory Board member and City of Chicago Chief Technology Officer John Tolva will also spend some time at the center under the Smart Chicago banner, along with City of Chicago Chief Data Officer Brett Goldstein. We will also bring in staff and leadership from the City and our two other founding organizations, the John D. and Catherine T. MacArthur Foundation and the Chicago Community Trust. Another important component of our work at 1871 will be bringing in community members from all over Chicago to hear directly from them. Our goal is to stimulate the creation of technology that serves the needs of communities while building new businesses on civic data.
We are seeking a limited number of developers, designers, and other makers who would benefit from a few days a month in this unique environment. If you're interested, complete the form below to initiate the process. We've been founding tenants at 1871 and we are happy to offer it as a resource.