Over the summer, Smart Chicago has been hosting two young people as part of the Youth Service Project's IgniTech Summer Youth Employment Program.  The goal of this program is
"is to provide youth with meaningful experiences in the Technology work sector, both in training and awareness to prepare them for future opportunities in their academic and professional future."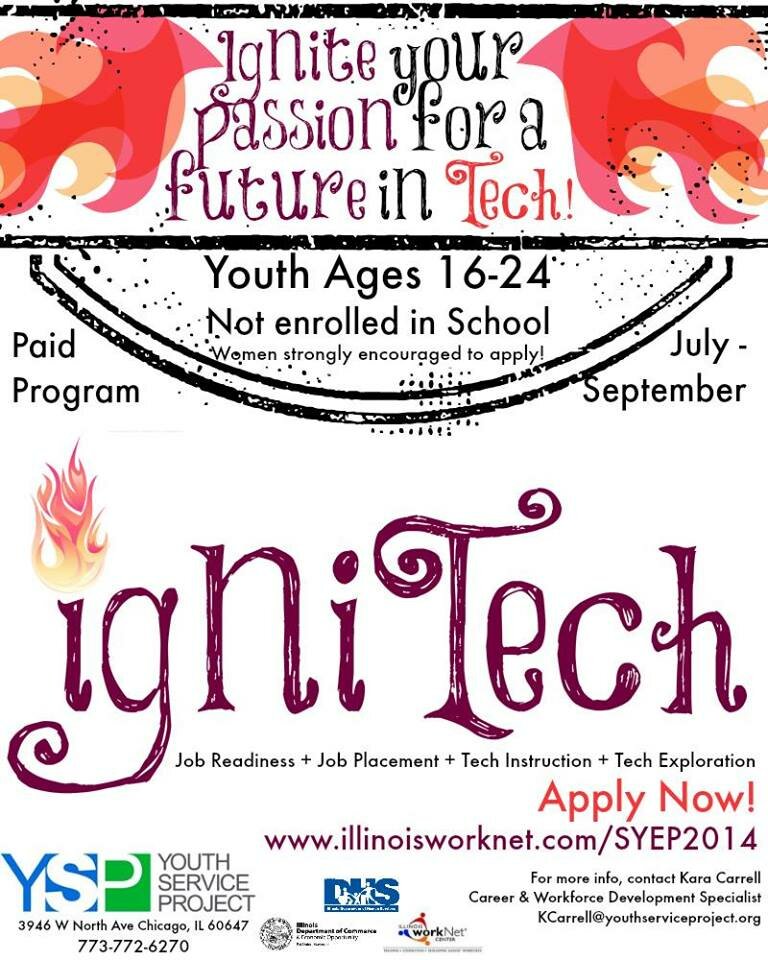 Youth Service Project runs multiple youth-based programs in the greater Humboldt Park community. Through this 10 week program, Youth Service Project will offer
"supportive services to 20 'out of school youth,' ages 16-24, who live in the Greater Humboldt Park community.  Each youth will receive $9 an hour for 20 hours of career readiness training, 36 hours of technology education, 36 hours of technology exploration activities, and hours of a technology employment experience, for a total of 210 hours."
Interning at Smart Chicago
Lissette and Jessica have been with Smart Chicago for up to 15 hours a week to help with different projects. We have an interest is being open and flexible to ideas that they bring to us about the projects they want to participate in during their 10 week program. Tasks that they will be helping with includes:
Through the Chicago School of Data project Smart Chicago hopes to develop a collaborative  framework and tools for improving connections across the Chicago data ecosystem. Duties for this project could include:

Help create an inventory of data collecting and visualization tools that will be useful to organizations participating in this project
Other project tasks including research and collection of information

Assist with OpenGov Hack Nights (every Tuesday from 5:00 – 8:00) and other Meetup events:

Work with Christopher Whitaker, Smart Chicago Consultant, to ensure event is setup and runs smoothly
Create content about events, including social media, live-streaming, blog posts, etc

Assist with Civic User Testing Group in terms of analysis, tests, and proctoring, as needed
Contribute to the Hive Mapping Cooperative, an effort to provide teens the ability to collect, manage, analyze, visualize, and share geo-referenced data through open source software. Duties may include:

Document youth using open source software, including challenges or successes
Help to create a survey to gather information on programs

Contribute to other projects and tasks as needed or of interest as indicated by youth
We are excited to have Lissette and Jessica join us  this summer– they have been a great addition to the team!