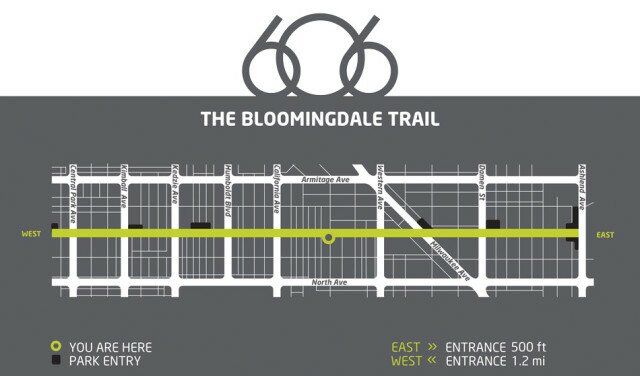 Last November we hosted an OpenGovChicago event on park district advisory councils. As OpenGovChicago founder Joe Germuska put it, this was part of our ongoing effort to "learn more about existing microdemocratic systems in Chicago". More:
In dozens of locations, several times a year, citizens get together to make their local parks and schools better, or to better understand the public safety situation in their beat. We'd like to meet the people who are active in these processes, and also people who would like to participate but are not managing to get involved. Maybe there are ways that software can help these groups gather and distribute information, to learn from their peer councils around the city, and to involve citizens who aren't able to physically attend the meetings."
Since that meeting, we've continued to help gather and maintain info on Advisory Councils. Here's a mega-spreadsheet. Many people have contributed to this— please add any info you know!
The 606 Trail is the City of Chicago's newest park. The park district opened last week after almost a decade of work between the community and the city.
Originally, the 606 was originally a 2.7 mile elevated train line called the Bloomingdale Line that was abandoned in 2001. Train traffic on the line had been slowing since the 1990s and the City of Chicago had brought residents of the Logan Square neighborhood together to propose an idea to turn the train line into a greenspace.
That result of that discussion was the formation of the Friends of the Bloomingdale Trail – an all-volunteer organization formed to advocate on behalf of the local community around the Bloomingdale Trail Project. Friends of the Bloomingdale Trail then partnered with The Trust for Public Land, a national nonprofit, to help bring together a coalition of groups to make the 606 a reality.
Friends of the Bloomingdale Trail is now an official Park Advisory Council.
For more information on how you can get involved in Park Advisory Councils, check out the Park District website here.