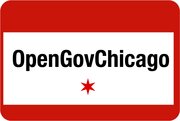 This week we've got three civic tech events happening in Chicago.
Tuesday at 6:00pm at Braintree (8th floor of Merchandise Mart)
Cook County employees will be presenting at Chi Hack Night about their progress in opening up county data.
Representatives across several of Cook County's 65 agencies will give a quick overview of their data, where it lives and who's in charge of it.
We'll be hearing from:
Afterwards, they will take your questions and hear your open data wish lists.
The Smart Chicago Collaborative has a partnership with the Cook County Bureau of Technology to assist them in the creation and publication of open data in the context of the County's Open Government Plan Ordinance and Open Government Plan. Our consultant Josh Kalov has been working with Cook County to open up Cook County data for the past year and a half.
You can RSVP for the event by clicking here.
OpenGov Chicago: Local Court Data
Wednesday at 6:00 PM at the Chicago Community Trust (225 N Michigan, 22nd floor)
At the next meetup, OpenGov Chicago will cover the Chicago Justice Project's (CJP) ongoing engagement with the Office of the Chief Judge of the Circuit Court of Cook County, Timothy Evans.
CJP's engagement is seeking to open access to all the data created by the Court since they started collecting the data in the 1980s (the courts have told CJP they started collecting data either in 1980 or 1988). This means that when approved CJP would receive about 30 years of Court data. CJP requested all the data maintained by the Clerk's Office on each criminal case filed, appropriately de-identified. CJP is seeking an agreement that would require regular updates of court data be released on an ongoing basis moving forward removing all the current barriers to this data.
The evening will also cover the results of Smart Chicago's recent PACER postcard campaign, where we helped send dozens of postcards to Chief Judge Ruben Castillo of the United States District Court of the Northern District of Illinois, asking him to look into issues with PACER , the system run by the federal judiciary that provides access to court dockets.
You can RSVP for OpenGov Chicago here!
Technology, Government, and the Public Good Panel Discussion
Wednesday at 6:00pm at General Assembly: After World Books (23 E Illinois Street)
Curious what civic tech is all about? General Assembly will be hosting an expert panel on the growth of collaboration between government and technology in Chicago and how these two industries are working together to serve and support the public good. Learn more about the various innovative initiatives happening in the Chicago area, and how you can get involved to support the community, no matter your experience. Whether you're a techie or not, the panel will discuss how everyone can contribute to civic engagement.
The panel is made up of Chicago Chief Data Officer Tom Schenk Jr, Datamade/Chi Hack Night Founder Derek Eder, Evanston Digital Services Coordinator Luke Stowe, mRelief Founder Rose Afriyie,  and our own consultant Christopher Whitaker.