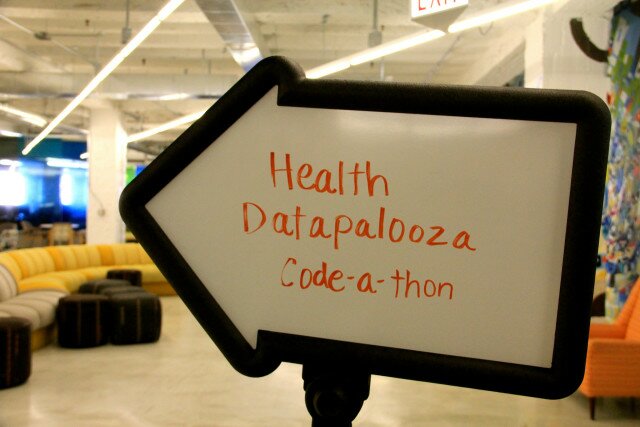 For this year's National Day of Civic Hacking, we're writing up primers on different civic issues to help people get a better understanding of the issues as they start working on projects.
Below, we've listed out places where you can data on health, some examples of projects centered around health and human services , and some resources online to help you with your project.
Health and Human Services 
Healthcare and the social services that are often connected to it is an extremely complicated and expensive issue. According to the Kaiser Foundation, the United States spent about $2 trillion dollars on health care.
In addition to regular healthcare, state and local governments spend a tremendous amount of funds on social services. The effects of the recession, pension crises in multiple states, and cuts from Congress have caused state and local governments to make drastic cuts to social services. This happened at exactly the time that more people required social services putting significant strain on the social safety net.
Aside from the big picture, the experience of those receiving social service is an innately human one – and an experience that most Americans don't have. Most Americans at some point have to go to the DMV and the experience is often portrayed as downright in pop culture as downright terrible. The experience of being on social services often is worse – not in just the big picture sense, but in small ways. The social safety net is managed by a multitude of government agencies and nonprofit organizations.
Technology projects, such as mRelief, center around health and human services often try and help residents better navigate and understand the resources available to them.
Data Resources 
The federal data portal contains over 800 datasets on health. We've highlighted some key ones:
County Government Data 
Many county governments administer their own health and human service systems – some of which release this data to the public.
Cook County, IL (https://datacatalog.cookcountyil.gov) 
San Francisco, CA [City and County] (data.sf.gov)
State Government Data 
States administer Medicare, Medicaid and often provide funding for local health and human service programs. Below is a highlight of some state data sets.
Illinois (data.illinois.gov) 
New York (data.ny.gov) 
City Government Data
Cities are also releasing data on health and social services. Here's some highlights from different cities.
Chicago (data.cityofchicago.org) 
Boston (https://data.cityofboston.gov)
New York City (https://nycopendata.socrata.com) 
Potential Partners
The best civic apps are built through partnerships between technologists, residents, and the people who work on the front lines. Here's a list of potential partners you can work with in your own cities to help build projects that can make an impact.
Health Data Consortium: The Health Data Consortium is a public-private partnership working to foster the availability and innovative use of open health data to improve health and healthcare. This organization is particularly useful for government agencies looking for help opening up health data.
Code for America Health Focus Team: The health focus area works to improve the health of people and their communities. Code for America works with the wide variety of teams that contribute to these outcomes—including city health departments, public health agencies, state offices, and non-profit organizations.
Smart Chicago Collaborative: Smart Chicago's multiple health initiatives provide equipment, training, and information that allow residents to take action to improve their own health. We are strong advocates for promoting open data practices in the healthcare field. Smart Chicago is always happy to talk and share our work.
Local Health Departments: Local health departments are in the trenches on a daily basis working to make their communities healthier and can make great partners.  The Chicago Department of Public Health was one of the first city agencies to jump into civic hacking with the Chicago Flu Shot app.
Examples of Health Related Projects
mRelief is a site that simplifies the social service qualifying process with an easy-to-use form that can be accessed online and through SMS. Residents can check to see if they're eligible for a variety of programs including food stamps, medicaid, WIC, and more.
EBTNearMe is the easiest way to find stores and surcharge-free ATMs where you can use your EBT card in California. It was build by the Code for America Health Team because California welfare recipients pay nearly $20 million per year in ATM surcharge fees partially because there isn't an easy way to find the free ones.
It's an open source project built with public retailer data from the USDA and ATM data graciously shared by the CA Office of Systems Integration.
Foodborne Chicago uses computers & code to search Twitter for tweets related to food poisoning in Chicago. The system does as much as it can to automatically zero-in on the tweets Foodborne thinks are really about a possible food poisoning case and really coming from Chicago. Then real humans from the Chicago Department of Public Health review the tweets and @reply back to people with a link back to this page where Foodborne asks for additional information. When they fill out the online form, it becomes a 311 service request to inspect the suspect restaurant.
The Chicago Health Atlas a place where you can view citywide information about health trends and take action near you to improve your own health. The site displays large amounts of data from sources like the City of Chicago, State of Illinois, and local hospitals so you can get big-picture views of health statistics in Chicago like hospital admissions, uninsurance rates, cause of death, birth rates. and drill down deep into neighborhoods to see specific information and how it compares to the city overall.
People to follow on Twitter
@lippytalk: Jake Solomon is a member of Code for America's health focus team and spent time on SNAP benefits so he could better understand the challenges that users face.
@reedmonseur: Raed Mansour works on #publichealth tech innovations for @ChiPublicHealth like @FoodBorneChi, BU #HealthComm Faculty, APHA Member, @PurdueAlumni & @BUalumni.
@PublicHealth: Official account of the American Public Health Association: For science. For action. For health.
@CDCgov: CDC's official Twitter source for daily credible health & safety updates for Centers for Disease Control & Prevention.