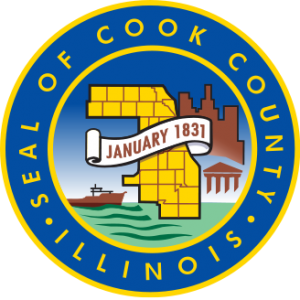 Today the Cook County Board approved a contract that codifies a partnership between the Smart Chicago Collaborative and the County of Cook. Here's a snip from the County's announcement of the partnership:
"Entering into this partnership with Smart Chicago will help the County find ways to improve the lives of residents through technology," Cook County Board President Toni Preckwinkle said. "It is part of my administration's commitment to provide accessible and up-to-date information."
Here's the item that came up for a vote before the Board. The full agenda, pulled from the Board meetings homepage, can be found here.
The other is the 
Open Government Plan
as promulgated by the County on September 21, 2011, embedded here:
Here's the scope of services that Smart Chicago is responsible for under the terms of the contract:
Background

In May 2011, under leadership of President Preckwinkle, the County Board of Commissioners passed an Open Government ordinance, which committed Cook County to expanding the public's access to County data by publishing data online in open format.
Since 2011, Cook County has made significant strides toward open government and open data. Just a few examples include the launching of the County Open Data portal, participation in Open Data Week, and regular participation in local government hackathons.
Cook County now endeavors to further supplement its open data initiatives through collaboration with Smart Chicago Collaborative, which has expertise in developing both open data sets and applications that benefit the public.
Cook County and Smart Chicago Collaborative desire to enter into pilot program where, on an annual basis, Cook County tenders $85,000 to Smart Chicago and Smart Chicago provides an additional $20,000 in matching funds.
Under the pilot program, Smart Chicago will assist Cook County in expanding its open data initiatives by publishing open data sets and developing open data applications.

Smart Chicago Minimum Deliverables

Work with County government bureaus, department and agencies to establish and maintain a regular schedule of meetings to  explore their data catalogs, identify candidate datasets, perform hygiene and post to the County's public-facing data website
Expand County open data sets by posting a minimum of  two new datasets per month
Review and maintain existing catalog, prepare monthly data health and status reports
Prepare month-end analytics reports
Educate the public about the County's maturing open data initiative through social media, including a minimum of two blog posts per month on open data as it relates to Cook County's Open Data initiative
Ensure that all Open Data sets, applications, social media postings and other work product are subject to the review and approval of Cook County, including the County's CIO, Deputy Director of New Media, Press Office, and Chief Information Security Officer.

Smart Chicago Additional Duties

Ensure that all Cook County Open Data is within the requirements of the County's Open Data Ordinance, and adheres to industry best practices
Ensure that all deliverables produced for Cook County are compliant with all applicable legal, data security, and data privacy requirements
When necessary, create embedded features, micro-sites, landing pages and web-based applications to tell stories and communicate messages using Cook County data and Open Data
Assist the Chief Information Officer and Director of Technology Communications to expand and strengthen the open knowledge community within Cook County Government
Assist the Chief Information Officer and Director of Technology Communications to expand and strengthen the open knowledge community among Cook County residents
Smart Chicago will ensure that any employees or contractors it assigns work under this Open Data agreement shall have, at a minimum:

Experience with Socrata, or other open data catalog architectures preferred
Experience with integrating web apps and data features with popular content management systems
Other qualifications suitable for performing work on a public agency's open data initiative, including having passed background screening.

Miscellaneous

Cook County shall assist, review, and approve all Open Data sets, applications, and other deliverables produced under the agreement.
Smart Chicago shall seek prior written approval of the County's Director of New Media and Chief Information Security Officer before communicating with County Departments under this Agreement.  Where Smart Chicago has reason to believe that such communications will relate to Confidential Data, Smart Chicago will apprise the County's Chief Information Security Officer of such belief.  Where Smart Chicago encounters or accesses Confidential Data for which it did not have prior written approval to encounter or access, Smart Chicago immediately apprise the County's Chief Information Security Officer.
We're excited about the work ahead, and as usual, we will provide updates as we go along. Questions? Call Daniel X. O'Neil at (773) 960-6045.