This is a weekly feature that will highlight what's happening at the Chicago OpenGov Hack Night. The Chicago OpenGov Hack Nights are weekly events where technologists and community members come together to work with open data and build tools that improve the civic experience. The events are held at 6:00 pm each Tuesday at 1871.
Majuros.js
Majuros is an app by Code for America alumni Nick Doiran. The app lets you create detailed, interactive maps with open building data. You can then download the maps for Google Earth or any other program that takes KML files.
A good example is the Historic Chicago map. You can use the Majuros.js tools to draw a blue square over the are you are interested in. Say, for example: The Loop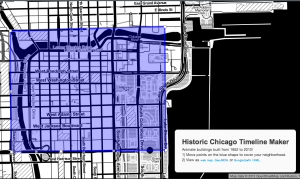 You can then choose to view the map in several different formats. For our example, I selected web map.
You can make your own map by using visiting the Majuros.js website. And this map isn't just limited to Chicago – you can build maps in any city that's made building data available. From Honolulu to Boston!
Englewood Codes
Englewood Codes is a Kickstarter project by Demond Drummer with Teamwork Englewood where teens will learn how to code their own websites using a Raspberry Pi computer.
Raspberry Pi is a small $35 computer that's designed to teach programming.
Teamwork Englewood will work with students over 10 weeks to teach them the basics of Raspberry Pi, before moving on to HTML and CSS.
The students will then form teams and enter a competition to revamp local organization websites.
Now, the Teamwork Englewood has already met it's Kickstarter goal of $5,000. But that's no reason to slouch. This project that Demond and Team Englewood is doing is extremely important. (We are not kidding: Smart Chicago kicked in $1,000 to make sure this happens!)
Demond's right. If Chicago is going to compete in the global economy, then we have to do more than attract talent – we have to grow our own talent. From everywhere
If Chicago is serious about civic innovation, we must support civic innovation in every Chicago neighborhood. A technological revolution in the way that government and citizens interact that fails to benefit the entire city would be a hollow victory.
The Kickstarter project has over a month remaining. The more money they can raise, the more kids they can enroll in the program. And it's not just money they'll need. We'll need volunteers from the community to help teach HTML and CSS.
This is important work. Kick in some support if you can. (Note: Smart Chicago Collaborative is a $1,000 backer of Englewood Codes on Kickstarter).