On Wednesday, January 27th, our partner City Bureau hosted their first open house at Experimental Station, a curious wing-shaped building in Woodlawn, Chicago. A number of south-side focused grass-roots organizations call Experimental Station home, including 61st street Famers Market, Blackstone Bikes, Link Up Illinois, and South Side Weekly.
City Bureau is a community newsroom that aims to divest from the traditional journalism model and regenerate civic media. The integral part of that is placing the narratives of the west and south sides back into the hands of its most overlooked residents– the youth.
City Bureau operates with a level-based model where reporters are placed into three tracks. Level three is the most experienced track of reporters in which the journalists work in the field and also act as mentors to the level one reporters. Level one reporters are the least experienced, but are also the youth that have the most intimate stake in the action in their own neighborhoods.
"This training [rubric] fosters social and emotional learning in conjunction with trauma training," explained Educational Director, Andrea Hart. She designs and writes curriculum for the level one program. She further explained that "these people, because of historically racist/classist policies, are experiencing complex trauma and therefore it is important to contextualize curriculum accordingly. Trauma informed education doesn't harm anyone. It's a benefit to all whether or not they have gone through traumatic experiences." The training and mentorship that the youth receive operate within this framework.
They were joined on Wednesday by their partners Illinois Humanities and the Invisible Institute.
Read more on City Bureau's Police Accountability highlight in the Reporting Back series with Illinois Humanities here.
The Invisible Institute was there showcasing the Citizen's Police Data Project, a digital map which showcases a database of 56,000 misconduct complaint records for more than 85,000 Chicago police officers.
Chaclyn Hunt, head of the Youth / Police project at the Invisible Institute explained the Citizens Police Data project. Users of this tool may search by officer name and badge number. An interesting catch that they learned while collecting this data, is that badge numbers are recycled, so a search of a single number may come up with the compiled complaints of three different officers. To assure accurate information, names and numbers must be cross checked.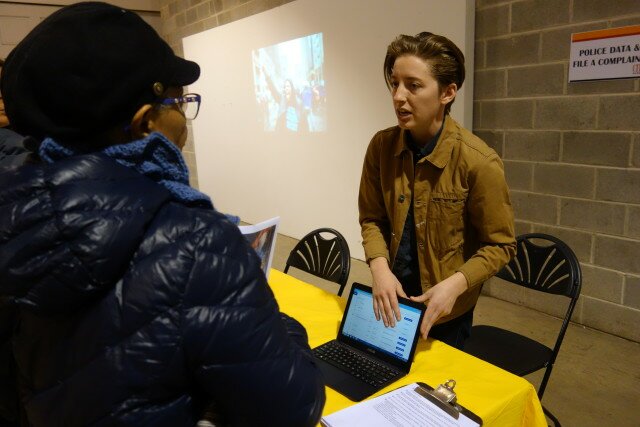 Chaclyn Hunt explaining the Citizens Police Data Project to an attendee
Some search categories of this tool include: Bribery/Official Corruption, Verbal Abuse, Drug / Alcohol Abuse, Illegal Search, and dozens more. One may search by outcome i.e. allegations, sustained, or unsustained and also by race and gender.
If you are abreast of the current unconscionably racist climate in Chicago, it is unsurprising that a black person is twice as likely to file a complaint against the a police officer, but half as likely to have the complaint addressed. Additionally, black police officers are twice as likely to be punished versus their white counterparts.
Read more on the work of the Invisible Institute here.
For more on City Bureau follow them on Twitter, Facebook, or follow their blog.