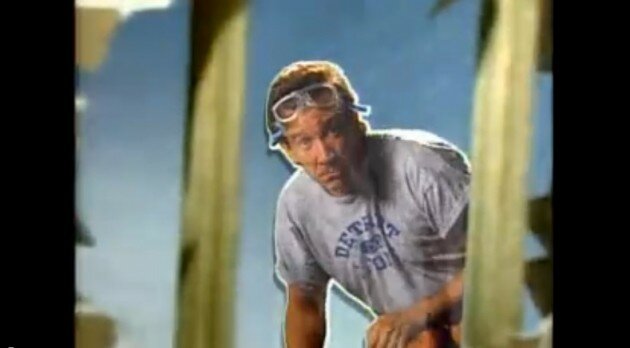 One of the problems that we sometimes encounter in the technology space is that we say things like, "Oh, just use this piece of software that I assume you know about."
It's the digital equivalent of watching a home improvement show and they get out a circular saw. The show says, "Oh, just make a few cuts here."
The problem is that it assume the viewer even has a circular saw – and the clamps, goggles, saw horses, the working space, and the know how to actually use the expensive piece of hardware that can seriously hurt you if you don't use it correctly.
Which is kinda crappy.
The good news is that there are a number of tools that are easy to use and won't break the bank. We tend to favor lightweight tools because they're 1) easy to use 2) not expensive and 3) we can use them in solutions that are repeatable.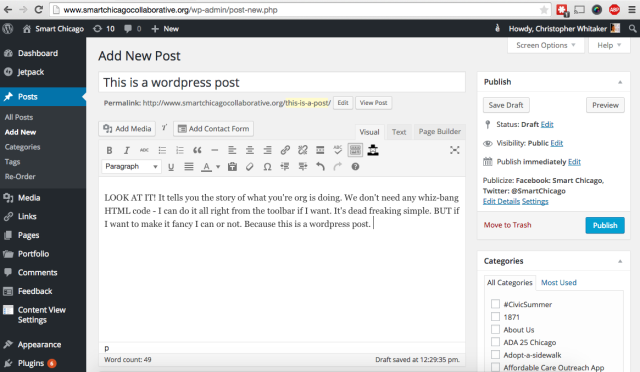 WordPress is the backbone of our digital communication strategy. It's what runs not only our website, but the website of many other organizations as well.
WordPress is easy to set up and with a few additional changes you can have the site point to your own domain name. There's two options to do this. The first is that you can use wordpress.org to set up a custom install on your server. However, we recommend just using WordPress.com (which does all the setup on the thier side.) Initially, you'll have a website.wordpress.com site. You can then pay to upgrade to have the blog point to your own homepage site once you buy a domain name.
Once your site is set up, you can choose a template for your website. Feel free to experiment to find one that fits your needs. WordPress also has a number of plugins that can be used to improve your site. For example, there's a plugin to show tweets from your social media accounts.
More in-depth: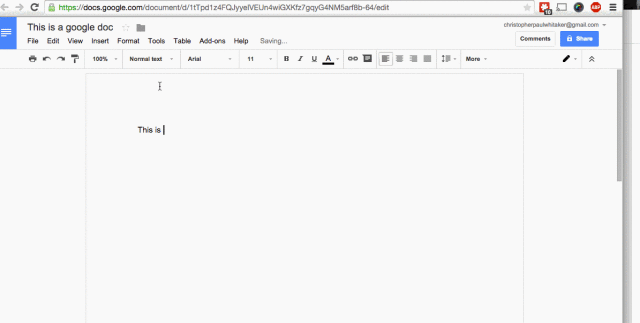 Google Drive is a set of office tools where the documents live on the internet rather than your hard drive. It includes Google Docs (Word), Sheets (Excel), Slides (Powerpoint), and a few other applications. Having documents that live online means that you can access them from anywhere including your phone.
However, the real reason that we use Google Drive is that it makes it super easy to share documents and edit collaboratively. Instead of emailing revisions of the same doc twenty different times and having to rename the different versions, you can simply share one link to the team. You can also post comments and have running conversations using the embedded chat feature. During OpenGov Chicago Meetups and Chi Hack Night, we tweet out a link to a doc anyone can edit and take collaborative meeting notes.
Google Drive is also pretty easy to use if you're already used to working in Microsoft Office.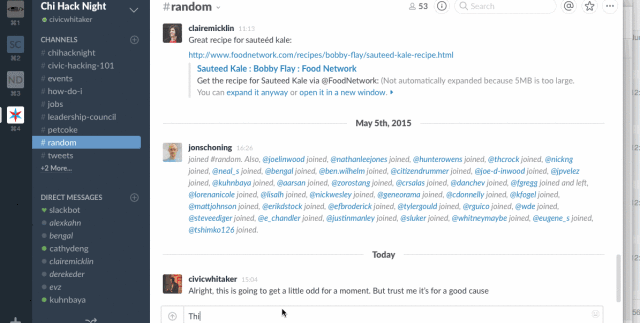 Slack is an internal chatroom. It's a more modern version of IRC with many more additional features including being able to integrate with everything from Google Drive to social media channels. Slack allows you to add different channels in addition to the standard "General" and "Random." When we use Slack, we have a separate channel for all of our projects. Slack also has a powerful search feature that can be useful when trying to remember something that the group was talking about from weeks ago. If your organization ends up sending a lot of small two sentence emails, this may help cut down on that.
Slack can just sit there in the background while you work. If you need to get somebody's attention, you can mention them by adding a @ to their username (like Twitter) and it'll send them a notification.
Slack also works well on mobile devices. While Slack has an app for Mac and Windows, you can also just use the browser.
Slack also allows for a lot of customization. It's still a fairly new product, so the company is also still adding features.
More in depth: Getting started with Slack (SlackHQ)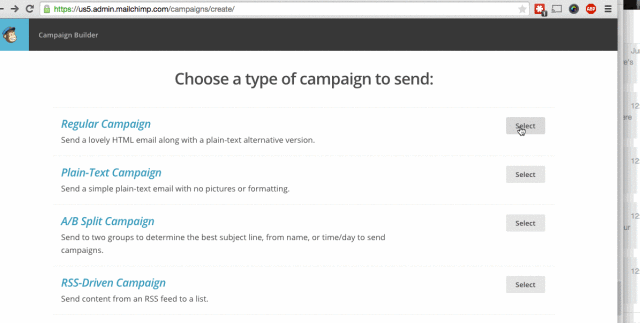 Email is still one of the biggest ways that organizations communicate with their communities. Mailchimp helps organizations by first helping to craft well designed eye-catching emails, but also by helping organizations manage email campaigns. You can pick customized lists of recipients, monitor opens/reads, and even conduct A/B testing of different email campaigns.
More in depth: Getting started with Mailchimp (From Mailchimp)
At it's core, Wufoo is an online webform builder. You can login and create a form in a matter of minutes, then embed it on your blog or just link to it. It's a very simple way to get resident feedback, run a contact us page, or run surveys. When people complete the survey, you can have it send you an email to notify you. Wufoo can also export responses in a CSV file too.
What really makes Wufoo our preferred tool is that it has an API that we can plug into other apps. When we run the Civic User Testing Group, we use a combination of Wufoo and Mailchimp to manage our signups.
More in depth:
Textizen is a survey tool that uses SMS messaging to get people's feedback.You can create a survey within a few minutes, but the team at Textizen can help you craft a survey so that you get the best results possible.
The way textizen works is that you set up a survey and it assigns you a phone number. You then create signage that lists the phone number and the first question.
It then will text survey questions back and forth. As the owner, you can see responses in real time and then export them to whatever format you need.
Smart Chicago Collaborative offers the use of Textizen for free to any civic developer – just fill out the form here.
Meetup is a tool to help run meetings. We use Meetup extensively to run OpenGov Chicago and Connect Chicago. Meetup is more than just an RSVP system. Once somebody joins your Meetup, they're considered part of the group. This means that you can communicate with group members anytime – such as when you host your next event.
Meetup also lets people posts messages to the group during events so that you can keep a running conversation about what's going on. (We usually use it to post links to the meeting notes or livestreams).
We love apps that text. As an organization that cares about digital access, we're all too aware that not everyone has access to the internet. So, allowing our apps to text ensures that everyone can use it.
Twilio is the equivalent of giving your app a cell phone. When you sign up for Twilio, Twilio will assign you a phone number to use. You can then use the phone number to send and receive text messages. If you've ever order pizza or an online delivery and gotten a text message right after, then you already have an idea of how this works. Certain actions will cause your app to send out a text.
One of our favorite uses of this is the humble CTA bus tracker app. If you go to any sign in the city, you'll see a short code and a number.
While you do need a developer to use Twilio, we wanted to include it because of the utility of texting. Twilio's API is easy to use if you're a developer with some experience using APIs.
More in depth: Twilio Quickstart Guide
Have a tool that you think we should feature? Reach out!