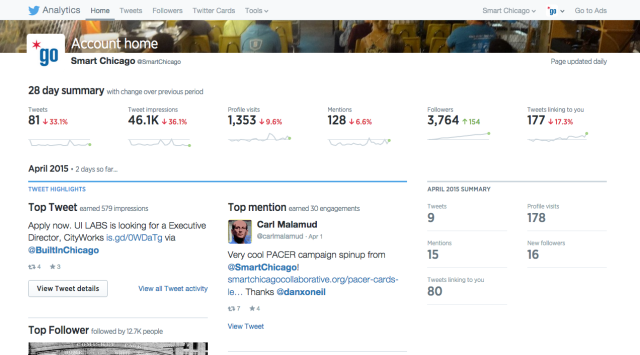 At Smart Chicago, use social media significantly to help spread the word at our events as well as to share what's happening at different civic events throughout Chicago.
We're going to go over a few tips and tricks for using social media to boost your event.
You'll usually have two goals with social media. The first is to get people to attend your event. The second is to add followers so that when you have future events or news you can spread it more easily.
Twitter
We use Twitter when we're covering live events. Twitter's ability to post rapid real time updates makes it perfect for things like this.
Our strategy for events is to write up a blog post advertising the event. If we know the hashtag already, we'll start using that when we tweet the event out.
In a few minutes, we'll be getting started with our #chihacknight presentation of @scrappersFG! Watch live here: https://t.co/F076ufQM2s

— Smart Chicago (@SmartChicago) January 21, 2015
We use the hashtag so that people can start following other accounts that are also using the hashtag. This also lets our followers know there's an event going on and that's the hashtag we're using.
We'll also retweet other accounts that are using the hashtag. Sharing is caring.
Just before the event starts, I'll try and ensure that we're following all the speakers and organizers. Once the event starts, we begin our livetweeting.
When we're live tweeting, I'll normally have an aftermarket tool like Hootsuite or Tweetdeck so that I can tweet from both my personal account and my organization account. I'll have one column set up just for the hashtag so I can quickly RT relevant tweets.
I'll also have a phone in my hand and logged into Twitter as my organization account. Tweets with pictures tend to get more engagement. I normally do a photo when we start, when a new speaker comes on stage, or there's a particularly interesting quote. Whenever we take any photo or mention something somebody said, we almost always tag the person if they're on Twitter.
For national events like Code Across and National Day of Civic Hacking, I'll also use the national hashtag as well as mention the @codeforamerica and @civichackingday account. If they retweet your tweet, then that amplifies your tweet by a factor of 20.
After the event, we'll use the twitter stream as notes for when we blog about the event.
A note about trending and gaining followers
A lot of times, particularly on television networks, you'll see people encouraged to 'make something trend' as if it's a game you can win. We do not advise this.
Trending doesn't measure popularity, it measures velocity. It tries to show what 'new' topic people are 'now' talking about. Once a lot of people have started talking about something, it loses it's trending topic. That's also why you don't see Justin Beaver or any of the other boybands trending all the time. That's also why during television shows, you'll see the networks make up hashtags on the fly. They know that the odds of trending go way down over time. It's easier to get a new hashtag trending rather than an old one. If they tell people to tweet at a hashtag for an upcoming episode, they lose the needed velocity to make something trend. Once it starts trending, it's tough to get it to stay trending because it relies on 'new' people tweeting the hashtag. No points are awarded for the same people tweeting the same thing a bunch of times.
Which brings us, why try to get something to trend in the first place?
For television shows, it's about advertising. They want people who are just cruising twitter to see the trend and think "Oh wow, a lot of people are watching this – maybe I should tune in."
For this community, it's not as important. Your goal isn't to trend, but to build your audience. This is particularly true if you're running your Code for America Brigade twitter account. You want people to start following you and learning what you're about and how you can get involved. That means that buying followers won't do you any good.
Getting Twitter followers takes time and consistently producing content worth tuning in for.
Analytics for Twitter
It used to be that you had to pay to get stats for Twitter. That isn't true anymore. You can access Twitter analytics for free by going to https://analytics.twitter.com and see how you're doing.
For more tools, check out the Code for America Brigade Toolkit!