On Friday January 29th, trainers, program coordinators, and public sector leaders from all across Chicago came together to Co-Create a Digital Access & Skills Referral Network for Chicago.
We were pleased to see friends and collaborators from Chicago Public Library, Microsoft, Safer Foundation, Blue 1647, YWCA Chicago, Jane Addams Resource Corporation, Literacy Works, LISC Chicago, Chicago Housing Authority, and many other institutions in attendance.
Big turnout at today's #connectchicago meeting! Finding partners and patrons for #civicblue1647 pic.twitter.com/Wr6vFiOai8

— CivicBLUE 1647 (@CivicBLUE1647) January 29, 2016
Dropping into @SmartChicago's #ConnectChicago meetup! Check out the awsm #digitalskills referral they r creating. pic.twitter.com/0Mqz7XuovS

— Sana Jafri (@jafs31) January 29, 2016
Why build this network? First, there is obvious value in taking inventory of all of the digital/tech skill-building programs in the city. Second, after the inventory is taken, we, as a sector, can begin to understand how our work fits together. By simply knowing where Adler Planetarium can recruit new youth, or where the Cara Program can refer its patrons to next, we illuminate learning pathways for Chicago residents.
To see a growing list of Connect Chicago people and programs, see our Twitter list.
You can read about our inspiration for hosting this event here and read more about the taxonomy that organized the event here.
With @DKLinn @ #ConnectChicago @SmartChicago meetup. Partnering with @CNT_tweets on #NeighborhoodAppsCompetition pic.twitter.com/IeC4z5hMXL

— Optimista (@Optimista_Soy) January 29, 2016
Discovering Learning Pathways Across Programs
This was a highly interactive Meetup. Every program in attendance had a poster complete with detailed program information (from this survey), a flyer, an envelope for business cards or feedback, and space for others to mark if:
"I would refer my patrons to this program"
– and / or –
"I would recruit patrons who completed this program"
See Career Transitions Center of Chicago's poster for an example: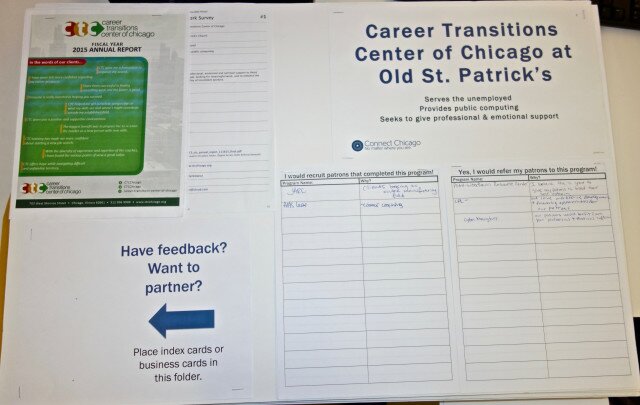 This was a "low tech" method of getting rich, hard-to-collect data from scattered sources.
If you enlarge the image above, you'll see a hypothetical learning pathway for a resident. A digital learner in Chicago might start at Preservation of Affordable Housing (POAH). POAH might then might refer that patron to Career Transitions Center of Chicago for both emotion/professional support as digital skills are improved. Then, if that patron is interested in the manufacturing field, they can go from Career Transitions Center of Chicago to the Jane Addams Resource Corporation (JARC). That is just one route to a goal. We want to illuminate more.
#ConnectChicago meetup uses mix of tech to foster connections among progs int in #DigLit – incl paper! @SmartChicago pic.twitter.com/ZgtC7vHFN8

— Literacy Works (@LitWorksChicago) January 29, 2016
Congrats to @AnixterCenter for winning today's #connectchicago raffle! pic.twitter.com/k4loNf7RuB

— Sonja Marziano (@ssmarziano) January 29, 2016
At the end of the Meetup event, we raffled off funds to one of the participating programs. We were pleased to award $1000 in funds to the Jack Ehrlich Literacy Program at the Anixter Center – a training program that provides one-on-one mentoring to adults with disabilities. According to Anixter's Digital Access & Skills Referral Network Survey Response:
"We have a general computer class to teach internet navigation, typing, mouse usage, etc. Learners can work 1:1 on any computer skills they wish. We have iPads and touchscreen computers, and accessible technology, all of which people can learn to use."
The city is filled with programs like Anixter. These programs and training sites work everyday, playing their specialized role in strengthening the digital access & skills ecosystem of Chicago.
Resources from the Meetup
You can access all the resources from the January Meetup in the Connect Chicago Shared Google Folder. In this folder you'll find:
The work isn't over. We plan to build on this material with your help. Digital/tech training programs or access programs can still fill out the Digital Access & Skills Referral Network Survey to be included.
Thank you to all of the training sites and programs that participated in the January 29th Connect Chicago Meetup! More data and tools will be released as a result of this great work. Follow the Smart Chicago blog for news and updates.