On January 6th, 2015, the Woodstock Institute dropped by Chicago's OpenGov Hack Night  to talk about their new interactive map and data compendium.
The Woodstock Institute is a leading nonprofit research and policy organization in the areas of fair lending, wealth creation, and financial systems reform. Thier mission is to create a just financial system in which lower-wealth persons and communities and people and communities of color can achieve economic security and community prosperity. As part of their work, the Woodstock Institute does an enormous amount of research on housing as it pertains to mortgages and the foreclosure crisis.
You can now see some of the results of their research through two new sites. The first is an interactive map that shows geographic patterns of employment, foreclosures, mortgage lending, housing, and more.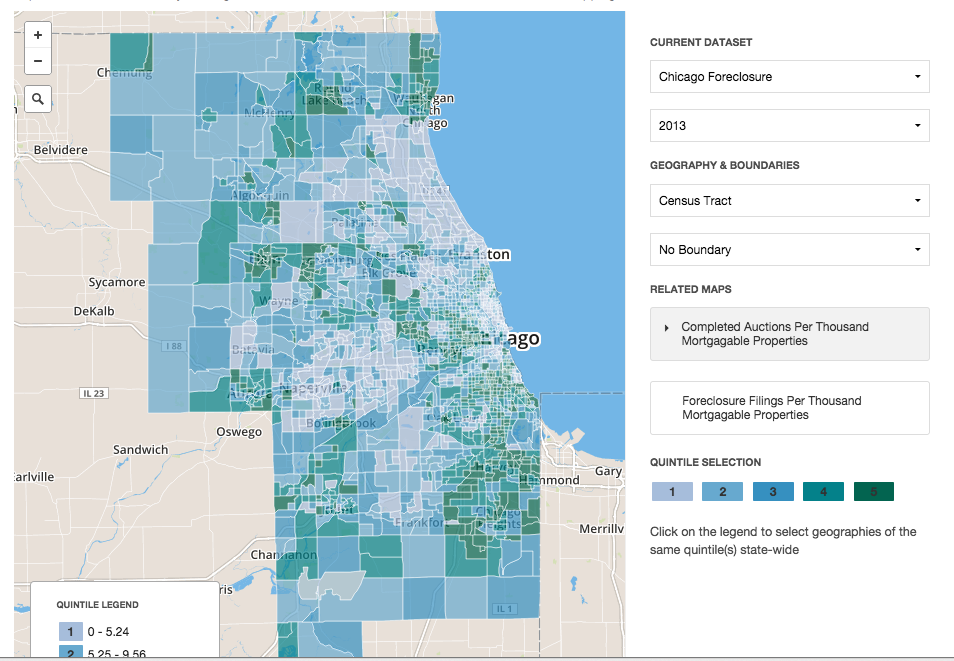 The data for the maps comes from a variety of resources including data vendors like Record Information Services.
The second site that Woodstock Institute demonstrated was their data compendium. The Woodstock Data Compendium houses Chicago region datasets on a wide range of topics, from arts to economic development to health services, that provide insight into the health of neighborhoods throughout the region. The data was compiled by Woodstock Institute and the Metro Chicago Information Center.
(The Metro Chicago Information Center (MCIC) was a nonprofit active in the Chicago region from 1990-2011, and their data contain historical community indicators.)
The Woodstock Institute used a CKAN instance to build their site in part because it was less expensive than a Socrata instance. Currently, the site has seventy-four data sets including this one that shows foreclosure data for the six county area.
You can see their whole presentation below!