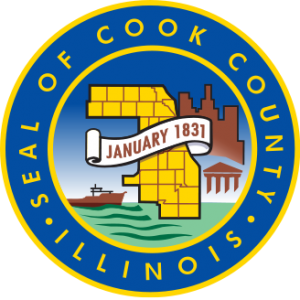 Here at Smart Chicago, we regularly work with units of government on a wide range of matters. We collaborate with City Departments on websites that increase collaboration with residents, with the Mayor's Office on policy and implementation of technology efforts, and with the State of Illinois on expanding the open data movement.
In the context of this work, and in my role as  co-chair of the New Media Council for  Cook County Board President Toni Preckwinkle, I see first-hand the immense opportunity that we have in this region to improve lives through technology and data.
But I also see that there is a lack of supply for the jobs inside government that are essential for this work to continue.
For instance, here's a great job at Cook County, working directly for CIO Lydia Murray in the Office of the President. Lots of people ask me in my work about ways they can get involved in the fecund civic innovation here in the Chicago region. Here's one, right here.
DIRECTOR OF TECHNOLOGY COMMUNICATIONS

Requisition ID:  00114960

Job Posting:  Sep 12, 2013, 9:12:00 AM   Closing Date:  Sep 26, 2013, 11:59:00 PM

Full-time  Shift Start Time:  8:30 A.M.   Shift End Time:  4:30 P.M.

Posting Salary:  $90,000-$105,000

Organization:  Offices Under the President
Job Summary

Under the direct supervision of the Chief Information Officer, responsible for the planning, development, implementation, and on-going oversight of Cook County's technology communications programs and projects on Web, intranet, social media and cable television platforms.  The Director of Technology Communications (DTC) oversees the County's open data initiatives.  Serves as the strategic planner and architect for these mission-critical communication programs and projects, and leads an on-going effort to manage and strengthen Web, social media and television platforms.  The DTC works in conjunction with Office of the President; senior Bureau of Technology staff; representatives of bureaus and departments; internal and external developers; vendors; and subject matter experts.  Identifies, prioritizes and executes opportunities to maximize the effectiveness of the County's technology communications efforts.  Performs other duties as assigned.

 Minimum Qualifications

Graduation from an accredited college or university with a Bachelor's Degree. (Must provide original transcript at time of interview).
 Eight (8) years' full-time work experience in front-end web environments.
 Three (3) years' full-time experience in team lead or management role in front-end web environment.  (Knowledge of HTML, CSS, XML, SQL, AJAX, JQUERY web technologies or other front end development tools are preferred).

Knowledge, Skills, Abilities and Other Characteristics

Expert knowledge of strategies, implementations, and best practices for Web, intranet, social media, open data and cable television communications.

Expert knowledge of best practices for creating attractive, usable and beneficial content and communications in both new and traditional media.

In-depth knowledge of technologies and techniques supporting communication efforts, including Web analytics software, search engine optimization, mobile application development, content and data management systems, and television production and distribution equipment.

In-depth knowledge of relevant standards and best practices, including W3C and other Web development standards, ITIL and other project management standards, open data standards, accessibility standards, and data management standards.

Strong management skills; with the ability to delegate and manage multiple tasks, projects, and activities of a technology communications team.

Strong analytical skills; with the ability to present measurable and quantifiable results, both on global and project-specific levels.

Strong written and oral communication and presentation skills; with the ability to evangelize and clearly communicate technology concepts and detail-specific logistics to non-technical audiences.

Strong collaboration skills; with the ability to establish excellent working relationships with key stakeholders in all County bureaus and departments, outside subject matter experts, and public and private sector partners.

Ability to work independently, while simultaneously managing a staff assigned multiple projects.

The duties listed are not set forth for purposes of limiting the assignment of work.  They are not to be construed as a complete list of the many duties normally to be performed under a job title or those to be performed temporarily outside an employee's normal line of work.

COOK COUNTY IS AN EQUAL OPPORTUNITY EMPLOYER