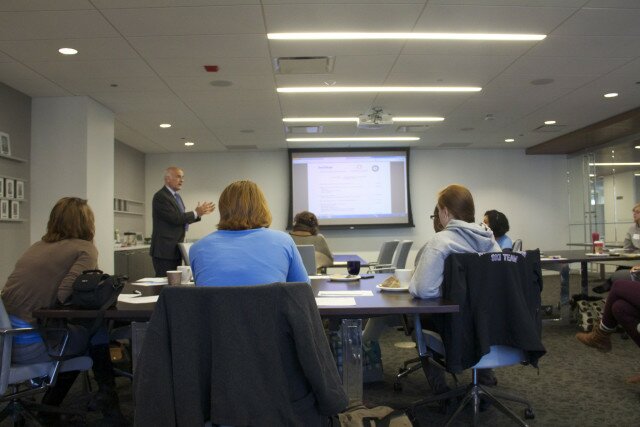 The Smart Health Center project places trained health information specialists in low-income clinics to assist patients in connecting to their own medical records and to find information about their health online. The project is a joint effort led by the Alliance of Chicago in collaboration with the Otho S. A. Sprague Memorial Institute and the Smart Chicago Collaborative. We'd like to share a few updates about how the program is doing.
Health IT Navigators have assisted thousands of residents
A demonstration of the Smart Health Navigators
Health IT Navigators help residents connect to their health records online as well as help with using the internet to find health resources. Since the program's launch last year, the navigators have assisted 2,085 residents at health clinics, homeless shelters, and single resident occupancy facilities (SRO's).
Navigators are assisting with CountyCare
Another area that the Health IT Navigators are assisting is Cook County's new CountyCare program. CountyCare is a State of Illinois and Cook County Health & Hospitals System that will be operating a new Medicaid program for uninsured adults in Cook County as part of the Affordable Healthcare Act.  Enrollment is currently open and the Health IT Navigators have been helping to share information about the program in waiting rooms.
Heartland Health Centers are rolling in many neighborhoods
Tiffany David, Smart Health IT Navigator, has spent her time sharing electronic health information and other relevant issues to this homeless population in waiting room and five (5) shelters and SRO's with medical staff.  Her work is having an impact in Englewood, Delmar, Hollendoner, Roseland, South Loop and Wentworth neighborhoods.
Erie Health Center is hitting its stride
At the Erie Health Centers, Jesus Enriquez is serving as a Smart Health IT Navigator at their Humbolt Park and Division Street locations. Enriquez recently hit a milestone of contacting over 1,000 patients in a single month.
Komed Health Center
The Near North Komed-Holman Health Center has launched their web page with vetted medical resources to make it easier for residents to find health information online.  During the month of August, their health navigator spoke to over 200 community groups.
Another initiative at Komed is the CommunityRx program.  The CommunityRx program is a healthcare service delivery improvement innovation that transforms health information data into e-prescriptions service for community. This includes community resources like Weight Watchers, gyms, fresh fruit and product stores, and local pharmacies. You can find more information about the Smart Health Project by visiting the project website.
If you are a healthcare professional who is interested in your clinic becoming a Smart Health Center contact me anytime!.