Today, three years after we started the CUTGroup, we are announcing a new initiative called the CUTGroup Collective where we will convene organizations who are interested in our CUTGroup model to connect with each other, share information, and collaborate to improve what we know and the work that we do.
If this is something you want to be a part of, please fill out this form.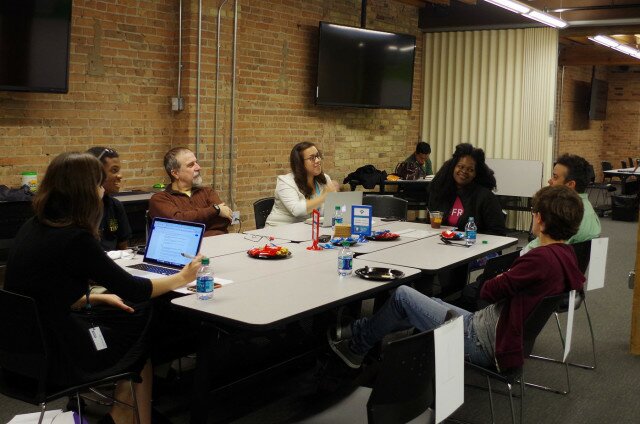 Smart Chicago started the Civic User Testing Group (CUTGroup) to engage with residents around technology, build digital skills, and conduct usability testing to ensure that technology being built for people, actually worked for the people they tried to serve.
We think this is a great step in establishing sustained, meaningful collaboration with residents around the data and technology. CUTGroup is a lightweight way to get people involved. The hope is once everyone is involved in this world, we'll find new ways to innovate that we can't possibly conceive at this time. 

-Dan O'Neil from the launch blog post for the CUTGroup, February 1, 2013
Over the last few years, the CUTGroup grew to over 1,300 testers, extended from Chicago to the rest of Cook County, and our twenty-fourth test will happen early next month. While we are growing in numbers, we continue to reflect and develop this program and our processes to be accessible to more people and have a greater impact in the technology we test.
The CUTGroup has been a leading example of civic engagement through UX testing, and many cities have expressed interest in our model or started their own CUTGroup. Chattanooga Code for America Brigade started one in May 2014, Open Oakland began a CUTGroup in December 2014, Code for Miami was recently announced as a Knight Cities Challenge finalist for their Civic User Testing Group, and KC Digital Drive announced the start of their own CUTGroup just a couple of weeks ago!
It's exciting when groups in other cities see the value in the work that we do and replicate it. Being open is a leading principle at Smart Chicago:
We are open. In the technology industry, the primary manifestation of that is the use of open source code. We have dozens of repositories on Github, for every piece of software we've made over the last three years. But being open means more than using a particular license for our software. It means having open processes, so that people know what you're doing, how you're doing it, and how they can affect it. This is about allowing others "in", wherever that may be in any particular situation.
For the CUTGroup, the first part of this was easy. The code for our website and management tool are on GitHub. We share all of our test results, our tools, the questions we ask, and the responses from our testers. We wrote the CUTGroup book in September 2014 as a resource and set of best practices to run a CUTGroup. These steps were crucial, but we wanted to find a way to allow more people in—to engage directly with workers in other cities not to only to replicate our model, but also establish a network that helps create sustainable and successful CUTGroups. 
CUTGroup Collective
Smart Chicago's goal for the CUTGroup Collective is to convene organizations and institutions in cities to help others establish new CUTGroups, create a new community, and share and learn from one another.
First, we will broaden the ways we communicate by having a Slack channel dedicated to CUTGroup work. We will also host monthly calls to discuss processes, successes and challenges. This will lead to even more documentation that will be useful to other cities.
We will promote a system for sharing information and stories from before, during and after the test so we can learn about the different technologies being tested and what is and isn't working for residents.
We will host a meeting in Fall 2016 that focuses on the intersection of UX testing, digital skills, and community engagement that is present in our CUTGroup model. More to come on this!
We are grateful to the Knight Foundation, which makes the CUTGroup Collective possible. They are funding this work through our Deep Dive, where we are part of a cohort representing a diverse set of approaches to expanding community information and increasing community engagement.
If you are interested in a model, or have already established a CUTGroup, we want to hear from you. Questions? Email me here: smarziano@cct.org
Fill out the form below and let's get in touch!