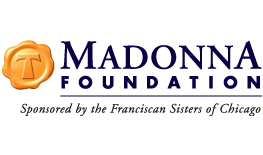 Today Smart Chicago and The Chicago Community Trust hosted a number of Madonna Scholars of the Madonna Foundation. The Madonna Foundation was established in 2001 by the Franciscan Sisters of Chicago, and is a public charity that increases access for young urban women to attend Catholic high schools in the Chicago area.
In addition to financial aid, the Foundation is dedicated to support the academic, psychological, spiritual and social needs of young women. These needs are addressed through a series of unique and innovative programs and service learning opportunities that provides young urban women the opportunity to build a meaningful, productive and successful life for themselves and leaders for future generations.
Today we talked about Smart Chicago, our founding partners, the CUTGroup, Connect Chicago, and Youth-Led Tech. Most of all, we'll be listening to them and hearing how they use technology to make their lives better. 
This is just one of the ways we seek to strengthen ties between their neighborhoods and the robust public technology scene here in Chicago.
Here's a set of pics from our day together and a group pic, below: