At the next Connect Chicago Meetup, we'll have a roundtable discussion led by a panel of trainers and nonprofit representatives that work every day to leverage tech training to improve the lives of girls and young women across Chicago.
Special guests that will share their work and help us discuss this topic:
• David Lane, YWCA Chicago
• Asia Roberson, Digital Youth Divas
Here's the event information:
Event: Roundtable Discussion: Empowering Girls Through Technology
Where: The Literacenter — 641 West Lake St. (read more about Literacenter here)
When: Friday, June 9th from 11am to 1pm
Come join the conversation and help fuel an equitable tech ecosystem in Chicago. Meet and network with computer trainers, nonprofit professionals, technologists, community advocates, and fellow residents who care about digital inclusion in Chicago. Please RSVP on Meetup so we can get an accurate count for lunch. Thank you!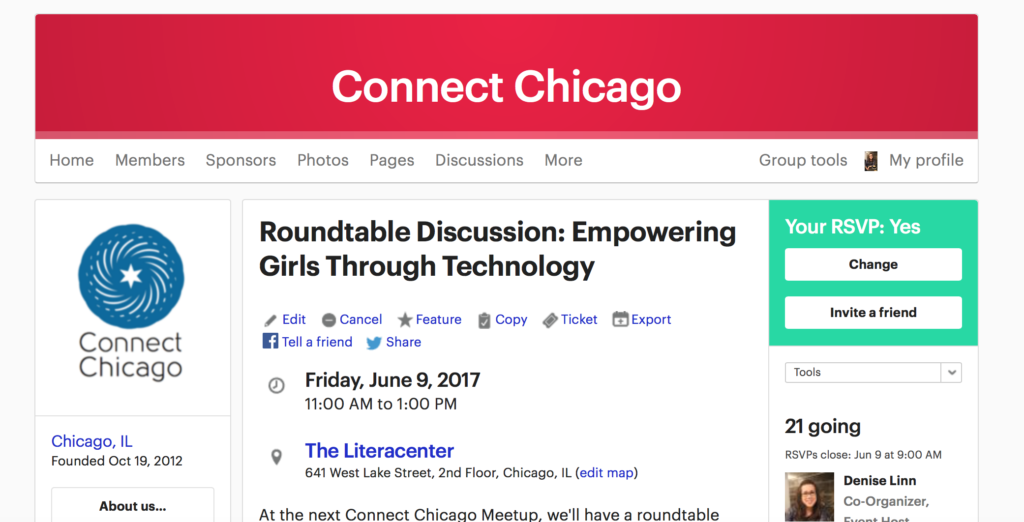 The Connect Chicago Meetup is a monthly gathering of computer trainers, nonprofit professionals, and fellow residents who care about the digital lives of Chicagoans. In 2017, Meetups will be held downtown and some events (called Community Technology Forums) will be held at community learning & nonprofit sites across the city. Email me at dlinn@cct.org with any questions, concerns or ideas for future Connect Chicago Meetups.