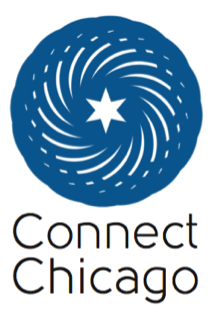 Today we're announcing the launch of Connect Chicago,  a loose network of more than 250 places in the city where internet and computer access, digital skills training, and online learning resources are available—for free.
By way of background, Connect Chicago is a part of the Public Computer Centers grant (award No. 17-42-B10553) received by the City of Chicago Department of Innovation and Technology (DoIT) under the Broadband Technology Opportunities Program. The Illinois Department of Commerce and Economic Opportunity has also awarded a grant to support this project. Smart Chicago administers many portions of this grant, including the Connect Chicago portion. We also administer funds for the City's Sustainable Broadband Adoption grant.
All of our work at Smart Chicago under the BTOP grants is managed by Francesca Rodriquez, the Director of Technology Adoption and Digital Skills at DoIT. Here's a graphic created by Francesca illustrating the great work across the City's entire BTOP PCC grant: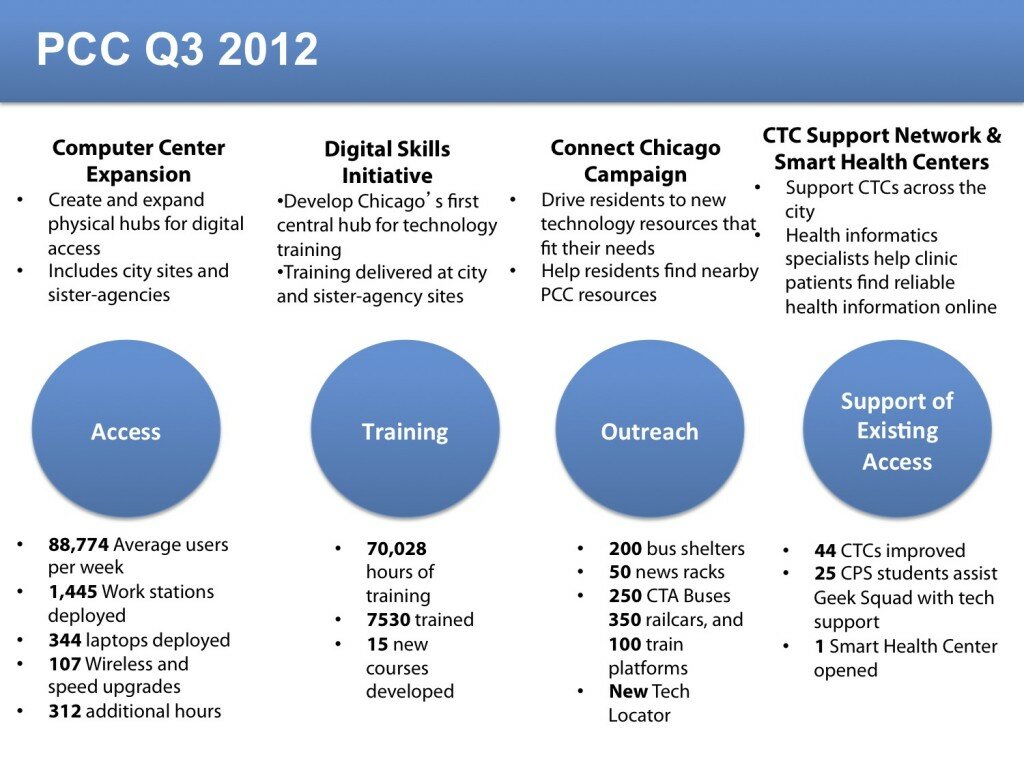 Most of the locations in the Connect Chicago system have been serving the community for many, many years. Wi-fi and public computers have been available in the Chicago Public Library for more than a decade. Community technology centers— supported in part with programs like the State of Illinois' Eliminate the Digital Divide Program (going back to 2001)— have been essential parts of neighborhoods for many years. Home-grown classes on social media and photo sharing have been taught in senior centers since the days of Friendster. This robust, caring, and rich environment is the basis for our work.
The campaign around this launch has a number of components:
A website at www.weconnectchicago.org, with a listing of all locations and a listing of training opportunities: http://weconnectchicago.org/learn/
A bus, rail, and kiosk advertising campaign announcing the network and directing people to the Web site and 311. This includes ads on all city-owned newsracks and many bus shelters. See the ad campaign here.
A new information pack for the city's 311 service, which continues to be the front line support for residents looking to connect with technology resources. Connect Chicago is replacing the City's Tech Locator tool, which has served as the main source of information for the 311 call center for the last few years
An admin tool based on Google Fusion Tables
A series of meetups for you and / or your staff to show you the website and other Connect Chicago resources and train you on how to maintain your own location detail pages
Press release, blog posts, and other media to carry the Connect Chicago message