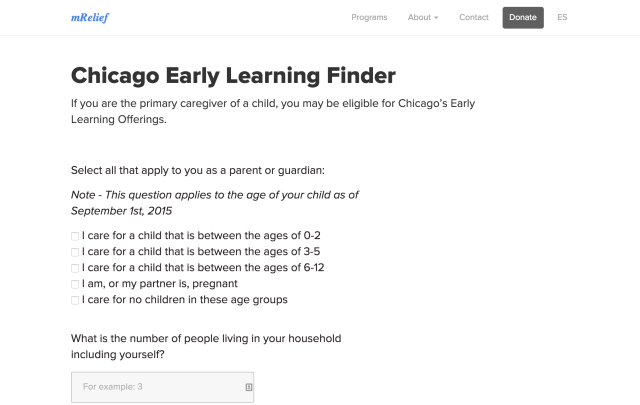 For the August 11th #ChiHackNight, mRelief, the City of Chicago's Cara Bader and our own Sonja Marziano talked about the new Chicago Early Learning Finder.
The Chicago Early Learning Finder lets Chicago residents see if they are eligible for Early Childhood Programs through either the mRelief website or by texting "Hello" to 773-377-8946.
The finder works by having residents answer short and simple eligibility questions. Once completed, the finder recommends three locations based on the resident's eligibility and preference. When the resident selects the location they want it will connect them to the Early Childhood Learning Portal where they can kick off the enrollment process.
Smart Chicago has run the Early Learning Portal since 2012. In 2013, they worked with the Azavea team to integrate SMS messaging into the portal.
At the time, here's what Azavea had to say about the project.
"An interesting challenge the design team will face in the upcoming work will be to refine the SMS interface to the application. During the usability tests and demos of the application, we've received a lot of excited feedback about this feature. It provides a way for users to access the data behind the application by sending and receiving text messages. There is a dearth of resources that describe good user experience (UX) design in the realm of SMS interfaces, so through the examination of existing SMS products and iterative redesign, we are looking forward to learning some of the tricks to creating a great SMS user experience."
With mRelief's experience with screening for social services, they were the perfect fit to help residents understand the different options for early learning childhood programs. This is one of the largest screeners that mRelief has ever built. Here's the timeline that they used to build the Learning Finder.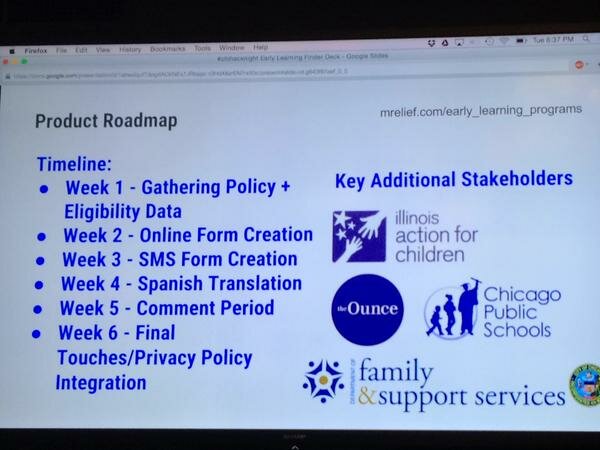 The City of Chicago paid mRelief to do this work— one of the first civic startups in Chicago to conduct business directly with the city.
To find out more about mRelief, you can visit their website at mRelief.com.