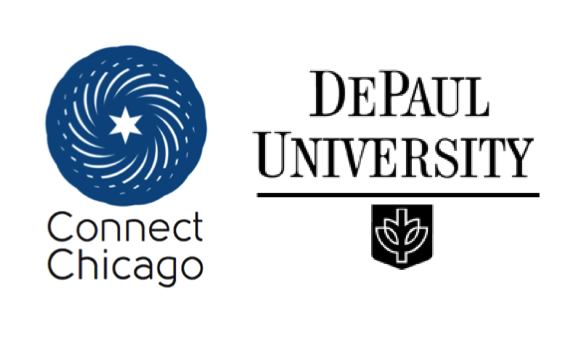 In partnership with DePaul University and various Connect Chicago Meetup partners, Connect Chicago will be engaging directly with residents through Community Technology Forums.
The Community Technology Forums are participatory design sessions aimed at understanding hyperlocal digital equity needs, assets, and ideas. Hosted in partnership with nonprofits and community anchor institutions in Chicago's neighborhoods, these sessions will give residents an opportunity to articulate a vision for technology in their community. We hope the ideas and needs identified by residents in these sessions inform future work and community investments.
Community Technology Forum Objectives
There are several objectives to these Forums:
Understand what residents see as the main challenges or gaps for their community/neighborhood when it comes to technology, Internet access, and training

Discover in what ways, both big and small, people would like to see technology improve their daily lives and the quality of life in their communities

Find out how people have participated in conversations about technology in their communities in the past, and how they would like to in the future
About the Community Technology Forums
The forums will look like a guided community brainstorming meetings. They will be facilitated by Professor Sheena Erete, Jessa Dickinson, and other community design experts at DePaul University. The Forums will include introductions/icebreakers and about 2-3 interactive group activities for attendees. We will release session schedules for each Forum.
The Forums will amplify hyperlocal opinions and ideas about technology. We recognize that there are many nonprofit and anchor institutions already leading the way in community technology resources and training. Their work is featured at Connect Chicago Meetups and the whole ecosystem benefits from their lessons. By partnering with these institutions as hosts, we hope to not only shine a light on their leadership, but also utilize their position in the community to recruit residents and capture local perspectives.
The Forums will be welcoming & inclusive. All will be welcome at these events, including walk-in participants. Food will be provided and we will schedule the timing of the event in consultation with our nonprofit or community anchor institution host who knows best about the scheduling preferences of their patrons and their community.
The Forums will be well documented. The messages and lessons from each Community Technology Forum will be synthesized and circulated after the events. As with other Smart Chicago engagement events, the work will be shared broadly. We will also be open about meta lessons — what went well, what could be improved, etc. —  for others interested in adapting the work.
Check back on the Smart Chicago blog as Community Technology Forum events are announced. If you are interested in getting involved, volunteering, or hosting a Community Technology Forum later in 2016, please email Program Analyst Denise Linn at dlinn@cct.org.