Members of Chicago's public computing and digital learning community come together every month to hear a presentation from a Connect Chicago Corporate Partner and a Connect Chicago featured program. Join us! Sign up at Meetup.com.
On September 3rd, the Connect Chicago Meetup group convened for a session on Youth-Led Tech Program Lessons & Comcast Internet Essentials. We learned about expansions to the Internet Essentials program from Comcast's Director of External Affairs, Joe Higgins. Then, Smart Chicago gave a detailed, behind-the-scenes look at Youth-Led Tech Summer program – sharing everything from catering records to detailed curriculum.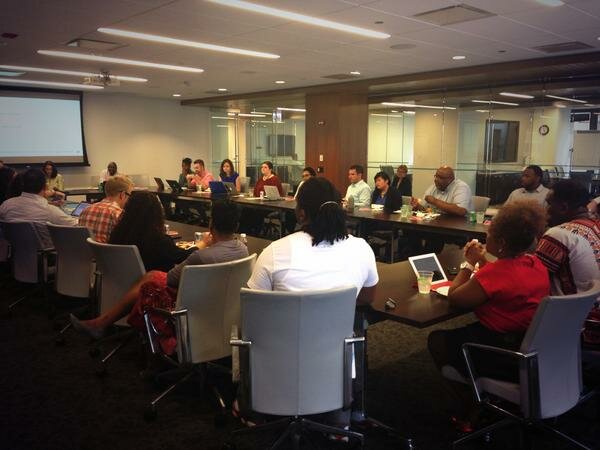 Meetup attendees hailed from LISC Chicago, the Chicago Public Library, Accenture, the Adler Planetarium, Microsoft Chicago, Comcast, Smart Chicago, Englewood Blue, BLUE1647, Hive Chicago, Galvanize Labs and United Way of Metropolitan Chicago, reinforcing the idea that connectivity and digital skills touch so many types of people and institutions across Chicago. 
Great to meet the real people who did the real work at Youth Led Tech @GetINChicago @SmartChicago #STEM #ConnectChicago @toniirving

— shelley stern grach (@shelleystern) September 3, 2015
At the @connectchicago event, representing @BLUE1647! pic.twitter.com/B68lnnByYm — Sebastian W James (@sebastianwjames) September 3, 2015
An AMAZING group of passionate and impactful youth #edtech leaders in the room #connectchicago @SmartChicago @ComcastILLINOIS

— Moira Hardek (@mohardek) September 3, 2015
Comcast Internet Essentials is a program serving low income families with children eligible for free and reduced lunch. The goal is to tear down the barriers to broadband adoption by offering training, reduced cost computers, and $9.95/month Internet access. In Chicago, Internet Essentials serves about 55,000 families – 26% of eligible families in Chicago. 
In his presentation, Joe outlined several new components to the Internet Essentials program:
Eligibility Expansion. Any student attending a school where over 50% of students are eligible for free or reduced lunch will automatically be enrolled in Internet Essentials
Faster Speeds. Internet Essentials download speeds will be 10 Mbps – up from 5 Mbps
Wi-Fi. All current and future Internet Essential customers can get a free Wi-Fi router
In addition to these expansions, Comcast is experimenting with a pilot senior technology program in San Francisco, CA and  Palm Beach County, Florida. The company also invested in a study evaluating the impact of its Internet Essentials Program which you can read here. 
Here's the brochure for #InternetEssentials #ConnectChicago pic.twitter.com/aA7vcts8MU

— Smart Chicago (@SmartChicago) September 3, 2015
After Comcast's presentation, Smart Chicago's Youth-Led Tech program organizers gave detailed overview of their open online documentation. These items would be of interest to anyone hoping to replicate or build on this youth summer program:
You can watch the whole Youth-Led Tech graduation ceremony on YouTube. 140 students completed the program and earned their own laptops. Microsoft hosted the ceremony.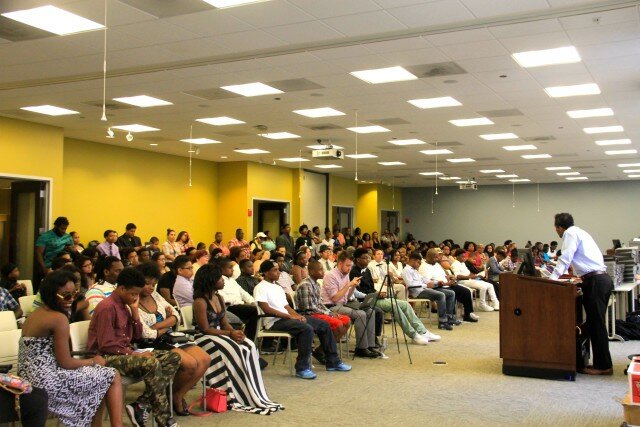 As you can see from the highlights above, from the beginning of Youth-Led Tech, the program set out to document everything and share everything. We hope other digital skill-building programs in Chicago will adopt similar practices, ultimately strengthening the City's entire digital learning ecosystem.
Access the entire Connect Chicago Meetup presentation here on Google Slides. You can access the meeting notes here.