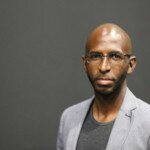 Today Demond Drummer joins the Smart Chicago Collaborative as the Managing Director of the Smart Chicago Challenge, a plan to make Chicago the most dynamic digital city in the world.
Demond comes to us from Teamwork Englewood, where he has been a Tech Organizer. As part of his work there in the Smart Communities program, led by our partner LISC Chicago, he led a community engagement campaign that drove a 10% increase in home broadband adoption.
He also created Englewood Codes, a 10-week summer project where youth learn how to design, build and maintain their own multimedia websites. He originated LargeLots.org, a web app to promote the City's Residential Large Lot Pilot Program in Greater Englewood. His work led to a ten-­fold increase in city-­owned residential lots transferred to private owners and to an expansion of the program to East Garfield Park.
The Smart Chicago Challenge is a new Smart Chicago program guided by a unique collaboration of dynamic partners: LISC Chicago, Chicago Public Library, the City of Chicago's Department of Innovation and Technology (DoIT), MacArthur Foundation, World Business Chicago, The Chicago Community Trust, and Smart Chicago itself.
As Managing Director, Demond has primary responsibility for managing and facilitating the day-to-day activities of the Challenge and is accountable to the Challenge Steering Committee. I'm happy to serve as a member of that committee, along with Brian Bannon, Commissioner of the Library, Brenna Berman, Commissioner and CIO of DoIT, and Susana Vasquez, Executive Director of LISC Chicago.
Demond is just the fourth employee of Smart Chicago, joining Operations Director Kyla Williams, who has fiscal and project responsibilities across all our work, and Project Coordinator Sonja Marziano.
Please join me in welcoming Demond Drummer.