On Sunday, February 12th I embraced the opportunity to leave a cold, dreary Chicago behind and engage with some pretty amazing folks in Miami, Florida at the 10th Annual Knight Foundation's Media Learning Seminar. As a first time visitor to the Knight MLS I was excited to take in all that was ahead of me for the next day and a half.
As I sat in plenaries, break-out sessions, networking events and just plain hanging in the lobby a constant and recurring theme was emerging. Listen.
I don't think the concept of listening is new to mainstream and new school media, I believe it has become a fading art as we become a "Nowist" (Amy Webb) society. We want information now. Sometimes at the cost of truth, yet we consume it wholly in whatever form it arrives as truth, particularly in the social media realm.
The Smart Chicago Collaborative is  frequently engaged with the media community at large in various aspects of our work and all of our work requires us to Listen. We listen to the voices of our communities as we work to continue to safeguard open data, and provide opportunities for skills and access to Chicagoans around technology. During the Knight Media Learning Seminar of the break-out sessions that stood out as it relates to how we listen was "Human Centered Design".
A Novel Approach to Listening: Human-Centered Design
Judy Lee Haworth, human-centered design strategist discussed how this strategy can help us listen for our communities needs.
Human-centered design is a practical, repeatable approach to arriving at innovative solutions. Think of these Methods as a step-by-step guide to unleashing your creativity, putting the people you serve at the center of your design process to come up with new answers to difficult problems. Human-centered design consists of three phases. In the Inspiration Phase you learn directly from the people you're designing for as you immerse yourself in their lives and come to deeply understand their needs. In the Ideation Phase you make sense of what you learned, identify opportunities for design, and prototype possible solutions. And in the Implementation Phase you bring your solution to life, and eventually, to market. –IDEO.org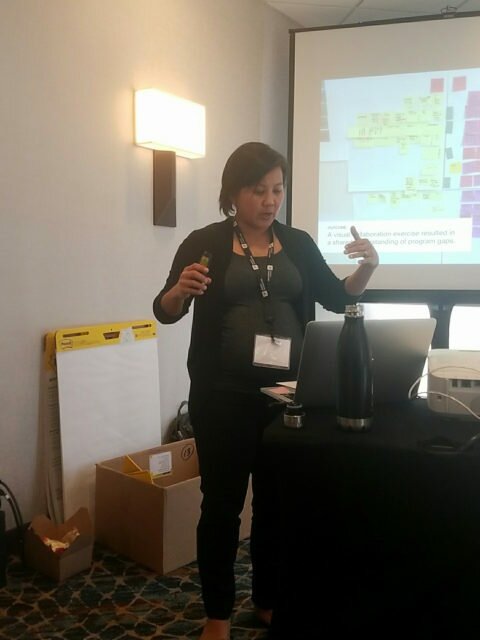 Judy shared how open ended conversations can lead to unexpected insights. Invariably when we are conversational with one another we discover things that would not ordinarily be uncovered or discovered through survey or other means of non-interactional information gathering. She also addressed the fact that we have to be "comfortable with ambiguity" in the initial information gathering stage and let it lead to inspiration. As I sat in this break-out I drew comparisons between Human Centered Design and the Chicago Community Trusts' Social Lab, The Grove 3547. 
Social Labs As Model for Human Centered Work
Social Labs are intensive, experimental interventions. They bring together people from across the system to seek root causes behind their problems and then collaborate on devising and testing solutions aimed at key leverage points. This change work continues in the "lab" of the real world—over time and in context.
The idea for The Grove 3547 Social Lab came out of an initiative called "On the Table", an annual forum designed to elevate civic conversation, foster new relationships and inspire collaborative action, run by the Chicago Community Trust.  Some social labs last for years. The team repeatedly convenes to refine their ideas based on what they are learning, and then heads out again into their field of work for more learning, testing, and acting.
How They Work
Social labs are, first, social.
They require a team that reflects the diversity of people affected by and involved in the problem at hand, and the full multi-layered reality of the system. What does this social aspect accomplish? Among other things, you enable more creativity and avoid the tendency to impose top-down solutions, which rarely take advantage of the full range of knowledge—including local and informal knowledge—that can be brought to bear on the problem. Detailed knowledge of a system comes from living in it.
Social labs run experiments.
Complex problems are not amenable to monolithic, planned "solutions." Social lab teams devise prototypal solutions and try them out in a cycle of consultation, experimentation, assessment, and revision. This agile process allows a portfolio of promising ideas to be tested and developed before too much time and money is spent on them. When, by trial and error, you have discovered what works, you can then grow it with confidence.
Social labs focus on causes.
What most of us refer to as "problems" are typically symptoms. When we focus on symptoms, we produce at best a temporary improvement. At worst, we inadvertently reinforce the dynamics that are the cause of the problem. Through the active participation of people from every level of the system, social labs identify and act on causes—thereby opening the door to real progress.
Social labs invite dissent.
Dissent can be uncomfortable, but we embrace it as an antidote to groupthink and inertia. The friction of argument and diverse positions unleashes tremendous energy. When skilfully managed, that energy is creative and productive. In addition, the free expression of competing and contested claims in the structured environment of the lab reduces the likelihood of confrontation outside it. http://reospartners.com/tools/social-labs/
Community Input Is Essential
Processes like Human Centered Design and Social Labs are our opportunity to keep at the forefront the tenets that we espouse; inclusion and equity. If we are to truly impact the social issues that plague our communities is will be essential to continually have  discussion with those who are impacted daily. Here is where we will find ideas to implement, strategies to try and even answers  to  the problems we are facing. This  is how  we will embody of  theory of build with, not for. Listening, when we use this simple concept properly, the impact will be measured by "who" we  listened to.
For more information about The Grove 3547 contact Cheryl Hughes at chughes@cct.org or "On The Table" contact Jean Westrick at jwestrick.org or visit cct.org