Last month, the Smart Chicago team went to Miami to participate in the 10th anniversary of the Knight Media Learning Seminar (MLS)– a two-day conference which "brings together leaders and funders from across the country to discuss ways to promote more informed and engaged communities." This year, in response to the political climate, conversations appropriately focused on trust and authenticity in journalism and communities. In every plenary and breakout session I participated in, speakers and attendees answered questions on how to build trust and authentic relationships with audiences/users/communities.
.@ibarguen, @knightfdn begins the 10th year of MLS by discussing need for inclusion to create informed & sustainable communities. #infoneedspic.twitter.com/TFAw66ajDP

— Sonja Marziano (@ssmarziano) February 13, 2017
The insights that I take away from my time at MLS is that we are still trying to figure out what trust looks like and it's difficult, and critical, to create authentic processes to build trust. These are part of the questions that I still think about now that I am back in Chicago– is the work we are doing creating trust with our communities? And how can we make sure we engage more people in the technology that we create?
Journalism Engagement Projects
On the first day of the conference, I attended a breakout discussion moderated by Molly de Aguiar of the Dodge Foundation that highlighted journalism engagement projects from across the country.
If #infoneeds participants voting w/feet then media engagement session clearly wins the day. Standing/sitting room only for masterclass. pic.twitter.com/7IvSgpRFN3

— Kyle Bozentko (@kylebozentko) February 13, 2017
The conversation was kicked off by describing what good engagement looks like. The panel's responses ranged from relationships with audience members, responsive feedback loops, and organizational culture. This question challenged me to think about how "good" engagement looks like in my work, especially in the Civic User Testing Group (CUTGroup) where I aim to build and include Chicago's communities in the process of building better technology.
"The convo around engagement shouldn't be solely based on projects, it's about culture." Yesss @theevergrey #infoneeds

— Andrea Faye Hart (@lenifaye) February 13, 2017
There was consensus across the panel to not engage with people just to engage with them, but create opportunities to be part of their community. Engagement between organizations and their audience should look and feel like a relationship. Organizations should not only request feedback from their audience but also use it.
This is an important lesson that I have learned through CUTGroup. It is easy to invite people to participate and gather their feedback on technology products and processes, but it is critical to be responsive to that feedback. I often work closely with our partners to understand and prioritize CUTGroup feedback into actionable changes. Once changes have been outlined or made, I share back to our testers to show how their participation has made an impact.
Fake news, Trust, and Truth in the Digital Age
On the second day of MLS, I attended a breakout session facilitated by Bill Adair of Duke University and Claire Wardle of First Draft that allowed audience participants to address and discuss fake news directly. We discussed whether or not news and media outlets have told their stories well enough or if these outlets should tell their stories.
This made me think about think about Smart Chicago's efforts around transparency and open data– whether that is through documentation of processes on our blog, our open data partnership with Cook County or CUTGroup testing on data portal. By making data and processes open, we know that not everyone will find or use that data, but transparency creates opportunities to build accountability and trust. I am hopeful that from the distrust that people currently have for the news could lead to opportunities for media organizations to engage with their audience and become more transparent in their storytelling processes.
The sincerest form of flattery? "Caring, patient, thoughtful questions coupled with sincere, active listening." @franksesno #infoneeds

— Jennifer Brandel (@JenniferBrandel) February 14, 2017
KCIC Cohorts
After MLS, Smart Chicago participated in a reunion of the Knight Community Information Challenge (KCIC) cohort– a program that encouraged community and place-based foundations to take part in human-centered design thinking exercises and offered matching grants for news and information projects.
Knight tested this process over the past few years, with four other foundations, and it was extremely successful. We both attended the workshops and watched the evolution of these foundations' projects first hand, as they went from the research to prototype stages. Along, the way, we made an important realization: that what is being designed matters less than how it is designed. The solution can be a product or a program, or something else entirely. But the way the creators listen, understand and work with people to develop ideas and solutions around information needs is much more important.
Knight is continuing their investment of the original cohort– which includes Silicon Valley Community Foundation, Incourage Community Foundation, Geraldine R. Dodge Foundation and the Chicago Community Trust – to continue their work and be ambassadors to a new upcoming cohort of foundations.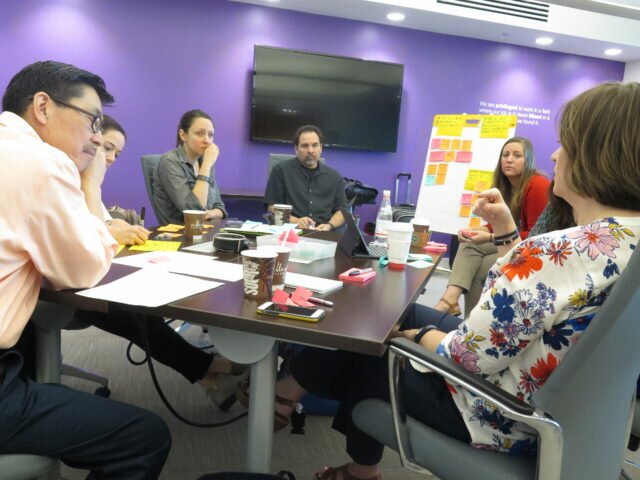 In our last cohort meeting, each foundation facilitated their own mini-design thinking challenge based on what they learned from the previous years of participating in design-thinking activities. Smart Chicago and the Chicago Community Trust's (CCT;s) design challenge question was "What makes storytelling authentic?" and "How do you capture stories in a collaborative way?" We compiled examples of stories that we believe were successful at being authentic to see if the cohort could identify what makes one story more authentic than another. As a funder collaborative within CCT, there's opportunity for more collaborative storytelling of our own work and we want to identify ways to best approach telling our story and impact in an authentic way.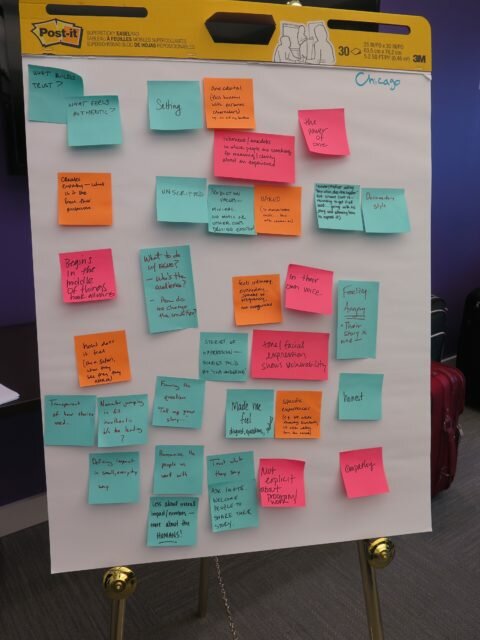 These design thinking exercise gave us an opportunity for candid conversations that allow us to discover new ideas and approach our problems in a new way and often find unexpected solutions. I am excited that the Knight Foundation has decided to continue this program with a new cohort of foundations and I look forward to seeing how design thinking will impact those foundations' work in creating new human-centered projects.
The news and media ecosystem is ever changing. We faced great disruption in 2008, and those forces are continuing to fundamentally reshape how we receive – or don't receive – local news and information, how informed we are or aren't. We look forward to launching this new initiative and seeing new ideas come forth as to how we can respond to the very real information gaps in our communities.
"What is being designed matters less than how it is designed.." I'm grateful to be part of this #designthinking process & cohort! #infoneeds https://t.co/eelIt9dyOK

— Sonja Marziano (@ssmarziano) February 13, 2017