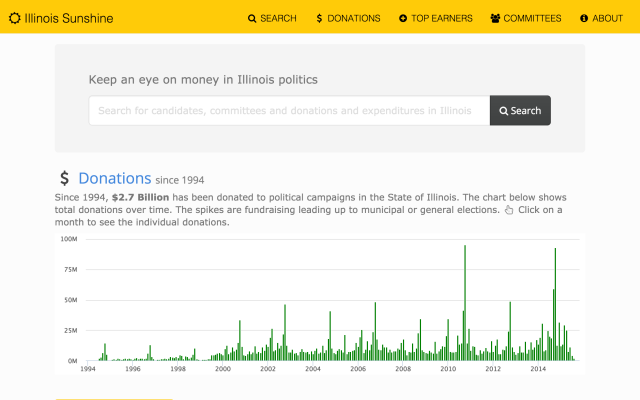 For the August 4th ChiHackNight, the Illinois Campaign for Political Reform debuted Illinois Sunshine – a site that uses data opened up by the Illinois State Board of Elections to help users explore political contribution data. The site was created by Datamade.
Illinois Sunshine allows users to search for candidates, political action committees, political donations, and expenditures in Illinois. The site has data all the way back from 1994. This data can also be downloaded in bulk on the site using the big "Download Bulk data button" on the about page which is tremendously useful. However the site does caution that prior to July 1999 when electronic filing was introduced, much of the data is incorrect or missing.
The Illinois Campaign for Political Reform is a non-partisan public interest group that conducts research and advocates reforms to promote public participation in government, address the role of money in politics and encourage integrity, accountability, and transparency in government. They teamed up with Datamade to help update the Illinois Sunshine website that was first launched in 2012.
Originally, Datamade had used to scraper to pull data from the Illinois State Board of Elections website. The ISBE website also allows you to explore contribution data, but doesn't aggregate the data like the Illinois Sunshine site does. The amount of scraping that DataMade was doing put significant strain on the Illinois State Board of Election website. However, once DataMade and the Board of Elections communicated about what DataMade was trying to do the Illinois State Board of Elections arranged to give DataMade the data on a regular basis.  The source code for Illinois Sunshine is open source and can be found here.
You can explore more political donations at http://www.illinoissunshine.org.