It's been years since the City of Chicago launched their implementation of Open311, a standard for reading and writing 311 service requests. Here's an incomplete, idiosyncratic list of apps that are currently using the City of Chicago Open311 API. If you know of one that I don't have listed here, please let us know!
311 Super Mayor Emanuel: Fixing Chicago's problems one 311 request at a time. Beyond the obvious fun of an 8-bit mayor that hops over a red porcupine when a service request is submitted, this is a real-time system that refreshes the page as new requests are submitted. Skyline graphic by TJ McKimmey, logo by Angel Kittiyachavalit; most other stuff by Ben Sheldon. Check out the source code on Github.
311 Request System: Provides the ability to view and submit service requests for 14 data types. Powered by the SpotReporters system from Connected Bits. Connected Bits also provided much of the back-end work on the City's Motorola customer service request system that led to the Open311 system.
Chicago Works: "This application will allow you to make service requests to 311 and track issues as they are addressed. Simply put, you can watch your tax-dollars work for you. Chicago Works is a mobile application developed by 2pensmedia and Ald. Ameya Pawar. The first version of the app came out while Ameya ran for alderman. Chicago Works was the first service request app developed in Chicago. After the election, 2pensmedia and Ameya worked with the Mayor's office and fellow alderman to develop a more robust app that plugs into the Open 311 framework". The first app from an Alderman!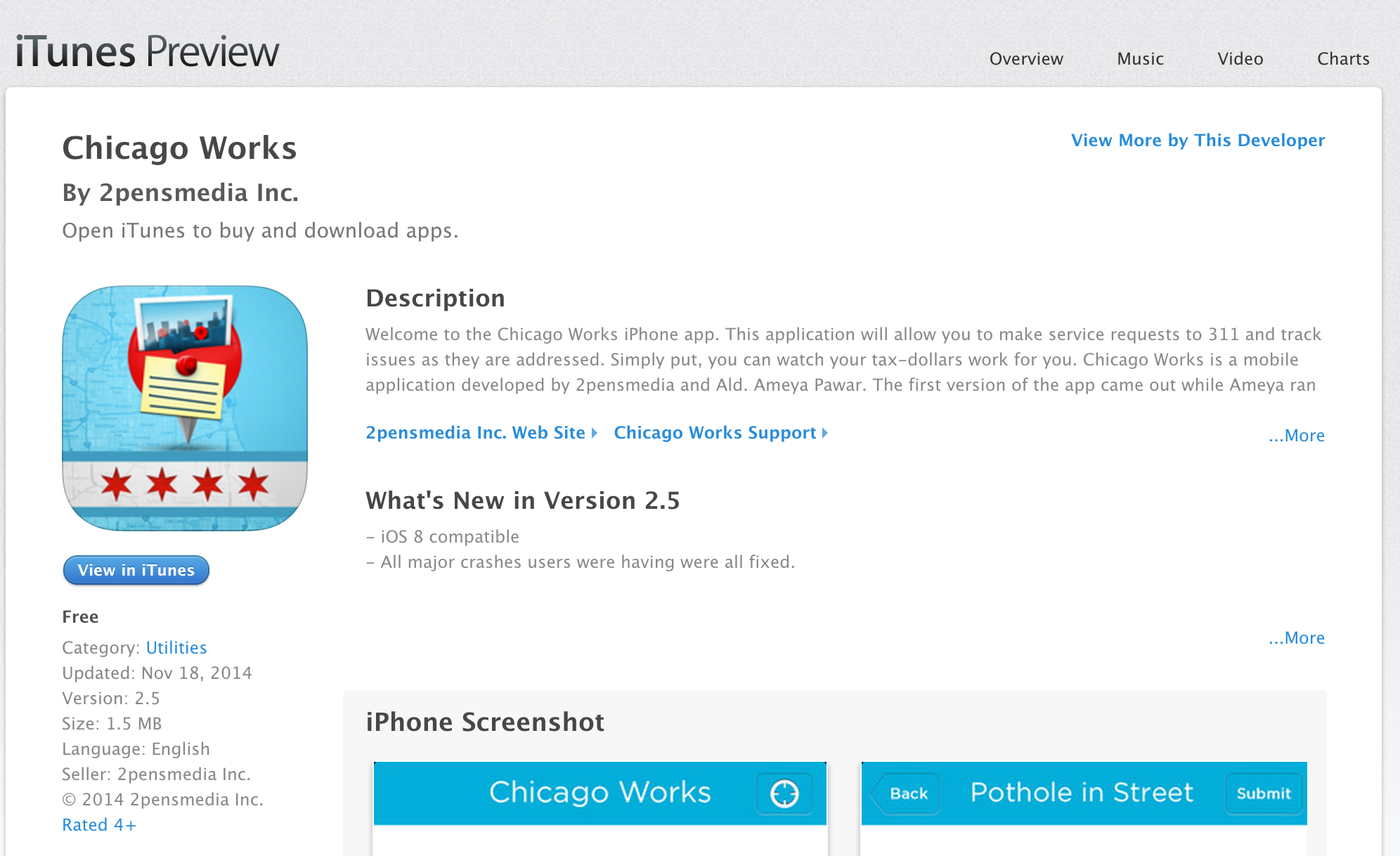 Chicago Works For You: a citywide dashboard with ward-by-ward views of service delivery in Chicago.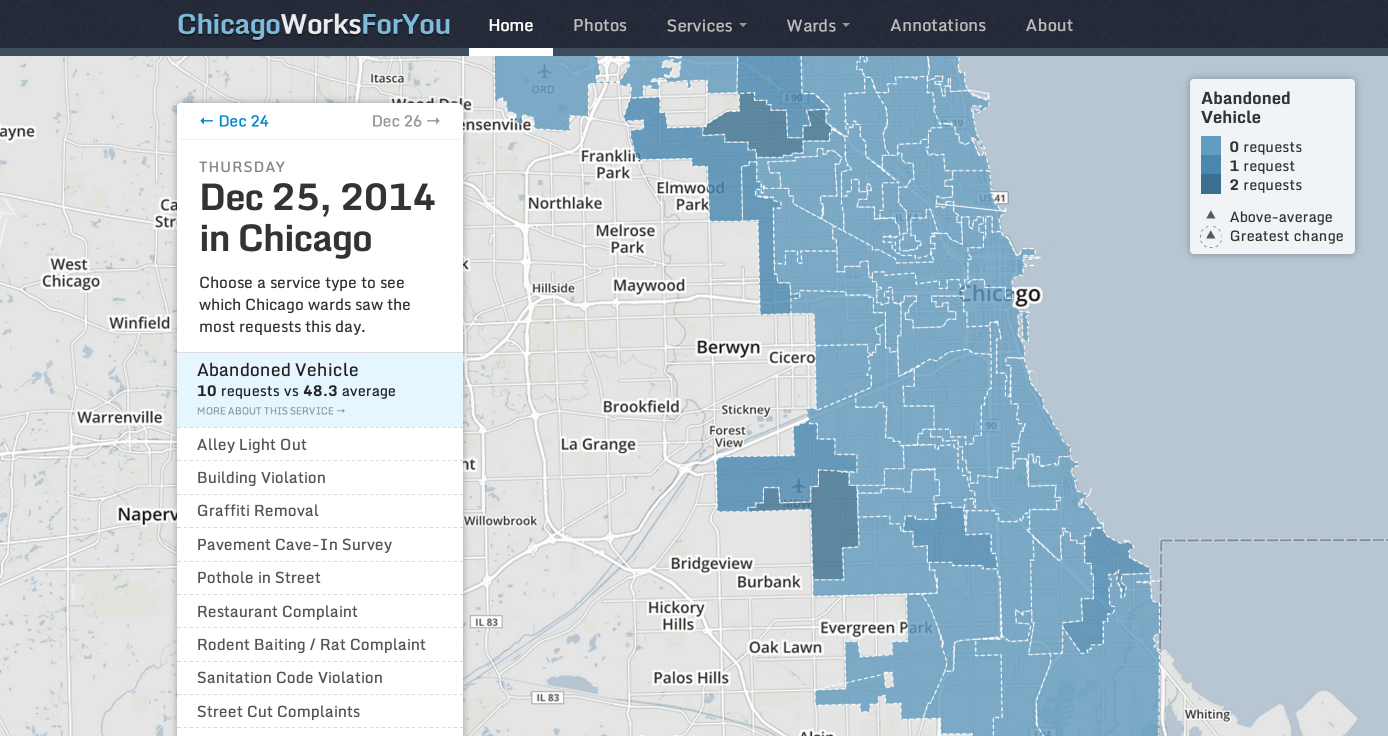 Foodborne Chicago: Report food poisoning to the Chicago Department of Public Health. Here's our project page. Unique in that the main functionality of the site is to read, not write, to the City's 311 system.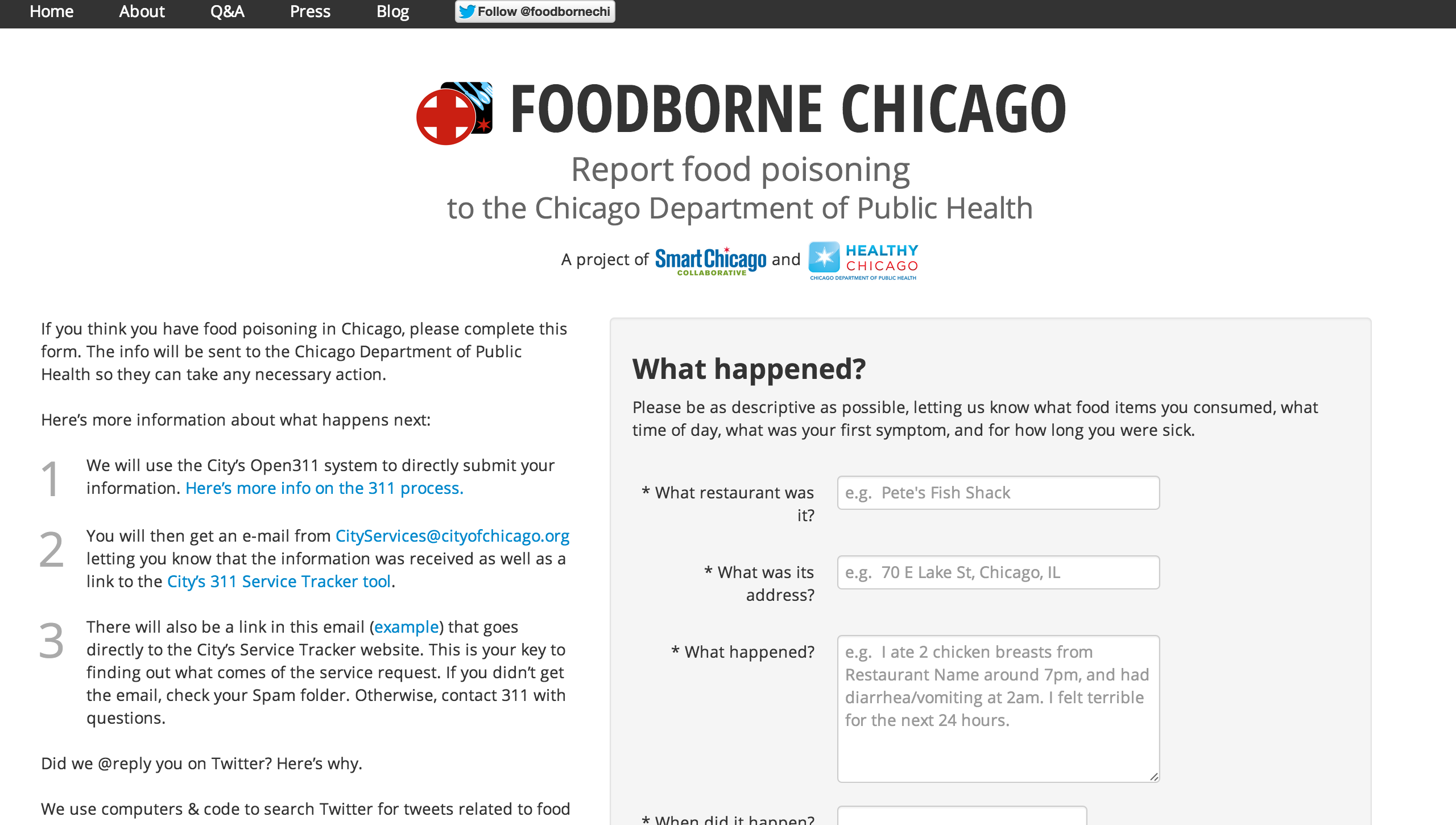 EveryBlock Chicago Open311 Service Requests: EveryBlock currently displays only service requests with photos.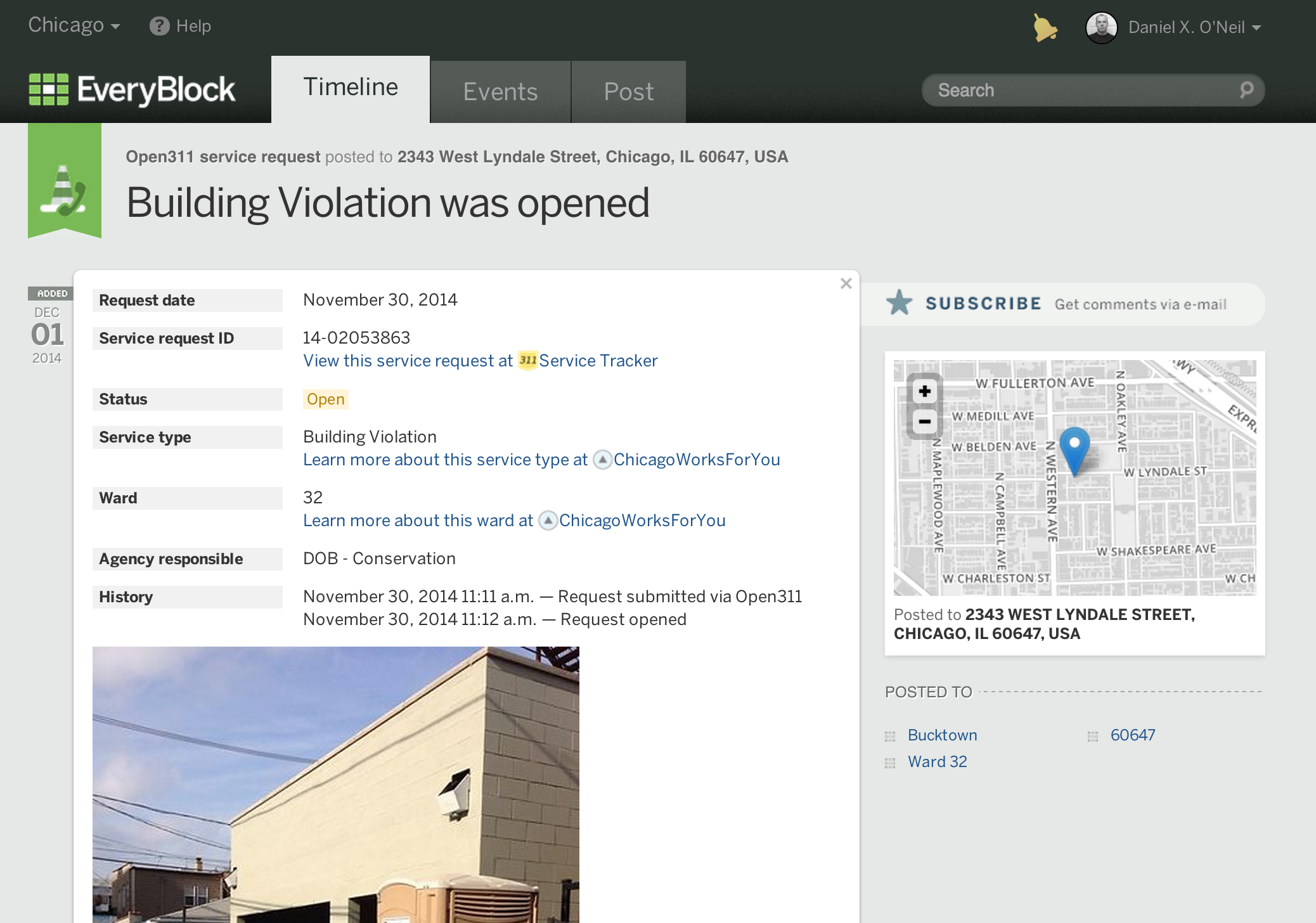 Service Tracker: Find out the status of your 311 service request. Maintained by the City. If you submit a request under one of the 14 types exposed under Open311, along with your email address, you are sent an email with a link to your request on this system.
CHIText: Chicago's Short Message Service (SMS) Text Messaging application. If you provide your cell phone number when making a service request, they follow up with you by text on this service.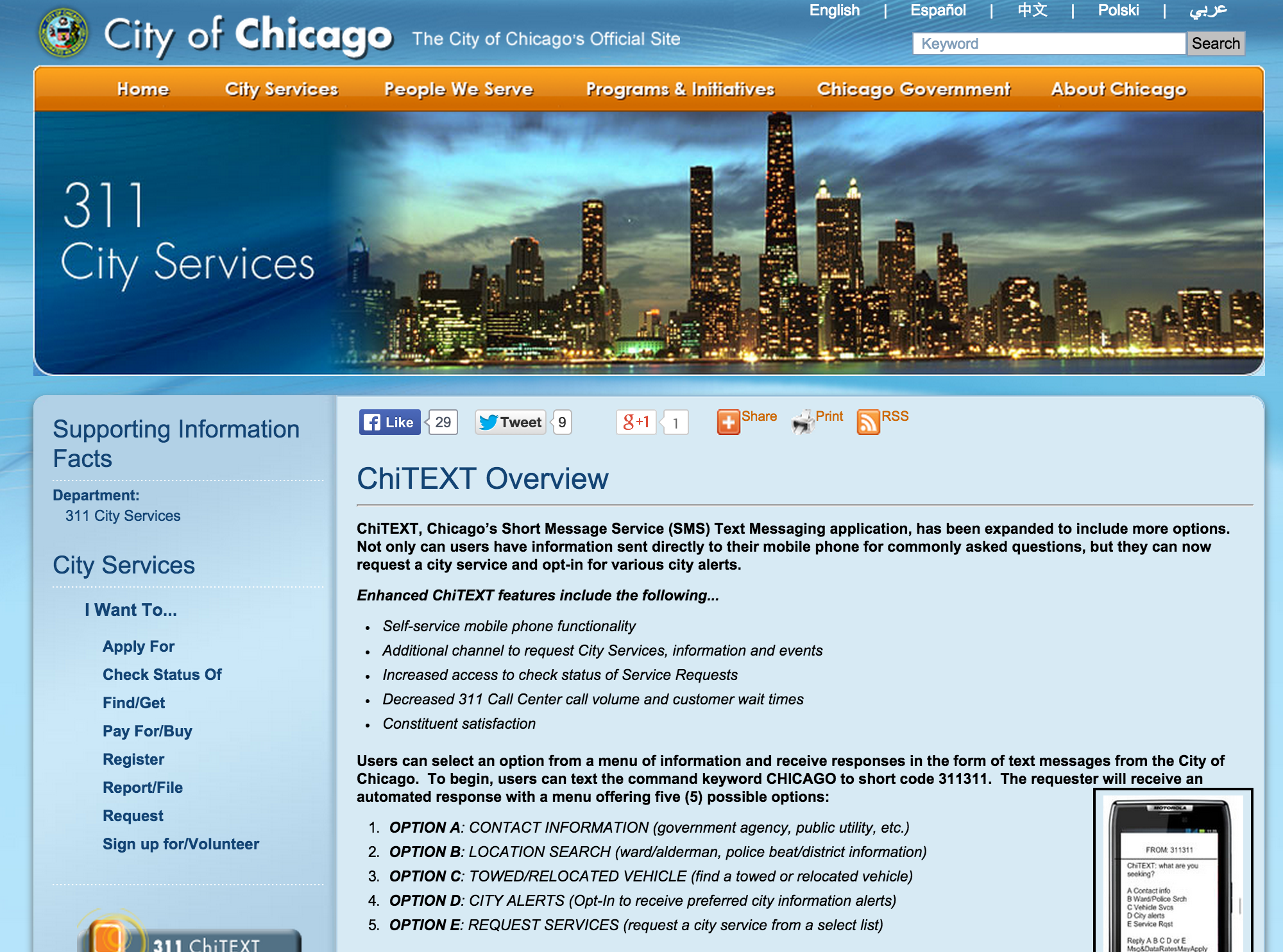 See Click Fix Chicago: communications platform for citizens to report non-emergency issues, and governments to track, manage, and reply–ultimately making communities better through transparency, collaboration, and cooperation.