This morning, Susana Mendoza, the City Clerk of Chicago,  is set to release a new dataset to the City's data portal: residential parking zone data. Here's a link: https://data.cityofchicago.org/Transportation/Parking-Permit-Zones/u9xt-hiju. The data provides the starting and end points of all street segments that the City Council has designated as parking for residents.
This data set is already going to have several organizations (including us) using the data. We'll outline the efforts below the fold:
RentConfident.com is a Chicago startup that helps renters run background checks on landlords so that renters can be confident that they're getting a good place. RentConfident will be using parking data as part of their scoring system. If there's easier parking, the higher the score will be.
ParkNav is a Chicago startup that provides street parking information to drivers allowing them to save time when trying to find parking.   ParkNav will use the parking zone data to improve their algorithms for predicting where there will be available parking.
MeterBeaters is a Chicago startup that helps drivers find parking and avoid parking tickets. They provide street cleaning notifications, United Centers parking notifications, and free parking maps. They'll be using the parking zone information to improve their services.
Smart Chicago
Smart Chicago consultant Josh Kalov put together a quick map of all parking zone data. You can take a gander at it here.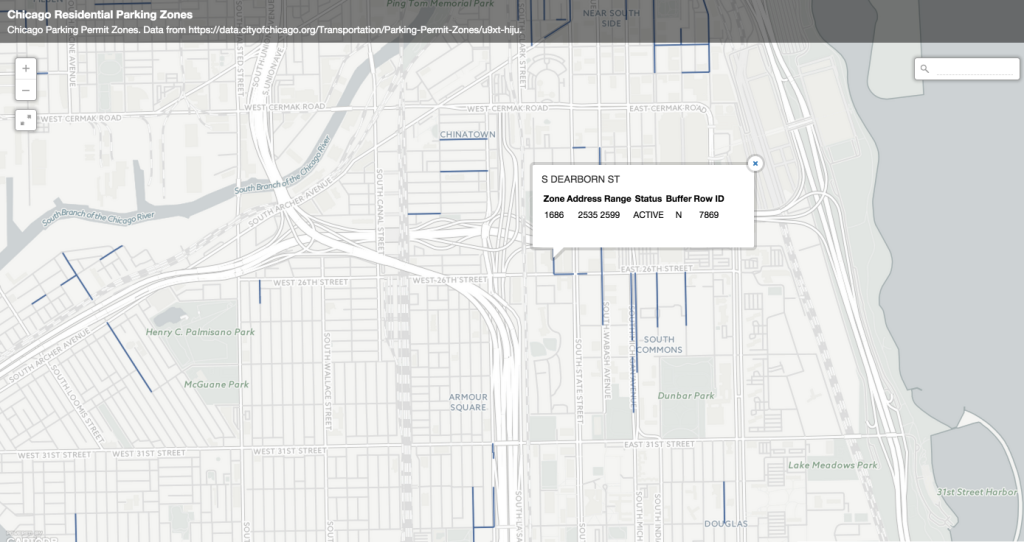 Some notes
This is a useful data set, but it does have some limits. We'd love to see an update that includes parking restriction information. There is a huge variety of hours for when the zoning is in place. In some areas, drivers need the appropriate residential zoning permit or a guest pass. Some streets have 24 hours restriction, some are 6pm-6am, 7am-9am, 6am-6pm and others are tow zones when the snow gets above two inches.
The data is presented as tabular data (with "address at beginning of zone, address at end of zone"). This is helpful for searching in the data on the City's data portal, which is based on the Socrata open data solution. One drawback to this approach is that its not easy to map it as simple lines of blocks that show parking zones.  There is a tradeoff— the data could have been joined to the GIS centerlines and uploaded to Socrata as a Mondera dataset (a geospatial dataset),  but then the dataset would  lose some of Socrata functionality like searching. Another technical limitation is that the Location column for regular tabular datasets in Socrata is limited to point geometry only. For parking zone data, it would be easier if this was line data. It would also be useful if it included a street segment id that would make it easier to join with the city's other street and parking datasets such as Street Center lines,
That's why we created a simple starter map for people to browse. We want to improve that map and make it more useful to residents. If you have ideas, let us know here. One day at a time. This is part of the value of having Josh Kalov, an experienced GIS developer, open data advocated, and owner of Kalov Strategies, working directly with governments, developers, and software providers to help make data and tech work for regular residents.
You can find out more information about the data release on the City of Chicago Clerk's website.