This is a weekly feature that will highlight what's happening at the Chicago OpenGov Hack Night. The Chicago OpenGov Hack Nights are weekly events where technologists and community members come together to work with open data and build tools that improve the civic experience. The events are held at 6:00 pm each Tuesday at 1871.
This week's first presentation: Knight News Challenge Submissions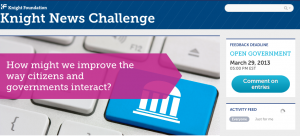 The deadline for submissions for the Knight News Challenge was on Monday. Civic innovators are competing for their share of $5 million dollars that the Knight Foundation will be awarding to projects that help improve the way that citizens get information from their government. (Author's note: Smart Chicago Collaborative Executive Director Dan O'Neil is on of the readers giving feedback for the Knight Foundation News Challenge. Projects were included in the post solely because they were presented at the hack night and for no other reason.)
Projects who presented at the OpenGov Hack Night included:
Schoolcuts.org / SchoolCircle.org: (4:34)
Their Knight News Entry: SchoolCircle.org engages parents, teachers, students, & community members with data visualizations about their schools made with a combination of publicly available and crowdsourced data. Users will be able to discuss, and advocate for, their school.
Chicago Crash Browser: (5:40)
Their Knight News Entry: Chicago Crash Browser is a new tool needed by planners and engineers to analyze where the Chicago should invest in infrastructure upgrades to eliminate traffic fatalities by 2022, and educate residents & elected officials about transportation safety.
Visible CTA (7:15)
Their Knight News Entry: To give a visual trip on all CTA routes and a bit of a walk in several directions from every stop. To connect a trip with where one could work through the Illinois Department of Employment Security and other government web sites.
Augmenting 311 Systems With Data Sourced From Social Media: (9:00)
Their Knight News Entry: Enhancing Open311 (and 311 systems in general) to accept information captured from social media outlets and filtered via machine learning and human interaction.
WeCountability (10:10)
Their Knight News Entry: WeCountability will flatten a city's organization so that good ideas can make their ways from the people doing the day-to-day work to the people making the decisions.
Crowdsourcing Building Data: (10:44)
Their Knight News Entry: We will create a smartphone web app/website that community groups will use to share information about buildings that are abandoned or in foreclosure in order to make neighborhoods more stable, make policymaking more effective, and improve vacant building data quality through crowdsourcing.
Closed Loop (12:00)
Their Knight News Entry: A data mining tool that connects the dots between political campaign contributions, lobbying, and legislation – and detects unusual patterns for investigative journalists to look into.
Announcements:
Data Science for Social Good Fellowships (15:10)
This week's second presentation: Mote.0.Bike (24:14)
School of the Art Institute of Chicago (SAIC) professors Doug Pancoast (Professor of Architecture) and Robb Drinkwater (Professor of Sound) dropped by the OpenGov Hack Night to discuss their project involving bike sensors.
"The interface reconsidered" was a collaborative course taught by Robb and Doug. They wanted to redefine interface, specifically in the context of the city.
They used an Arduino Micro-Controller combined with a GPS device to help collect data as people biked around the city. The Ardunio device is programmable and can be setup to collect a number of different data points including location, air quality, altitude, light, humidity and more.
Users can upload the data on the project website. The goal is to have multiple users all over the city collect data so that we can learn more about biking in Chicago. The project is being further by Colin Hutton and the site will see improvements over the next few weeks.
Dataset of the Week: Workforce Centers
Datasets don't have to be big to be important. The City of Chicago has four different workforce centers. The city's partnered with over 30 different community organizations to provide employment services.