Following is a presentation I made to the Gigabit City Summit.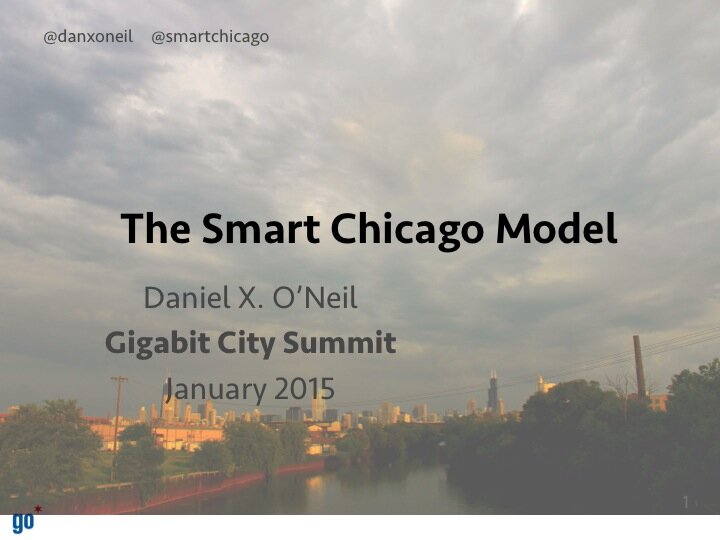 First of all, I'd be remiss if I didn't point out that I'm from Chicago, and Chicago is not a gigabit city. I think it would be fair to characterize us as gigabit-curious.
It was a great day here yesterday.
I see people here like Blair Levin, who is so good at analyzing the raw economics behind the macro-market of broadband provision, and Susan Crawford, who is so good at seeing the market distortions and the raw inequities that those economics lay bare.
So I am here— we are here, as a delegation, from Smart Chicago— me, Kyla Williams, Sonja Marziano, and Christopher Whitaker, because we toil in the same fields as you.
When the tag-team mayors — Sly James of Kansas City, MO and Mark Holland of Kansas City, KS speak so eloquently and with such great precision and knowledge about the digital divide and robber barons, we're with you.
When Margaret May was up here speaking of the need for paper, for information to be delivered to everyone, in the way they want to receive it, and are prepared to receive it, we are toiling with her.
So we are happy to be here. We are among friends, among fellow workers. Fellow toilers in these fields— the same fields that our President wrote about yesterday in his report on Community-Based Broadband Solutions. That report was subtitled, "The Benefits of Competition and Choice for Community Development and High Speed Internet Access".
Community Development.
These are our fields. The ones we work together. The older I get, the grayer I get, the more convinced I am that structure and process matter. That it is hard to do something unless you explicitly set out to do it, and create modes and methods to do it. It's currently fashionable in the world of civic tech to be all about people, but what I've come to value is concrete structures for actually doing that. For being all about people.
So that's what I want to talk to you about briefly— the Smart Chicago model. Our structure and modes.
The Smart Chicago Collaborative is a civic organization devoted to improving lives in Chicago through technology.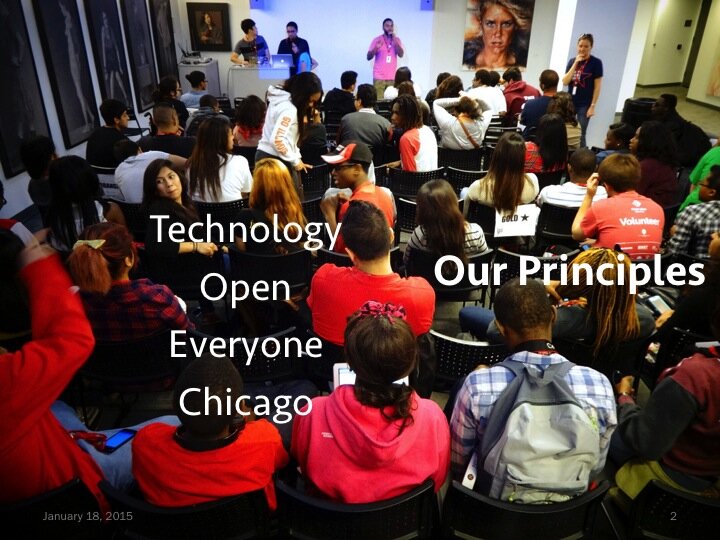 Pretty much every organization has a set of principles or a mission statement or some other blah blah they put on their website. We actually live by ours. I repeat them at the start of every meeting, and they are a part of every decision we make. Our principles are: Technology, Open, Everyone, Chicago.
We're all about technology. Everything we do relates to technology. We are of and about the Internet. Most of all, we believe in the transformative power of the Internet to change lives and build the economy for all. It is a simple matter of equity. Of justice.
We are open. In the technology industry, the primary manifestation of that is the use of open source code.But being open means more than using a particular license for our software. It means being truly open to others. Having open processes, so that people know what you're doing, how you're doing it, and how they can affect it. Open minds, so that we can actually change our entire way of doing things if we discover another way. This is about allowing others "in", wherever that may be in any particular situation. This room is one of those "in" places. We all need to be allowed.
I've seen that lots of organizations gain strength and efficiency from a laser focus. That can be geographical, or all about age, or a particular activity type. At Smart Chicago, because our work is rooted in technology, our focus is on everyone. We've seen that there is great value in the network. The network—the aggregation of human attention— is in fact, the great creator of corporate valuation
And Chicago is one of our values. It is our middle name. All of our work is done here. So we are finding ways to be helpful nationally without distracting us from our work is important to us. That's why we're here, in force, today.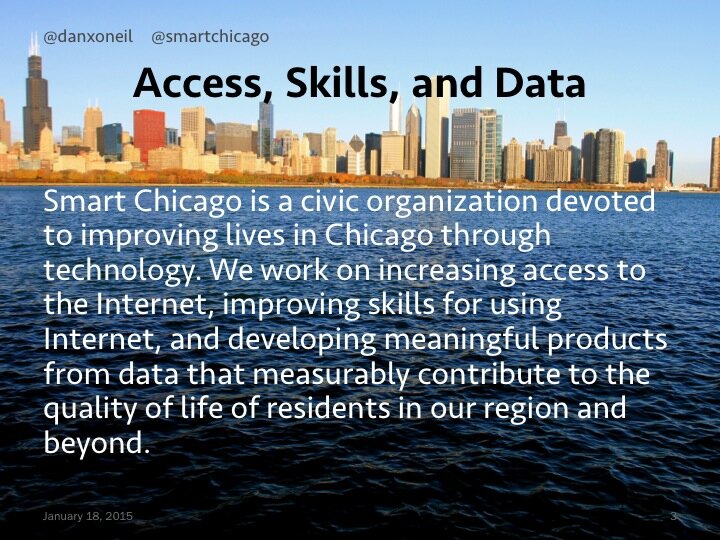 We have three key focuses: Access, Skills, and Data.
Access. If you're not connected to the Internet, it is difficult for technology to be of much use to you. I know you all care deeply about that. We're with you.
But if you can't use the Internet, being connected isn't going to be all that meaningful. That's why we work on skills a lot, going back to the $15 million in BTOP programs that we helped administer.
And Data. We construe data as content. Because there has to be something meaningful to look at once you're connected and skilled. If you're connected to the Internet, and you know how to use it, and you're doing nothing to improve your life, or the life of others, then we really haven't gotten very far.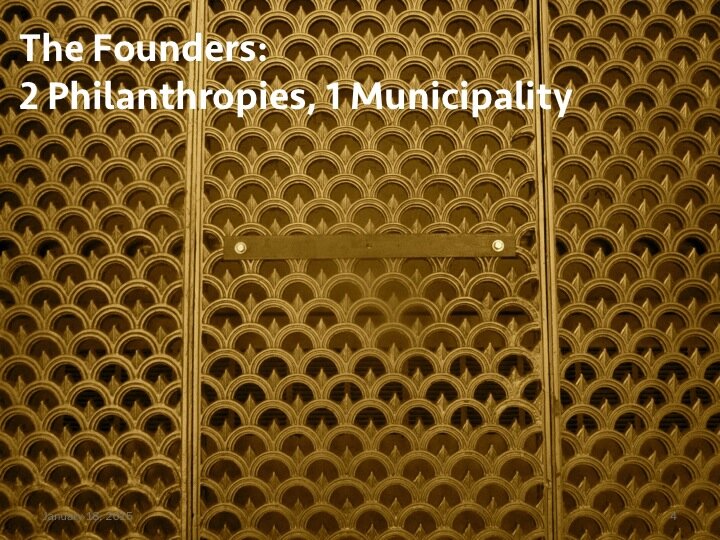 We were founded and are guided by three organizations: The MacArthur Foundation, the Chicago Community Trust, and the City of Chicago. I report to a board that consists of leaders from each of these organizations.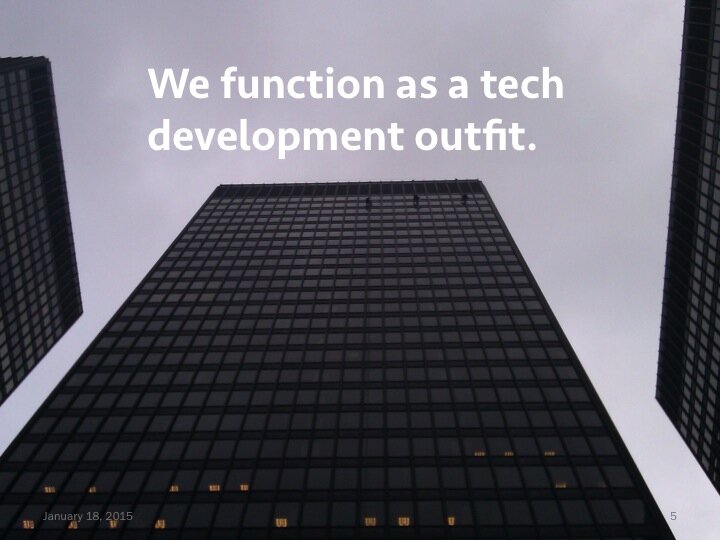 We function as a tech development outfit. We are a high-functioning tech firm that delivers on products focused on things like public health, early childhood education, and the justice system.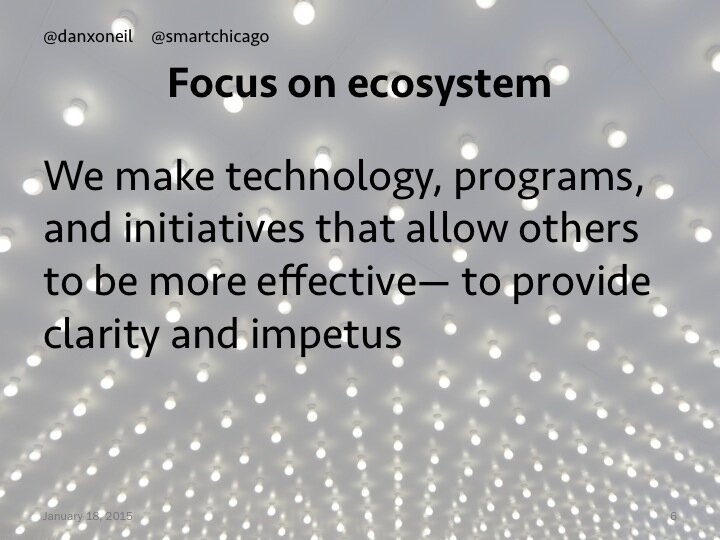 And we run things like the Civic User Testing Group, a set of more than 800 Chicago residents who get paid to test civic apps, and our Developer Resources program, where we host dozens of apps on Amazon Web Services, Heroku, Twilio, Mapbox, and other systems. We allow others to be more effective— to provide clarity and impetus to the civic innovation sector of the technology industry.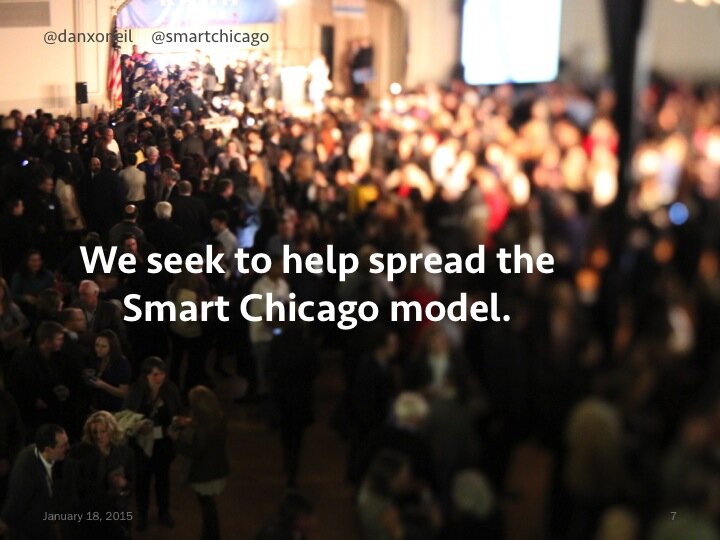 We see that all of you city delegations here are already workers in these fields. In many cases, you've been here before we did. Or you helped till the land to make it fertile. Removed the rocks and the dead tree stumps. We're here to work with you.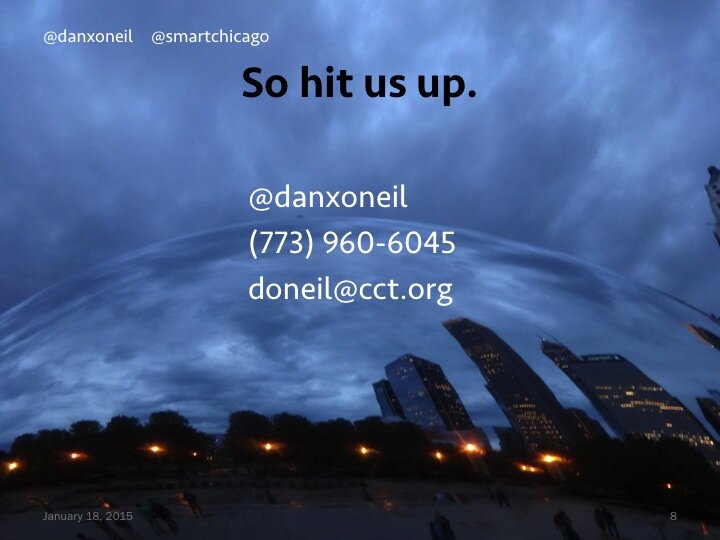 Let's do this.