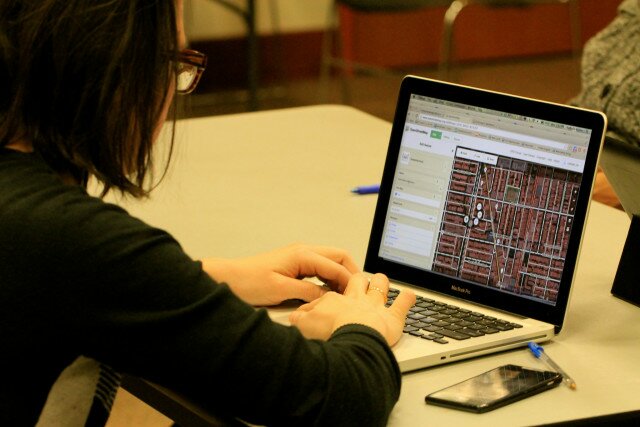 Last year was a time of great growth and documentation for our Civic User Testing Group project. We completed six tests on different civic websites and applications including: OpenStreetMap, EveryBlock, Waitbot, Foodborne Chicago, Build it! Bronzeville, and Expunge.io. Also, 163 people signed up to be part of the CUTGroup over the last year.
In 2015, we still have a lot more to come. Here is a look at what we are up to:
The CUTGroup Book
The CUTGroup has generated lots of interest from other people interested in civic innovation across the country. Colleagues in Oakland and Chattanooga have started CUTGroup programs there. We wanted to write down our processes so that others could learn from our experiences. Once we did that, we realized we had a book, so we put it here. Anyone can download/print the book for free or or just read it chapter by chapter online. We're gearing up to publish an edition of 2,000 books this Spring. Preorders are available on Amazon as well.
Upcoming Tests
In the next few months, we will be testing six morewebsites and applications in different neighborhoods all over the city of Chicago. These tests cover civic apps related to transportation, permits, education, and social services.
As we get more testing opportunities, we continue to grow our diverse group of testers. For example, in partnership with ADA 25, an initiative of The Chicago Community Trust to commemorate the 25th anniversary of the Americans with Disabilities Act, we are reaching new networks of persons with disabilities. This will provide fresh insight to civic apps created for residents.
Getting Feedback
We want to understand why some testers might sign up for CUTGroup, but then not participate in tests. We sent out an e-mail campaign with this form to get feedback about our processes. Here are reasons why we think people might not participate:
Never received e-mails about tests
Not interested in user testing
Only interested in remote testing opportunities
Distance of tests are too far from home or work
Time of tests (usually 4:00 – 7:30 PM) does not work for me
Transportation is difficult to get to tests
Compensation is not enough for time
I do not know enough about user testing to participating
We also want to see if testers rely on public transportation and if we supply transit fare (like we did before) if they would be more likely to participate. We are taking what the CUTGroup tells us  to make changes and provide more opportunities for different testers to make it to tests.
We also sent out direct e-mails to anyone who never opened our e-mail campaigns before to make sure they were getting out e-mails and giving instructions on which e-mail to add to their address book. Here's the copy:
Hi,

Thank you for being a part of the Civic User Testing Group (CUTGroup)! I'm writing because it looks like you have not received or opened any of our e-mails. We are always looking for a diverse group of people to test with and we're looking to determine why some sign up and don't participate.

If CUTGroup isn't working out for you, we would like to hear why! Please respond to this e-mail or fill out this form.

We are preparing a slate of tests for this winter & spring. As always, testers get paid a $20 VISA gift card for every test.

If you have not received our emails in the past, make sure you add us to your Address Book or Contacts. All of our e-mails come from this e-mail address: doneil@cct.org. Sometimes our e-mails will end up in a spam or junk mail folder, and adding an e-mail is a great way to avoid that.

Thanks again for being a part of CUTGroup!
We also want to see about incorporating texting features for residents to sign-up for the CUTGroup and receive test notifications.
Proctoring
Early on in this program, we did a call out for proctors for tests. We have never taken advantage of the proctors who signed up, and this year we are looking to create an established proctoring program. We want to train others on how to be proctors and do user testing and grow our community. More to come on this!
The CUTGroup and Smart Chicago Collaborative
We've updated the Smart Chicago website and added some info about the CUTGroup there. The program falls under our Ecosystem work. Here's the project page. There's lots of info there explaining how this program fits into the rest of what we do. It's also where we publish all test results and blog posts about the CUTGroup as time goes by.